May I present the humble yet tasty steamed ground pork with preserved vegetables (冬菜) dish. This dish is a very well known family favourite in many Chinese homes and mine is no exception. For those unfamiliar with this dish, this dish derives much of its flavour from the unique saltiness of the preserved vegetables (essentially dried vegetables marinated in salt) which goes really well with the ground pork. I added some slivers of ginger for an added layer of fragrance, however you may opt to skip the ginger. Steaming is also one of my favourite methods of cooking as it is easier, healthier and also much less messier! This dish may also be taken one step further by pan-frying the pork patties after steaming as I did with my earlier feature pan-fried ground pork with ginger recipe.




Do not be deceived by this humble looking dish, it packs a lot of flavour and is extremely tasty served with hot steamed rice. Since the preserved vegetables may be an acquired taste, you may just try this recipe omitting the preserved vegetables but use more ginger and more green onions if you wish.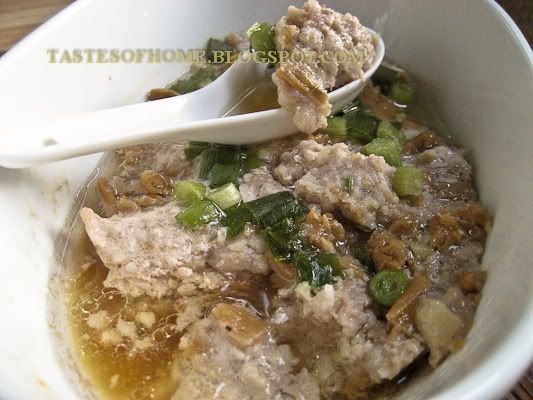 More pork recipes on Tastes of Home:

Deep-fried Shrimp and Pork Rice Paper Rolls

Hakka Steamed Salted Egg with Pork

Claypot Pork with Tofu and Mushrooms

Ingredients:

1/4 pounds ground pork
3 cloves garlic, minced finely
2 tbsps 冬菜 (preserved vegetables/ dong choy) - soaked in water for about 15 minutes and rinsed off
1 tsp ginger slivers
Green onions, for garnish

Marinade:
1 tsp Chinese rice wine (Shaoxing wine)
1-2 tsps light soy sauce
1 tsp sugar
Dash of white pepper
Dash of sesame oil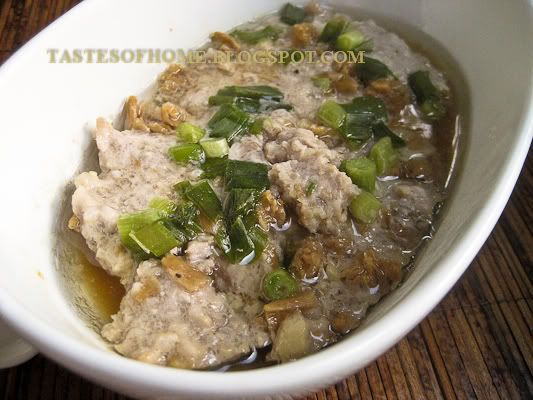 Method:

First, chop the ground pork and preserved vegetables together. Mix the minced garlic into the pork. Next, marinade the mixture with the above ingredients. Pack the ground pork mixture into a bowl for steaming and add about 1 tbsp of water. Steam over high heat for about 20-30 minutes.