Today I feature Manila Clams cooked in some very fragrant and spicy black bean sauce. Very easy and simple but it is best to soak the clams overnight in some water (place in the fridge), this is to get rid of the dirt and sand particles prevalent in clams. The heat in this dish comes from the dried chilli peppers - if you wish to have less heat in your dish, just soak the dried chilli peppers in some hot water for about 15 minutes, or you can remove the seeds from the peppers.
I absolutely love seafood and clams are one of my favourites. The clams should open up when you cook them, if they stay closed, it is best to remove those and not eat them. A very appetising and flavourful dish, perfect with rice and should provide a nice variation on your dinner table. I added some water to cook the clams, resulting in a fragrant gingery broth that was the perfect complement to the natural briny taste of the clams.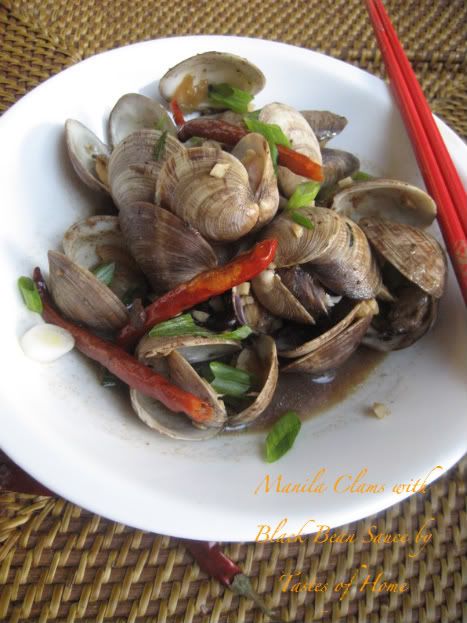 Interested in more seafood recipes? Try some of my other recipes below:

Golden Wrapped Tiger Shrimp

Chinese Stir-fried Squid in Soy Sauce

Tiger Prawns in Rice Wine and Wolfberries

Dark Soy Glazed Tiger Prawns

Tomato Garlic Shrimps

Ingredients:
12 Manila Clams (soaked in water overnight in fridge)
3 cloves garlic, minced
3 dried red chilli peppers
2 stalks green onions, chopped finely (keep the green parts for garnish if you wish)
1 tsp fresh ginger, chopped finely
1 tsp black bean sauce
1 tsp Chinese Rice Wine (Shaoxing Wine)
1 tsp sugar or to taste


Just to let you know, those little black specks are not dirt, those came from the black bean sauce! (I promise!)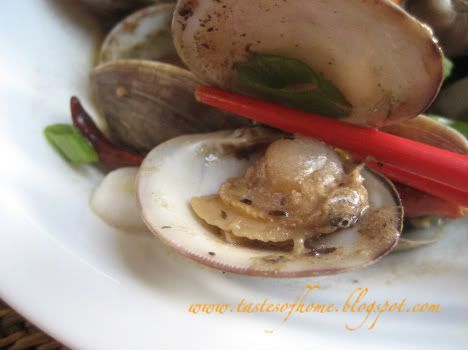 Method:

Firstly, heat about 1 tbsp of cooking oil in your wok. Saute the garlic, ginger and green onions for about 30 seconds. Add the black bean sauce and stir around briskly. Add the clams and pour about 1/4 cup of water into the mix. Now, add the Chinese Rice Wine and sugar. Bring to a boil and cook until all the clams open up. If you wish to thicken your sauce, add about 1 tsp corn starch. I prefer my sauce clear as it makes a tasty broth too!