Allow me to present yet another variation of shrimp dumplings in my delicious series of home-made dim sum (點心). As a self-proclaimed dim sum aficionado, I am always thinking of ways I can re-create these petite dishes at home. As always, you can be creative with how you marinade the filling and your choice of filling be it seafood, pork, chicken or a combination. I remember when I was wrapping my steamed chives and prawns dumplings , I somehow wrapped my dumplings into a pinwheel like shape and decided to try these out with some shrimp I found in my freezer but instead of steaming, this time I decided to do some good old deep-frying - these golden snacks were very delicious and looked pretty as well.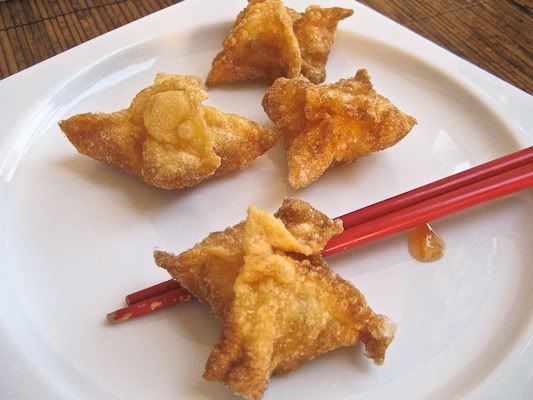 It's simple to make dim sum at home, just requires a little patience and a bit more time (the wrapping process), but the results are well worth it. Crunchy and deliciously filled with shrimp, these dumplings should prove to be a hit!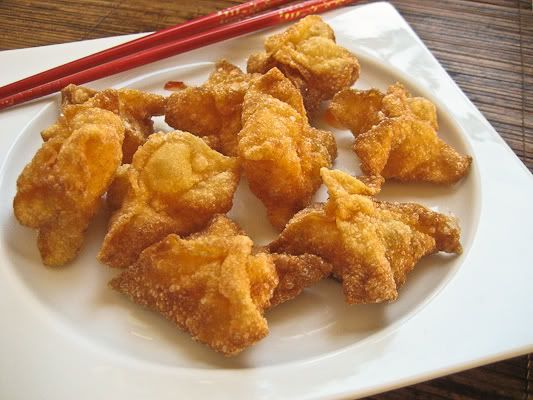 For more of my delicious home-made dim sum recipes, please see below:

Shanghai Pork and Shrimp Crystal Dumplings Recipe

Deep-fried Shrimp Balls Recipe

Deep-fried Beancurd Skin Rolls with Fish Paste Recipe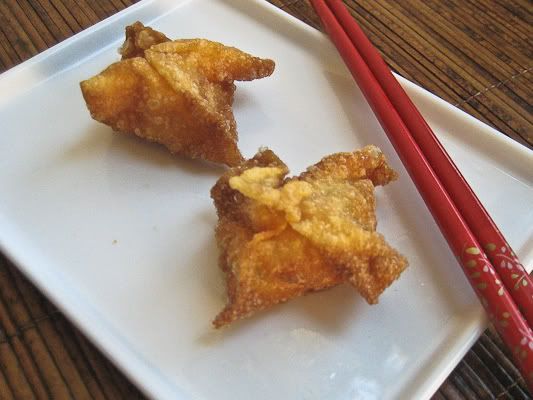 Ingredients:
Enough oil for deep-frying
12 medium sized tiger prawns, shelled & deveined
3 stalks green onions, chopped finely
20 or more (square) wonton wrappers

Marinade:
1 tsp of light soy sauce
1 tsp of sesame oil
1 tsp Chinese Rice Wine or Shaoxing Wine
1 tsp mirin (subsitute with sugar if you don't have mirin handy)
1/2 tsp of fish sauce
1 tsp cornstarch
Dash of white pepper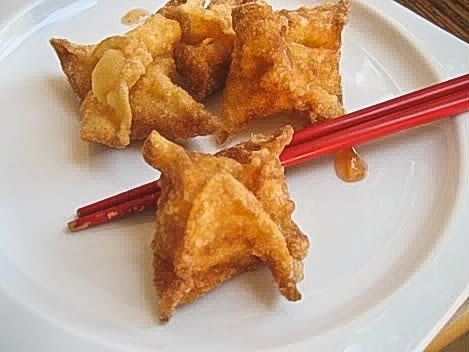 Method:
First, chop up the prawns roughly and mix well with the chopped green onions. Marinade with the ingredients listed above for at least 15 minutes. Set aside. To create the 'pinwheel' like effect, simply spoon a teaspoon of the filling into the middle of the wonton wrapper, with your fingers gently gather the four sides of the wrapper to the center, brush the edges with water and seal the edges by pinching with your fingers. Continue working with the rest of the filling. As you are working with each wrapper, remember to place a wet paper towel on top of the other unused wonton wrappers to avoid them from drying out.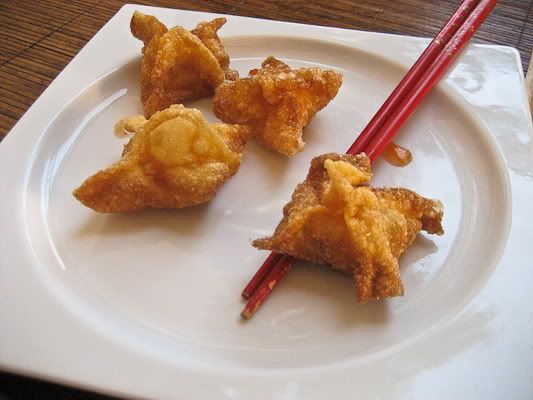 Heat enough oil for deep-frying, and fry the dumplings in batches (do not crowd your wok) until golden brown. Since I only used shrimp in my filling this time, I fried these for about 2 minutes only.