Here's another delightful recipe to tuck away into your dim sum repertoire and another recipe to expand my dim sum archives! I've always loved food on a stick - be it fish balls, fish cakes, shrimp balls, you get the idea. This maybe because shrimp balls on a stick reminds me of home, in particular street food at home. Living in Malaysia, there are lots of stalls selling streetfood especially during Pasar Malam (translates to Night Market from the Malay language). A Pasar Malam is usually a temporary 'market' held at nights (when else!) where vendors are able to (legally) hawk their fare on a specially closed up street or streets (depending on the size) ranging from fresh vegetables to t-shirts.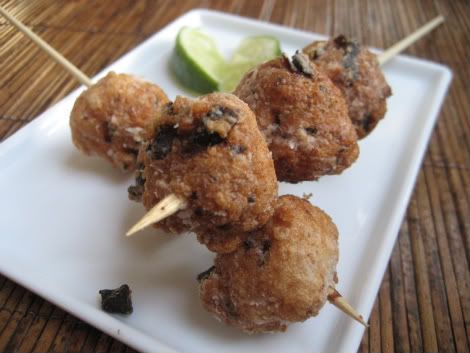 When I was younger (in my teens) I found it weird that people enjoyed haggling with sellers for a better price, as I grew a little older, I thought it was pretty fun - hey you can usually get a few ringgit off (Ringgit is the Malaysian currency) just by saying "Cheaper can ar?" (That's the strange form of English that has evolved in Malaysia, commonly known as 'Manglish', yes it does sound like we Malaysians mangled the good old English language eh?




These golden and crunchy shrimp balls are absolutely made for parties and make sure to save some for yourself since this is almost guaranteed to be a crowd-pleaser!




For more dim sum recipes on Tastes of Home, try these:
Deep-fried Beancurd Skin Rolls
Shanghai Pork and Shrimp 'Crystal' Dumplings

Ingredients:
12 medium sized shrimp, shelled and deveined
1 tsp garlic powder
3 tsps grated ginger (fresh)
2 tsps fish sauce
pinch of salt
1/4 cup cornstarch
4 green onions, chopped roughly
enough oil for deep-frying
lime wedges (optional)
Method:
Place shrimp, garlic powder, ginger, fish sauce, salt and cornstarch in a food processor and pulse until smooth. Transfer to a bowl. Stir in green onions, using wet hands mix until well combined.
Coat hands in cornstarch and form 1 tbsp of shrimp mixture into a ball. Toss shrimp ball in cornstarch, shaking off excess. Repeat with the rest of the mixture.
Deep-fry the shrimp balls until golden about 1-2 minutes - work in batches. Serve with dipping sauce of your choice.