Kangkong or water spinach stir-fried with pungent and fragrant belacan (shrimp paste) is definitely a Malaysian concoction and truly represents a taste of home for me. A while ago, I was delighted to find some shrimp paste blocks or cakes imported all the way from Malaysia in my local Asian grocery store, Ranch 99 and proceeded to call my mom to ask her on how to pound the extremely tasty belacan she makes back home. As I'm a stickler for certain traditions, I eschewed the food processor and bought a mortar and pestle to pound my own belacan. I still have fond memories of watching our old Indian cook when I was really young, squatting down in the kitchen, answering my childish questions while pounding the belacan. I remember watching her chew her sirih as well, and I was totally entralled at the whole process where she gets special leaves and applies various powders and spices before chewing.




Anyway, I digress - belacan is actually a variety of fermented shrimp paste that is both pungent and aromatic at the same time. Our household method of treating belacan is to add dried chillis, shallots and dried shrimps together to be pounded together. The main trick is to remember to toast or dry-fry the belacan before pounding to ensure the fragrance of the paste is maximised. Belacan is great in a lot of vegetable stir-frys, like water spinach (kangkung) or with okra (ladies fingers) and is also good for frying rice or noodles. A word of caution however, belacan is a highly acquired taste and may not sit well with most non-Asian palates.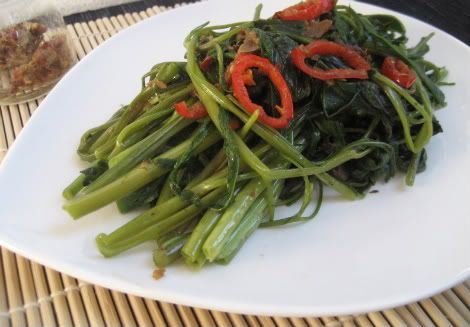 For more recipes with spicy and tasty belacan, try these:


Stir-fried Taro Leaves with Belacan

Malaysian Belacan Fried Rice

Ingredients:
For belacan
2 tbsps worth of belacan (I always make more for refrigerating)
8 dried chilli peppers (soak in hot water for 5 minutes to soften)
6 shallots (skinned)
2 tsps dried shrimp (soak in warm water for 5 minutes)

2 tsbps of the belacan mix above
1 bundle of water spinach or kangkung (blanch in boiling water for 3 minutes with a pinch of salt)
2 cloves garlic, minced
1 red chilli pepper, sliced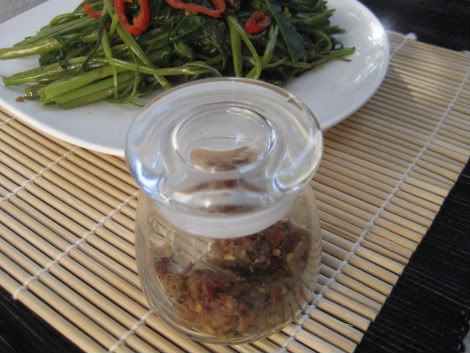 Method:
Firstly, crush the dried shrimp, chilli peppers, shallots with the shrimp paste/ belacan together with a mortar and a pestle. Make sure to toast the belacan before adding to the mix for pounding. Heat 2 tbsps of oil in a wok until hot. Quickly add the garlic, the pounded belacan and red chilli peppers till fragrant - this should be done quickly to avoid burning. Turn the heat to medium. Once fragrant, add in the previously blanched water spinach and coat evenly with the belacan mix. This should be done in a quick manner to avoid over-wilting of the vegetables and to keep the vegetables looking green and fresh.