'Foo Chuk' (which translates to beancurd skin in Cantonese) or 腐竹 is such a versatile ingredient - the Chinese like to use this invaluable ingredient in dessert as well. Traditionally, the Chinese people from the Southern part of the country, notably Canton are the ones who cook a lot of 'dessert soups' or 糖水 (literally translates to sugar water from Cantonese) in their daily meals. A Chinese person from the northern part of the country is usually not used to this part of the Chinese diet, and vice versa. Certain types of dessert soups are believed to have some heat-dispersing qualities or 解熱 properties just like our savoury soups like my kudzu root soup and this dessert is one of them.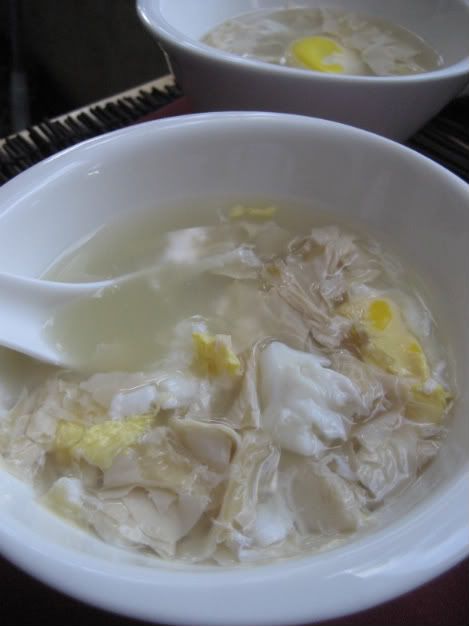 I absolutely love this dessert as this is one of the clearer ones and not as rich as some others - and the fact that it is so simple to make also enhances its' attractiveness eh?!

It is always better to use rock sugar, but since I was in a pinch today and I was really craving a hot bowl of foo chuk dessert, I decided to use regular white granulated sugar and it turned out pretty tasty as well. Of course, my mom would have chided me for skipping rock sugar as it is believed that rock sugar is less 'cooling' and is healthier for consumption with less 'wind'. To a non-Chinese, these terms are definitely very jargon-like eh, well just take it from me, try this dessert, it is tasty!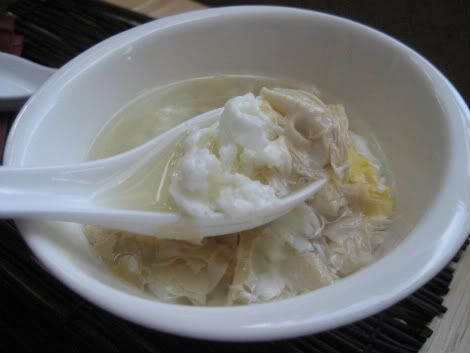 For more recipes on how to cook tofu or beancurd, please check these out:

Deep-fried Beancurd Skin Rolls Recipe

Deep-fried Tofu and Pork in Spicy Bean Sauce

Spinach Tofu with Salted Fish Stir-fry

Ingredients:

3 sheets of dried beancurd (the flat ones)
2-3 eggs
Enough sugar to taste
5 cups of water

Method:

First, soak the sheets for about 15 minutes or till soft to the touch. Next, place in 5 cups of water in a pot and boil with lid off on high heat for about 1 hour or until the skins are very soft (I like mine very soft). Turn heat to low and add enough sugar to taste or rock sugar if you have some. Finally, break in the eggs and stir around until cooked. Serve hot.