May I present another favourite soup of mine, a variety of the Chinese 老火湯 (which translates to 'old fire soup' from the Cantonese dialect) with watercress as the main ingredient. The only trick with making good soup apart from the ingredients is of course the time required for boiling. Traditionally, these 老火湯 are boiled for about 4-6 hours and usually are clear broth with variations in flavour from either the different root vegetables like my kudzu root or Chinese yucca soup or from a variety of Chinese herbs. The latter belongs the category of 'medicinal food' as the Chinese deeply believe in the adage, "you are what you eat".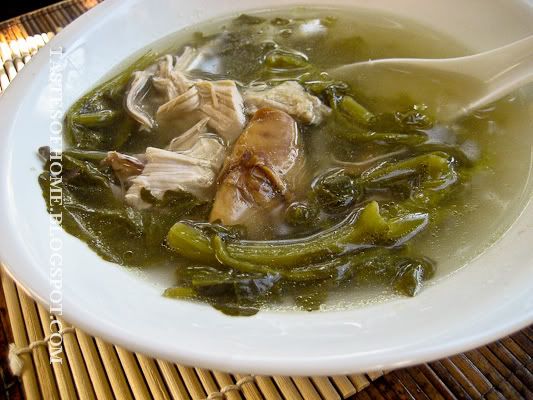 I love soup to the extent that I can have a few bowls of rice with just the soup. Although the main attraction with Chinese 老火湯 is the heavenly broth, I do eat the meat and the vegetables (in this case) as well. It has always been the tradition in my household back in Malaysia that soup is served at least a few times a week, ranging from the popular lotus root soup to the slightly more exotic sounding, pig stomach soup with peppercorns. Before you begin to gag, I can promise you that the latter when done right (and my dad knows how), tastes so delicious that my mouth is starting to water as I type. Yes, that is one of the familiar requests my dad gets especially from my sister who just moved back to Malaysia (lucky her!). Since I am not skilled enough to make tasty soup from something as icky sounding as pig stomach, I will just stick to the 'safer' routes for now!






No words can begin to describe the delicious warmth a spoonful of good 老火湯 can bring especially when one is yearning for a taste of home. A beautiful Chinese saying eloquently describes this feeling, 一口家乡味, 培添思乡情.

For more soup recipes on Tastes of Home, try:

Japanese Clam Soup Recipe

Chinese Daikon Soup Recipe

Ingredients:
1 whole chicken breast with bones
2 pieces of pork ribs
4-6 small dried cuttlefish (pictured)- rinsed lightly
2 bunches of watercress (soak to get rid of dirt throughly)

Dried cuttlefish, the star of many Cantonese soups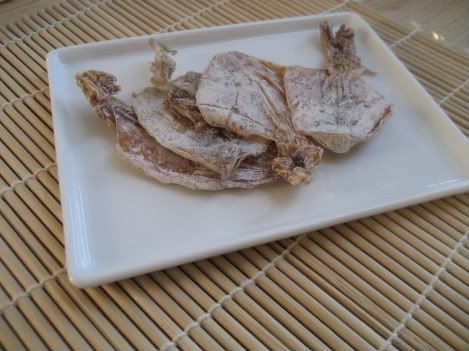 Method:
First, blanch the chicken and pork for about 1-2 minutes (this is to remove impurities from the meats). Set aside. Prepare a pot of water (about 10 cups) and bring to a boil. Place the meats, vegetables and the cuttlefish into the pot. Bring to a boil again - boil on high heat for about 2 hours (uncovered). Turn to low heat, and simmer for another 2-3 hours. Add salt to taste at the end of 4-5 hours. Serve hot.