I had a sudden and violent craving for some good and tasty glass noodles in claypot - hence my feature today. I remember having delicious glass noodles cooked in a claypot with crabs a few years ago when I was still living in Malaysia. So I decided to recreate this dish at home to hopefully satisfy my cravings. I can't wait for Chinese New Year as I will be back in Malaysia to visit my family, it will be pig-out time for sure!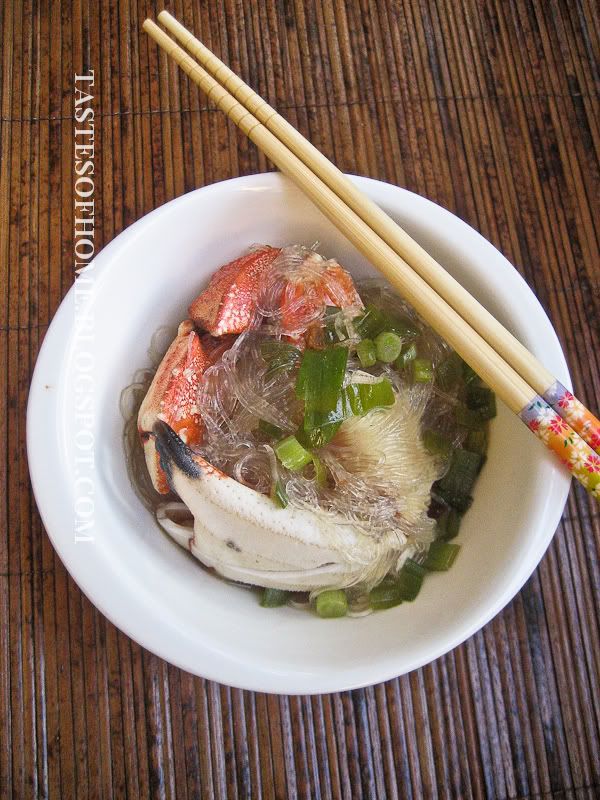 This dish is really easy to cook at home and requires a relatively short preparation time provided that you use frozen crab claws! Though I'm a huge fan of crabs and seafood in general, I am too cowardly to kill live crabs which according to my dad and most others, will taste the best in cooking. Due to my cowardice, I opted for the easy way out and used some frozen and pre-cooked crab claws that I had sitting in my freezer, the noodles did not disappoint and tasted really sweet and yummy. The natural sweetness of the crabs complement the chicken broth perfectly and the glass noodles totally absorbed all the great flavours!






For more seafood recipes on Tastes of Home, try:

Scallops with Broccoli Stir-fry Recipe

Belacan Shrimp with Green Beans Recipe

Red Snapper in Ground Bean Sauce Recipe


Ingredients:
2 packets of glass noodles
8 crab claws
4 cups chicken broth
4 stalks green onions, sliced
5 slices of fresh ginger
3 cloves garlic, minced

Flavouring:
6 tbsps of Chinese Rice Wine or Shaoxing Wine (add more if you wish)
2 tbsps of Mirin (or subsitute with sugar)
2 tbsps of light soy sauce
Dash of sesame oil




Method:
Firstly, saute the garlic, ginger and green onions in some hot oil in a claypot or wok. Once fragrant, add the crab claws. Next, turn the heat lower and add the flavouring ingredients. Add the chicken broth and bring to a boil. Do a taste test and add more soy or mirin (for sweetness) depending on your preferences. Finally, add the glass noodles - this is always the final step as these noodles are highly absorbent and can soak up a lot of the broth in a very short time! Serve hot.