I have neglected my beloved blog for a while now - my deepest apologies to my dear readers!

Today I feature a very simple recipe for fried rice with the very humble anchovies as the main ingredient. As always, fried rice can be made with any leftover or any handy ingredients in your fridge as fried rice was created to utilise leftover rice in the kitchen in a creative and delicious manner. I purposely made some extra rice while making dinner the night before just so that I will be able to cook some delicious fried rice for my lunch the next day. One-day old rice is considered ideal for fried rice as the rice will be a little drier, hence will be great for the addition of sauces and the like.

I would also like to say "Merry Christmas and a Happy Happy New Year" to my dear readers and here's to wishing all of us a better year in 2009 or the year of the earth Ox. So, would the year of the ox or bull be better for the markets?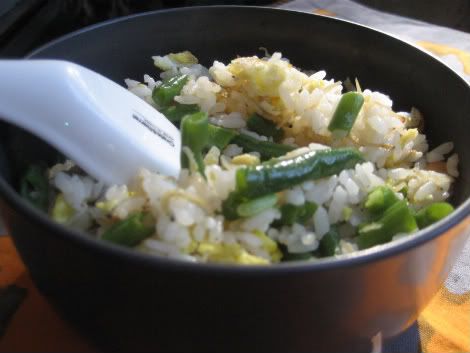 Ingredients:
2 cloves garlic, minced
2 cups day old cooked rice
1 cup of baby anchovies, soaked
1 cup worth of cut green beans
2 eggs, (optional), whisk lightly in a separate bowl

Seasoning:
1 tsp fish sauce (optional)
1 tbsp light soy sauce
Dash of sesame oil
Dash of white pepper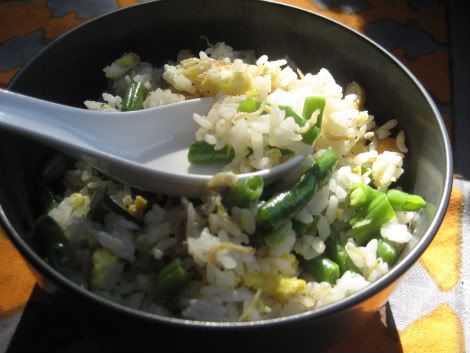 Method:
First, prepare the egg separately - fry the egg mixture lightly in a non-stick pan and remove from heat once the eggs are cooked. Set aside. Now, saute the garlic in about 1 tbsp of cooking oil until fragrant, add the baby anchovies and stir-fry briskly. Next, add the green beans to the fray - finally add the rice and the seasoning ingredients. Stir around to coat evenly. Now, add the previously cooked egg and mix it into the rice (scrambling it so to speak). Serve hot. As always, do add more of any of the seasoning ingredients to your liking.