This time I'm not posting a recipe but instead I thought some of you may be interested to learn a little bit more about Malaysian street food - delicious bites readily available back home. Considering the fact that I have mentioned my love and literal lust for them numerous times, I think it is time to show rather than talk about some of my favourite street food or hawker food as we call it back home since a picture is worth a thousand words or so they say.

I still vividly remember a friend of mine telling me though that a meeting is worth a thousand pictures - so I guess in this case, the right word to use would be tasting since we're on the subject of food. Anyhow, I digress - below are some pictures I took while being back home and this post is most mouth-wateringly difficult to write especially when I'm typing on an empty stomach!

Cuttlefish with Water Spinach in sweet peanut sauce




This is pretty much standard fare in most Chinese fast-food 'restaurants' - I use this term loosely though, most of the time it's just a stall with tables and chairs set up on the walkway or pavement next to the street. Cuttlefish is simply boiled and served up with water spinach (also boiled) in some sweet and tangy peanut sauce. I truly love this dish - the skill is in the timing of boil where the cuttlefish bites are supposed to be just right or al-dente if I may. Delicious!

Fried Thick Noodles Hokkien or 'Fu-kien' Style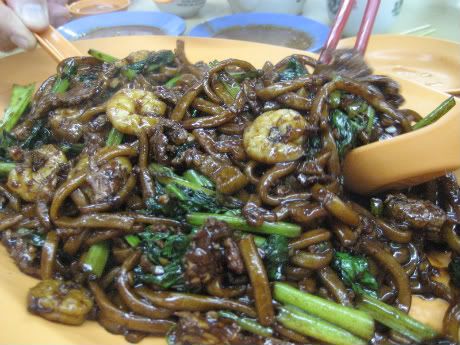 As the name of the dish implies, this style of cooking noodles originates from the Fujian province in China, this is has however become a very popular Malaysian street food and it's not difficult to guess why. Imagine thick egg noodles cooked with a variety of seafood and meat in fragrant garlic and dark soy sauce with a lot of wok breath. Now, I am not entirely sure who coined the term 'wok breath' but I guess this is the closest way to translate 'wok hei' in Cantonese. This refers to where the dish is cooked under very high heat (no electric stoves please) with the flames dancing about in the wok itself. It is very fascinating to watch and this is also the reason why I have not attempted this dish at home as unfortunately wok breath is sorely lacking from my electric stoves!

Another 'secret' to the unique fragrance of these noodles are deep-fried pork fat - the fats are deep-fried at high temperature to a crisp and sprinkled atop the noodles, very unhealthy but VERY tasty.

Prawn Noodles

See the huge prawn sitting prettily atop the noodles? Well, those huge prawns were bought by my dad to add to our noodles specially so no for RM6, you don't get such huge prawns!



The bustling corner of the shop where the prawn noodles are sold



These noodles are cooked in a shrimp or prawn-based broth that is usually made out of chicken or pork, prawn heads, prawn shells (yes!) and other 'secret' ingredients that most sellers will simply not divulge. Add in a healthy dose of MSG perhaps! We have been visiting this particular stall for more than 10 years now, and the dear seller has yet to disappoint. My family is quite particular with street food, not just any hawker or seller will do! The broth is rather spicy but very flavourful and the noodles are usually cooked with prawns (hence the name), water spinach and you may even request to add an egg if you so desire.

Ipoh Soup Noodles (Sa Hor Fun)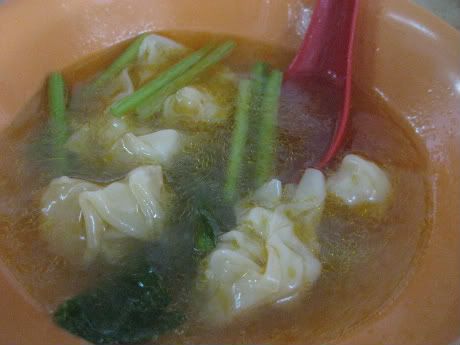 These noodles originate from Ipoh, which is the capital of Perak - one of the 14 states in Malaysia. The majority of the population in Ipoh is of Chinese descent and if you have the chance, you should definitely visit this town which is about an hour's drive from Kuala Lumpur, the capital of the country. This particular 'restaurant' is located in Seapark, Petaling Jaya, if you're interested in the address, do leave me a comment or email me. I have again saved the best for last - this is my absolute MUST-HAVE when I go back home, and I have this a few times at least when I'm there. The smooth flat rice noodles are served in a shrimpy broth that is both flavourful and extremely delicious plus this is not spicy (for those of you who have low tolerance). The shrimp wontons are absolutely amazing - home made wonton skins guarantee great bites minus the floury taste that one sometimes gets with factory made skins. These skins are made fresh daily and finally when you're there, you HAVE to order their famous oyster sauce chicken. The oyster sauce is specially made and it tastes much much better than store-bought ones. I think when we were little, my siblings used to fight over who gets more chicken though my dad always orders a lot - so that proves my point.

Have a healthy and tasty natural dessert, the papaya fruit or betik in the Malay language - nutritious and very yummy, I like mine with generous squirts of lime. Since these papayas are pretty small in size, I can easily eat one on my own. This reminds me of the time when my youngest brother and I decided to challenge ourselves to each eat half a watermelon (yes the HUGE ones) with a spoon - we did manage to finish the challenge but needless to say, we couldn't look at watermelons without grimacing for quite a long time.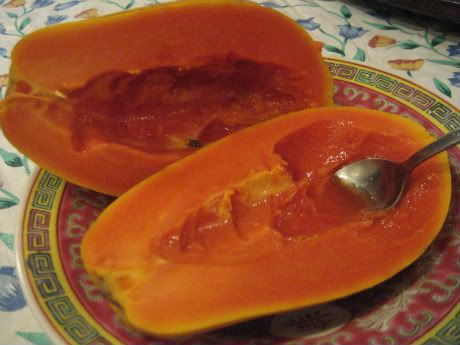 This concludes my first attempt at introducing Malaysian street food to my non-Malaysian readers - and perhaps for my overseas Malaysian readers, a chance to reminisce about the once taken-for-granted now oh-so-precious Malaysian hawker food. My attempt is rudimentary at best and if you have any great recommendations on street food back home, please do spill!