Mom's cooking is always the best and the tastiest and for me it has 'feeling' or 感情 in Chinese. It's pretty intangible and quite difficult to measure or describe in absolute terms - you know how you can only feel and not be able to measure? Anyhow, to me, mom's cooking will always be the best - far surpassing any fine dining experiences or dishes using the rarest of ingredients - food is not only to satiate one's physical hunger but also does immeasurably for one's soul. It is hence very fortunate indeed for me that my mom is quite an excellent cook and I can write this post without feeling too pretentious! Funnily enough it was my dad who taught my mom how to cook after they got married.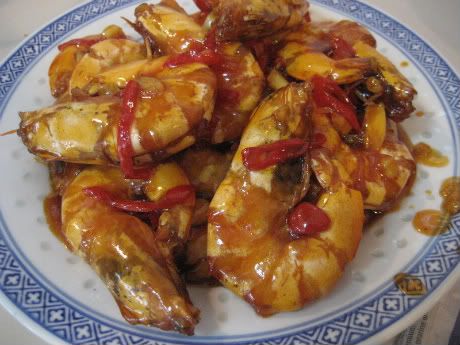 On a side note, I'm always very flattered that you (my dear readers) and some of my dear friends think I can cook very well.

Without further ado, may I present mom's prawns cooked in a very appetizing sweet and spicy sauce. 蝦 or prawn/ shrimp in Chinese sounds the same as 哈 which represents laughter (ha ha) in Chinese, hence a prawn dish is a must during festive seasons especially Chinese New Year. As most of my readers may know, the Chinese are huge fans of auspicious sounding dishes - hence a dish of tasty prawns are always cooked to start off the new year just right with peals of laughter ringing in the new year.




Ingredients:
25 large prawns (heads & shells on) - in my opinion, prawns are much more fragrant cooked with shells and heads on
Salt & Pepper to marinate the prawns lightly
Enough oil for deep-frying the prawns
4 cloves garlic, minced
4 stalks green onions, sliced thinly
3-4 red chilli peppers, sliced thinly (you may opt to use seeded ones if your tolerance level for spiciness is not high)
For the sauce:
1/2 bowl of ketchup
2-4 tbsps of sugar (or to taste)
1 tbsp soy sauce (or to taste)
1/2 tbsp white vinegar (or to taste)
For more shrimp offerings on Tastes of Home, please click below:
Belacan Shrimp with Green Beans Recipe
Method:
First, deep-fry the prawns after marinating lightly with salt and pepper until prawns are lightly cooked - try not to overcook prawns as the rubbery texture of overcooked prawns are not very appetising (to me!). The length of time it takes for the prawns to be cooked of course depends on the size of your prawns, but I always prefer mine especially for this step slightly under-cooked rather than over-cooked as the final step involves placing the prawns into the sauce to cook briefly again.
Now, prepare the sauce with the ingredients listed above - in Chinese home cooking, a lot of times, most ingredients are only given in approximates, apparently the mark of a good cook is that there is no need to measure ingredients, one just knows, now although I do operate the same way i.e. I just throw stuff into the pan depending on what feels right, I do think that would not be of much help to my readers. For this sauce, I would highly recommend you to start with a little of the seasonings and add on after tasting each time.
Next, saute the garlic, green onions and red peppers till fragrant - use medium to low heat. Now, pour in the previously prepared sauce and bring to a boil. Quickly add in the previously fried prawns and coat evenly. Serve hot.
Finally, this has absolutely nothing whatsoever to do with cooking or food - I just wanted to introduce my favourite boy! His name is Yaki and he is a 9 year old shih tzu, he lives in Malaysia and has a very adorable and expressive face. He is also very intelligent and knows exactly what I'm talking about when I talk to him - I'm not his favourite however, his favourite is my mom but he can't stop me from having him as my favourite now can he? Looking at his pictures cheer me up immensely and I just wanted to introduce him to my wonderful readers!