Congee is undoubtedly a top comfort food for most Asians - especially for the Chinese people, we have congee when we're sick, when it's cold but sometimes just because we like it. This is a centuries-old practice and one will be hard-pressed to answer just exactly when the tradition of cooking congee or rice gruel began. Based on my own deductions, I believe that congee was invented due to the hard times that a lot of peasants in China had to go through. In days gone past, rice was a very precious commodity and not everyone had the luxury of cooking a full pot of rice. Hence, congee was probably invented as the dish uses much less rice but at the same time is most satisfying. Congee is also likened to a thick rice soup and over the course of time, this popular rice-dish has been improved upon and we have all sorts of different congee e.g. pork congee, chicken congee, seafood congee and the like. Note however, that this is my opinion i.e. a statement of opinion if you will and not a statement of fact so please don't quote me - hehe. I suppose that this is my little disclaimer if you like.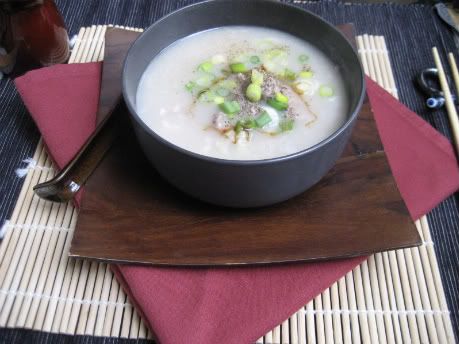 Comforting and tasty at any given hour of the day, congee is especially a popular breakfast item as well as for supper. Lately, it has been rather cold here and since I had some spare ribs lounging about in the freezer, I decided to cook myself a steaming hot pot of spare ribs congee. Congee can be dressed up or down so to speak, plain congee is good on its' own with certain condiments or congee can be cooked with a myriad of ingredients for different flavours. Interestingly enough, I was never a fan of congee when I was younger - I think it was because everytime I was sick, I was made to have congee instead of rice by my parents and congee started to have 'sickly'-connotations to me. Now, however, I do crave a steaming bowl of congee more often. Congee is also very simple to make - throw all necessary ingredients into the pot and just boil away!



Tip: Always try to soak the rice for about 1 hour at least in order for the rice to expand, hence the congee will have a smoother texture.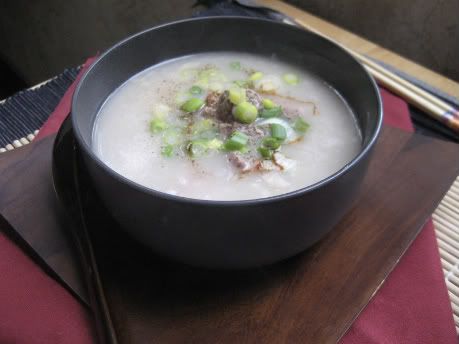 Ingredients:
1/2 cup of white rice, soaked (refer above)
3 cups of water (add more if you want your congee to be thinner)
10 inches worth of spare ribs (approximate) - lightly marinated in salt

Condiments:
4 stalks green onions, sliced thinly
Soy sauce, to taste
Dash of sesame oil
Dash of pepper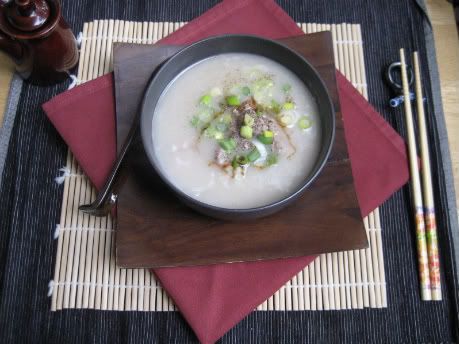 For more Asian styled comfort food on Tastes of Home, please click below:

Chicken Congee

Watercress Soup Recipe

Method:
First, blanch the spare ribs in some boiling water for a quick second to get rid of impurities. Next, place the lightly salted ribs with the soaked rice in a pot with the water and start boiling. Once it reaches boiling point, turn the heat to low and allow to boil uncovered. Check on the congee periodically to ensure that it does not boil over. Boil for about 1.5 hours on low heat. Ladle into individual serving bowls and add the condiments listed above to taste. It is customary to place all the condiments at the table for individuals to add the condiments to his/ her tastes.

For a more fragrant bowl of congee, you can also opt to roast the spare ribs before boiling with the rice.