I have always been a huge fan of chicken feet dishes - I did hesitate to feature these as I know the sight of chicken feet may be rather too 'exotic', Asians included. I succumbed finally today to my cravings for a good dish of braised chicken feet however with mushrooms following my trip to San Francisco last weekend. I have to thank my lovely girlfriends, C, K and W in San Francisco for making my stay as seamless as possible! When we visited the dim sum restaurants in San Fran, I did sample one of my must-order dishes, 'phoenix claws' or simply chicken feet braised in red sauce - after sampling this, it reignited my craving for another great chicken feet dish that is today's feature.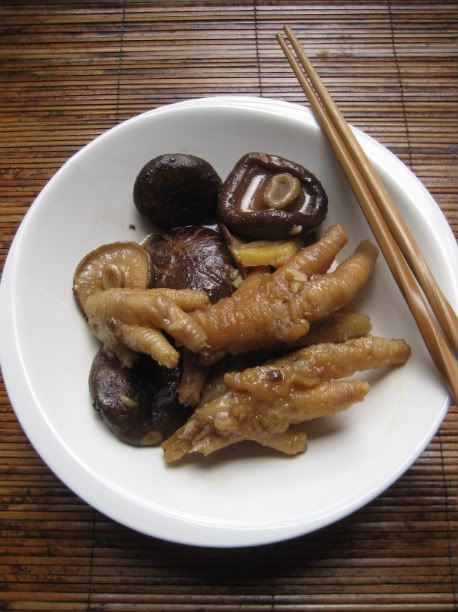 Chicken feet are actually very high in protein and really taste sumptious if you can get over your 'ewww' factor. I have always loved eating chicken feet since I was a child so this is not a factor for me obviously - but preparing chicken feet is altogether a different feat (pun intended!). Unluckily for me, I bought some chicken feet without their claws chopped off, so if you decide to be adventurous and try this dish, do try to search for those with the claws already chopped off - makes the preparation much easier!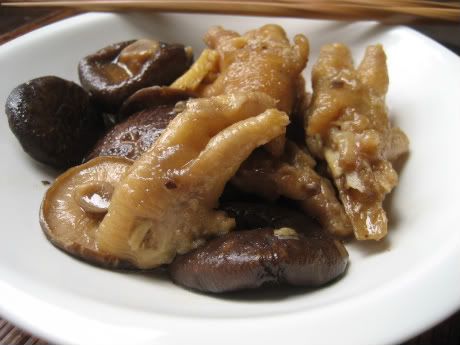 Ginger and mushrooms are the perfect complements to this dish and the chicken feet are first deep-fried, then cooked slowly i.e. braised in a claypot until soft allowing all the sumptious flavours of the seasonings to seep into them. I did not add star anise to my recipe as I am not a big fan of the flavour but if you like the flavour, you can add 1 or 2 to the dish. The secret to softening the chicken feet is to add a little rock sugar (pictured below) into the mix. This is an easy home style Chinese cooking dish that you should sample at least once!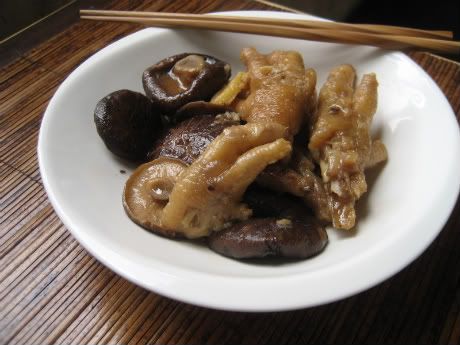 Not in the mood for such 'exotic' cooking, try my other regular poultry dishes:

Sake Simmered Chicken Recipe

Chicken Escabeche Nanban (Japanese Fried Chicken)

Ingredients:
4 pairs chicken feet, claws chopped off and peel off the outer layer of skin
5 inches of ginger, sliced
3 cloves garlic, minced
12 mushrooms, soaked for 1 hour at least

Seasonings:
4 tbsps light soy sauce
Small lump of rock sugar (to taste)
3 tbsps Chinese Rice Wine (Shaoxing Wine)
2 tbsps oyster sauce
1 tsp black pepper
Dash of sesame oil
1 1/2 cups of water

Rock sugar lumps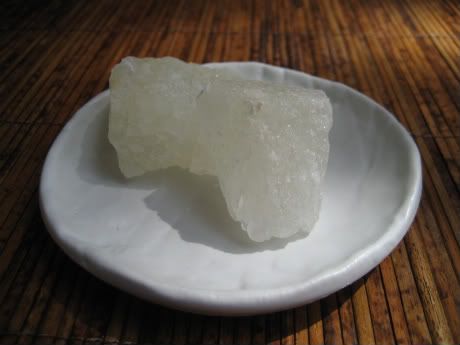 Method:

Firstly, soak the chicken feet with some salt for about half an hour. Next, heat enough oil to deep-fry the chicken feet. When frying, there will be a lot of splattering, so coat the chicken feet lightly before deep-frying in medium heat oil for about 3-5 minutes. Remove from oil and drain on some oil-absorbent towels.

Next, heat about 1 tbsp of oil in a claypot. Saute the garlic and ginger until fragrant. Next add the softened mushrooms and chicken feet into the pot. Mix the seasonings together with the water in a separate cup and pour into the pot or pan. Bring to a boil and turn heat to lowest and cook for about 1 hour, checking occasionally.

As always, the seasonings listed above are approximate, please do a taste test and adjust the quantities accordingly.