Being a huge fan of soups, I felt like having a piping how bowl today but did not have the patience for my usual slow-boiled soups that require a boiling time of at least 4 hours. I decided to make fish soup - most of the time fish used in Chinese soups is first fried with ginger to eradicate the 'fishy' smell in the soup. This soup is a result of my experiment today and I am quite pleased with the results, easy and definitely tasty.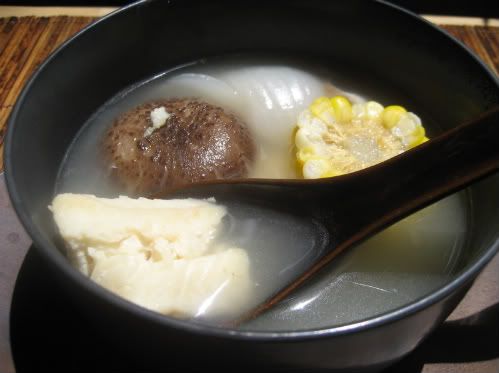 The soup only required about 1 hour of boiling and I just used ingredients that were available in my fridge, it's always fun to experiment with cooking when you have the inclination and always good too to use up ingredients in your fridge. I have to say that my fish soup did not taste 'fishy' at all, the taste of the fresh cod married well with the onion, corn and shitake mushrooms. Do give this a try when you feel like having a different and less cooking time kind of soup. This soup will be perfect served with rice.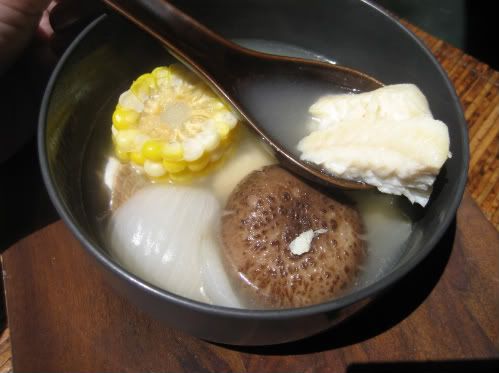 Ingredients:
2 cod fish fillet, pat dry and marinate lightly with salt
2 shitake mushrooms (soaked if using dried ones)
1/2 onion, quartered
1/2 corn on the cob, sliced
3 pieces fresh ginger
3 cups chicken broth
1 tsp of sake
Salt, to taste
Few drops of fish sauce




Method:
Firstly, pan-fry the fish fillets with the ginger till almost cooked. Meanwhile, boil the chicken broth in a separate pot, once it boils, add the onion, corn, mushrooms and the fish fillets into the pot. Bring to a boil again, turn the heat to low, and add the sake. Boil for about 45 minutes to 1 hour, add salt to taste. Finally, add the fish sauce before serving.