What do I cook when I want to have something quick, satisfying, easy and most importantly, delicious? I know that not everyone is a fan of spam - but the tins of spam found in regular i.e American grocery stores are quite different from its Chinese counterparts. I prefer to refer to spam as luncheon meat - this is what it is usually called in Chinese. The word spam just does not conjure up appetizing images and is very misleading as luncheon meat is very tasty and is used all the time in authentic Chinese cooking, in sandwiches, noodles, rice and more.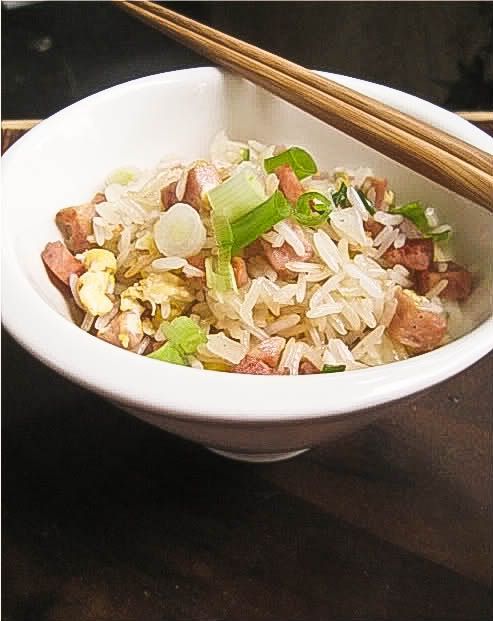 So, although luncheon meat is extremely tasty, I still limit my intake due to obviously the high level of preservatives involved. Today I feature my quick recipe of luncheon meat fried rice especially for those of you who don't have that much time in the kitchen (or just the plain lazy ones! hehe - I am guilty of this too, time to time!). You can opt to replace the luncheon meat bits with bacon or ham bits if you so prefer.

Tip: For fried rice, it is better to use Jasmine long grain rice - the short grains like Japanese rice gets a little too smushy.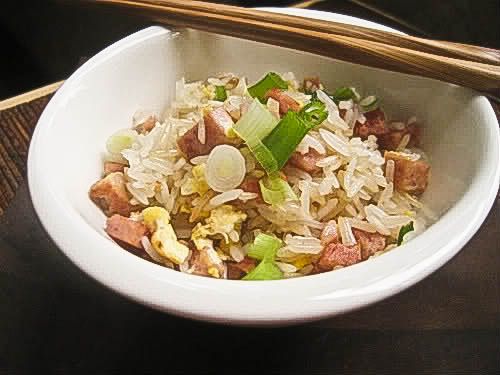 Ingredients:

1 cup of 1 day old rice (use Jasmine if you can) - heat in microwave for 1 minute
1 egg, lightly beaten
3 inches of luncheon meat, diced
2 stalks green onions, sliced
1-2 tsps light soy sauce (to tastes)
Dash of sesame oil
Dash of pepper (optional)




Method:

Firstly, heat about 1 tbsp of oil in your pan, add the luncheon meat bits and fry till almost crispy. Add the green onion slices and turn the heat to medium, once you smell the fragrance of the green onions, add the egg and stir around quickly. Now, turn the heat up, add seasonings and finally the rice and stir around to coat evenly. I could see my fried rice 'dancing' about in my wok, and this is when you want to stop frying as this is said to be the best texture for fried rice.