Happy New Year my dear readers! May 2010 be filled with wonderful surprises and fulfilled wishes!

Today, I feature another variation of dumplings from the (lazy as of late) kitchen of Tastes of Home, another recipe from my dim sum repertoire, simple steamed pork and shrimp dumplings. As with most dumplings, you can be totally creative with the filling - this time I added some garlic oil to my filling. These dumplings were simply steamed but you can also deep-fry or pan-fry these.

I wrapped my dumplings this time by merely gathering up the wrappers and twisting the tops together creating mini 'goody-bags'. Making dim sum at home may be a little more time-consuming than most Chinese home-cooked dishes, but the efforts are well worth it as I have probably cited many times if you have read my other dim sum recipes.

Another way to serve these delightful little bites would be boiling them and served in a simple broth. Be sure to boil the dumplings separately first before adding them into your broth to avoid your broth from becoming starchy.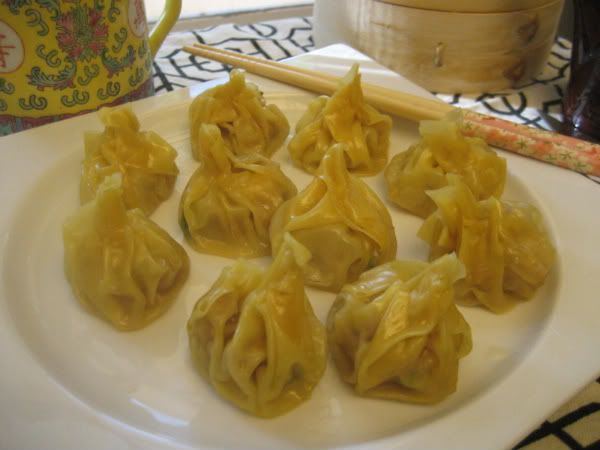 It's hard to believe that 2010 is already here, time and tide definitely waits for no one!
Ingredients:
1/2 pound of ground pork
1/2 pound of shrimp, chopped up
3 stalks of bok choy, chopped up
20 wonton wrappers
Marinade:
2 tsps garlic oil (I simply minced some garlic, added some oil and heated the mixture in microwave for about 30 seconds)
2 tsps soy sauce
2 tsps sake or Chinese Rice Wine (Shaoxing Wine)
Dash of sesame oil
1/2 tsp corn flour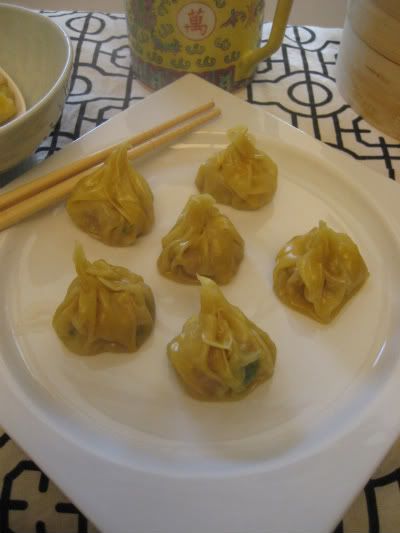 Method:
Mix the ground pork, shrimp and boy choy together in a large bowl. You can chop them up together on a large chopping board for easier mixing. Next, add the marinade into the mixture and allow to sit for at least 30 minutes.
Now, you are ready to wrap the dumplings - have a bowl of water and some damp kitchen towels ready. As you wrap each dumpling, remember to place a piece of damp kitchen towel on the rest of the wrappers to ensure that they do not dry out. Simply spoon one teaspoon of the filling into the middle of the wrapper, wet the edges of the wrapper, gather the wrapper up and twist to seal with wet fingers. Steam the dumplings over high heat for at least 15-20 minutes to ensure the pork especially is throughly cooked. Serve with soy sauce or sweet chilli sauce as desired.