Today I feature another 'quick meal' recipe - fried rice with kimchi and shrimp. I believe fried rice was invented to fully make use of leftovers in the interests of being frugal albeit in a totally delicious way! You can make fried rice with virtually any ingredients you have in your fridge, usual recipes will call for a protein of some sort but of course, there are no hard and fast rules for fried rice as long as it's tasty right?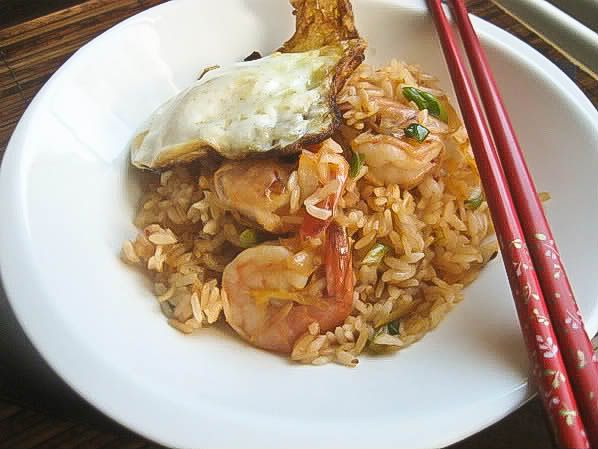 Kimchi adds spicy flavour and more colour to the dish - I wished I had some red chilli peppers available that would have made the rice even tastier but sans peppers, the dish still turned out pretty well. By now, I'm sure that most of you have an inkling of the nutritional benefits of kimchi, an essential part of the Korean daily diet e.g. for the lowering of cholesterol, increasing metabolism and many others. This time, I used kimchi cabbage which is probably the most commonly found, but there is a huge variety of vegetables that can be used to make kimchi, even chilli peppers, garlic - the possibilities are endless! Based on my (limited) knowledge of Korean food and culture, I thought it was quite interesting to note that in the past a woman's marriage potential was judged based on their kimchi-making skills.

I topped my fried rice with the obligatory fried egg (I love mine with crispy edges) - some prefer to just top the rice with a raw egg which will be cooked once mixed into the sizzling hot rice.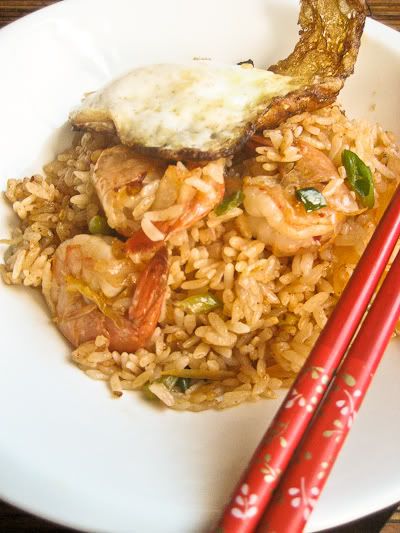 Ingredients:

2 cups day-old white rice (microwave for about 2 minutes beforehand with some drops of water)
12 shrimps marinated in 1 tsp soy sauce
1/4 onion, diced
2 cloves garlic, minced
3 stalks green onions, sliced
1/2 cup kimchi cabbage, chopped
Dash of sesame oil
Eggs (optional)
Salt and white pepper, to taste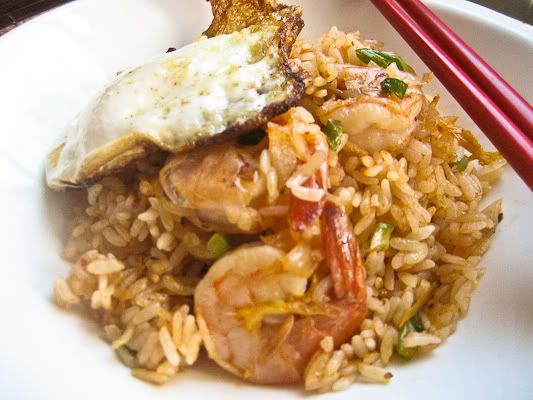 Method:

Heat about 1 tbsp cooking oil in your pan or wok. Quickly fry the marinated shrimps until half-cooked. Add the chopped kimchi and stir-fry for about 1 minute. Next, add the garlic, onion and green onions and fry till fragrant. Add the rice into your wok and mix throughly. Add the sesame oil and salt & pepper to taste. Fry an egg to top the fried rice if you wish.