Today I feature a common vegetable cooked in most Chinese homes - the Chinese Okra or Angled Loofah (勝瓜). I have it simply stir-fried with some dried shrimps (very handy to have around the kitchen) and added some glass noodles. The texture of the Chinese Okra is quite unique in that it does resemble that of a loofah on the interior. The flesh is soft yet firm and is white in colour.

The Chinese okra is also naturally sweet - the glass noodles being tasteless on their own soak up the salty flavours of the dried shrimp and the sweet flavours of the okra are delicious while adding some texture to the dish. This is a quick and satisfying home-cooked dish which should appeal to those of you who don't have much time to spend in the kitchen. If you find dried shrimp too pungent in flavour, you can subsitute with fresh shrimp.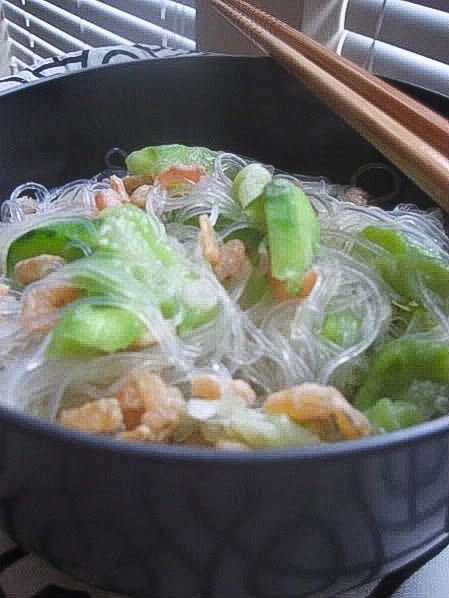 Ingredients:

2 Chinese okra, skin peeled, sliced at an angle
Handful of dried shrimp, rinsed
1 small packet of glass noodles (soaked)
2 cloves garlic, minced
Light Soy Sauce, to taste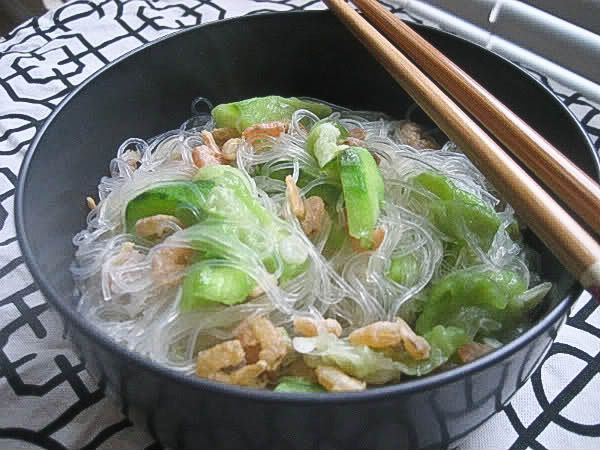 Method:

First, saute the minced garlic with some oil till fragrant. Next, add in the dried shrimp and saute until fragrant as well. Add the sliced Chinese okra and stir around quickly, add about 1/4 cup of water and bring to a boil. Finally add the glass noodles and allow to boil again. Add light soy sauce to taste - the dried shrimp is already salty however so do not be liberal with the soy sauce.