This method of cooking lobster must be one of the perennial Chinese classics, I have no idea why I waited this long to try cooking and featuring this! Anyway, being an avid lover of seafood, this is definitely one of my favourite ways of eating lobster. The lobster is first poached in oil and then cooked with copious amounts of scallions and ginger, definitely simple. As with most Chinese dishes, there are many variations to cook this, some like to add oyster sauce, as for me I love to dress my seafood with Chinese rice wine that really adds to the natural fragrance. You can also opt to serve the lobster with soft noodles, one of the most surprising places I've had great lobster noodles was actually in London, on Bayswater - at the Four Seasons Chinese restaurant, it was always a must-order whenever my friends and I ended up there.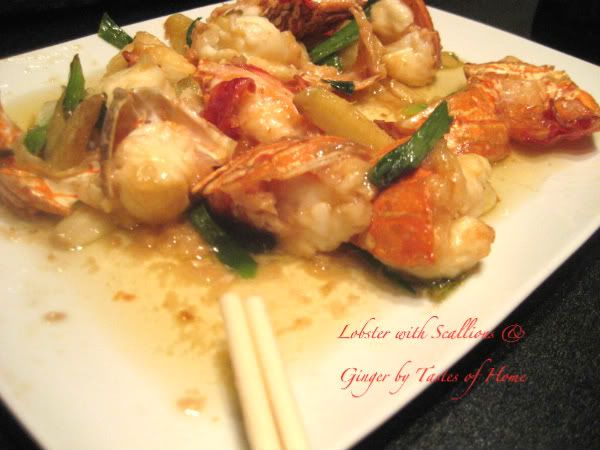 This is such a simple method of cooking lobster that yields deliciously fantastic results, ok I may have just mangled the English language but hey this is my blog no? Hmm, I'm sure my old English teacher would not be too pleased! I do have to say though that my electric stoves do not do justice to this dish which should really be cooked with a great deal of 'wok hei' or wok breath. A dish with 'wok breath ' really tastes infinitely better but then it's a rather intangible flavour that is a little difficult to describe, well I would say that there is a certain smokiness (in a good way) and it's just something that you have to experience to really know. It's also really fun to watch a 'real' cook make this dish. Usually, you will find the flames dancing about in the wok while the cook holds an extremely heavy 'hok' (a ladle like apparatus) deftly stir-frying the lobster in an equally heavy and huge wok, producing an irreplaceable fragrance to the dish.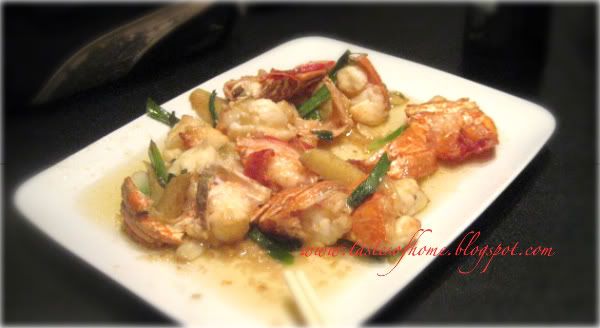 Well, I hope my description gives you at least a slight idea - as for my fellow Chinese counterparts, I'm sure you know what I'm talking about! Apart from the lack of 'wok breath', I think my lobster dish is probably not as fresh as I would like mainly due to my own cowardice of chopping up a live lobster and watching the parts wriggle in the wok! For now, I will still stick to using chilled or frozen lobster until I work up the nerve - my recipe is really simple and although lacking the above, it still tasted good and is great when you have a longing for this classic dish but don't feel like venturing out.
Ingredients:
2 lobster tails, chopped into bite-sized pieces with shell on
6 scallions, chopped lengthwise at an angle
2 inches worth of ginger, sliced
3 cloves of garlic, minced
Corn flour (to lightly coat the lobster)
Seasoning:
Dash of Chinese Rice Wine ('Shaoxing' wine)
1-2 tsps of light soy sauce
1/2 bowl of water mixed with 1 tsp corn flour for the gravy
Method:
Lightly coat the lobster pieces in the corn flour. Next, poach in hot oil for a quick minute - not too long, as soon as the shell turns red, remove from oil. Remove excess oil, leaving about 2-3 tbsps in the wok. Turn the heat lower - then add the garlic, ginger and scallions to avoid burnt garlic. Saute till fragrant, and add the lobster pieces back into the wok. Add the seasoning, then finally pour in the water mixed with corn flour for the gravy.
Note: This recipe can also be tweaked to serve atop soft noodles, equally delicious with noodles or rice.