This fish dish is one of our family favourites - belacan, a spicy and pungently fragrant shrimp paste is stuffed into fish and slowly pan-fried to crispy perfection! For the uninitiated, the pungent smell of belacan may be hard to stomach at first but is a perennial favourite in Malaysia and other South East Asian countries. The shrimp paste was lightly toasted, then pounded by hand with shallots and dried chilli peppers. You may opt to use a blender but I prefer the texture of hand pounded belacan for a better 'bite'. Instead of stuffing the body of the fish with belacan, one can also opt to fry the belacan separately and simply ladle atop deep-fried fish. It does take some patience to slowly pan-fry the fish.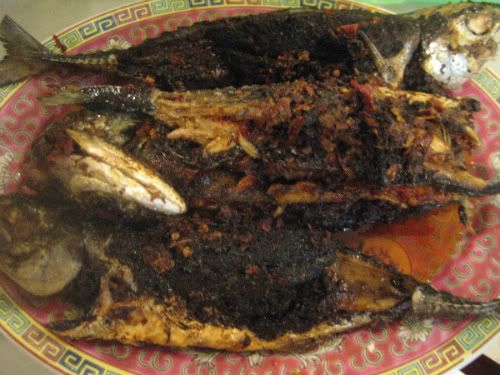 The skins of these fish are very hard and are usually removed by the fishmongers.



Ingredients:



Belacan for stuffing:

2 tbsps shrimp paste, lightly toasted
15 dried chilli peppers
8 shallots

6 medium sized firm-fleshed fishes (we used 'cencaru', also known as torpedo scad fishes)

Enough oil for pan-frying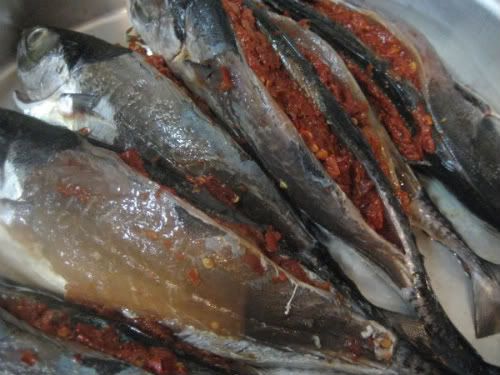 Method:
Prepare the belacan for stuffing into the fishes by pounding the ingredients listed above. You may add or lessen the number of dried chilli peppers according to your taste for spiciness.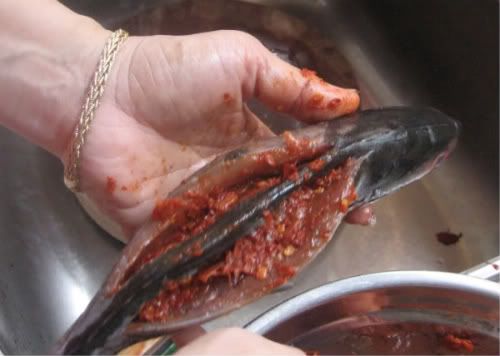 Slit both sides of the fish for the stuffing of the belacan. Simply stuff the prepared belacan into the fishes and pan-fry until cooked throughly. If you have more belacan leftover, simply pan-fry lightly and serve with rice.




Tip: You can also opt to add dried shrimp into the belacan paste, pan-fry lightly, makes for a great spicy snack served with cucumber slices!

p.s. thanks to my friend R who told me the correct name for these fishes!