The preserved mustard green or zha cai (榨菜) which is often spicy is definitely my favourite among the plethora of Chinese preserved vegetables available. For the uninitiated however, Chinese preserved vegetables may be too pungent in scent and appear rather unpalatable. The preserved vegetable of choice today is often marinated in salt and chilli peppers, this variety of preserved vegetables is also known as Sichuan preserved vegetables. Preserved vegetables are also conveniently sold in packets in slices or for the more inclined, one can also purchase the vegetables 'loose' which is what I prefer due to the richer flavours of the latter form.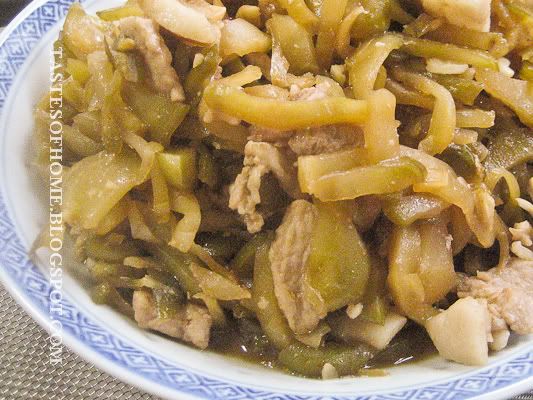 Zha cai can be cooked in many ways - a popular recipe using zha cai (榨菜) is noodles with zha cai and pork slices (榨菜肉絲麵), zha chai also perfectly complements plain white congee. Today I decided to simply stir-fry this flavourful vegetable with pork slices. I like to add a pinch of sugar to bring out the soury and spicy flavours in the zha cai.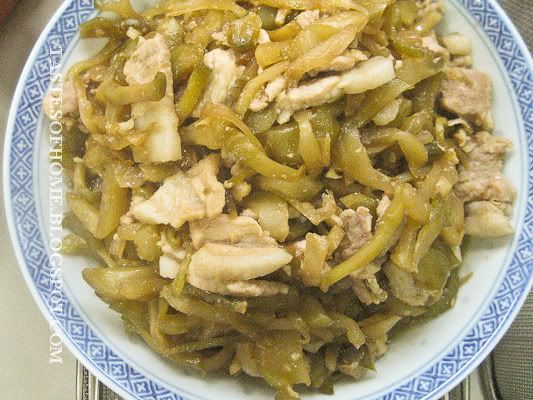 Ingredients:

1 knot of zha cai (soaked in water for about 15 minutes)
2 cloves garlic, minced
8 inches worth of pork (I used fatty pork for more flavour)
Pinch of sugar
Splash of light soy sauce




Method:

After soaking the zha cai, be sure to squeeze out the excess water - you can also do a taste test to see if the zha cai is still too salty before slicing, if so you can continue soaking it for a bit more. However, do not soak for too long to avoid blandness.


Saute the garlic in about 1 tablespoon of heated cooking oil until fragrant. Turn down the heat and add a tiny splash of soy sauce into the mix (the addition of soy sauce at this stage adds a lovely fragrance). Next, add in the sliced pork and stir-fry until almost cooked. Finally add the sliced up zha cai and add a pinch or two of sugar. You may also add a tablespoon or two of water at this stage. Stir-fry till pork is entirely cooked.