Congee or rice porridge is probably one of the best Asian comfort food I know of, especially to the Chinese people - we like to have congee when we're sick, when we're feeling cold or just because it is tasty. This is a very simple recipe for congee, spare ribs congee densely flavoured with dried oysters, dried scallops and peanuts for some added texture. Sprinkle some chopped green onions on top and your steaming hot bowl of tasty congee is ready to be served!




It has been said that dried oysters have been used in Chinese cuisine even before the Tang Dynasty (circa 618-907 CE). Dried oysters and dried scallops add rich flavour to many different types of dishes and are probably two of the top ingredients used in every Chinese kitchen. As one may gather, dried oysters, along with various other types of dried/ preserved food were probably invented as a means to ensure a continuous supply of food especially when refrigerators were not present at the time. Dried oysters or 'ho see' in Cantonese also mean good deeds hence dried oysters are abundantly used especially in festive seasons due to the auspicious connotations.




Congee is also often served with fried crullers or 'yau char kuey' which literally means deep-fried ghosts. Check out my congee with pork and preserved eggs recipe served with yau char kuey for the interesting story on why these yummy Chinese doughnuts have such a sinister-sounding name!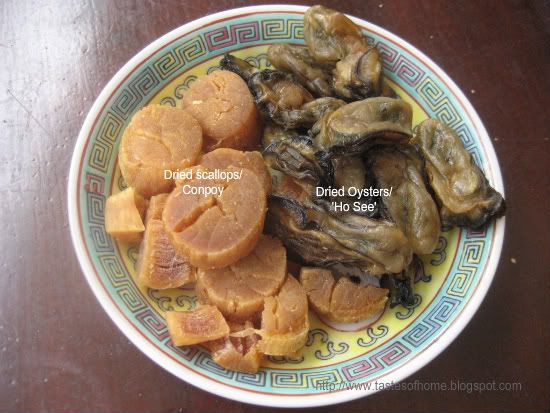 Note: As for the thickness of the congee, you can add more or less water depending on the consistency you desire which is a personal taste preference. I like to soak the rice before boiling to ensure a smoother consistency for the congee.


Ingredients:

1/4 pound worth of spare ribs (lean)
1 cup of rice
18 cups of water
8 dried scallops (soaked for about 20-30 minutes)
8 dried oysters (soaked for about 20-30 minutes)
1 packet of peanuts (without shells)
Green onions, chopped thinly for garnish
Salt or light soy sauce to taste




Method:

Firstly, wash the rice and drain. Soak in water mixed with about 1 tbsp of oil and 2 tbsps of salt for at least 30 minutes. Blanch the spare ribs in boiling water until surface turns white. Drain and set aside.

Now, boil the water in a soup pot and once boiling, add the rice, scallops, oysters and spare ribs to the pot gently. Bring to a boil. Boil for about 2 hours with low heat. Spoon congee into individual serving bowls and garnish with green onions. Add salt or light soy sauce to taste.

Share