This recipe for fried or rather stir-fried egg noodles is extremely simple, the only seasoning used is soy sauce. However, instead of light soy sauce, thick dark soy sauce is used as my mom prefers the richer flavour. The noodles used today are fresh egg noodles which are yellow in colour and usually sold in packets in the refrigerated sections of most Asian grocery stores. These noodles do not need to boiled before use and are ready for the wok. To my chagrin, I remember the first time I attempted to make this dish while I was studying in London, I thought I had to boil the fresh noodle before cooking them and of course I ended up with starchy lumps in my pot!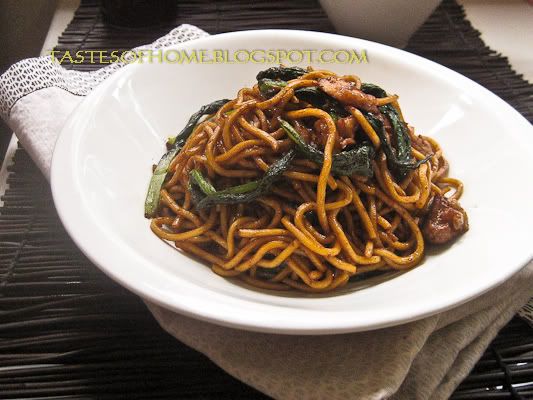 On another note, I thought it was interesting that according to some records, the origins of pizza and pasta can be traced back to China when the Chinese were the first ones to invent noodles and breads using the grain brought from the West via the Silk Road. Noodles are one of my favourite Chinese inventions and I just love how versatile they can be. This recipe calls for very little time in the kitchen and you can choose to omit or add ingredients according to your tastes. You can also add curry powder for some spice, take a look at my dry curry noodles with shrimp recipe.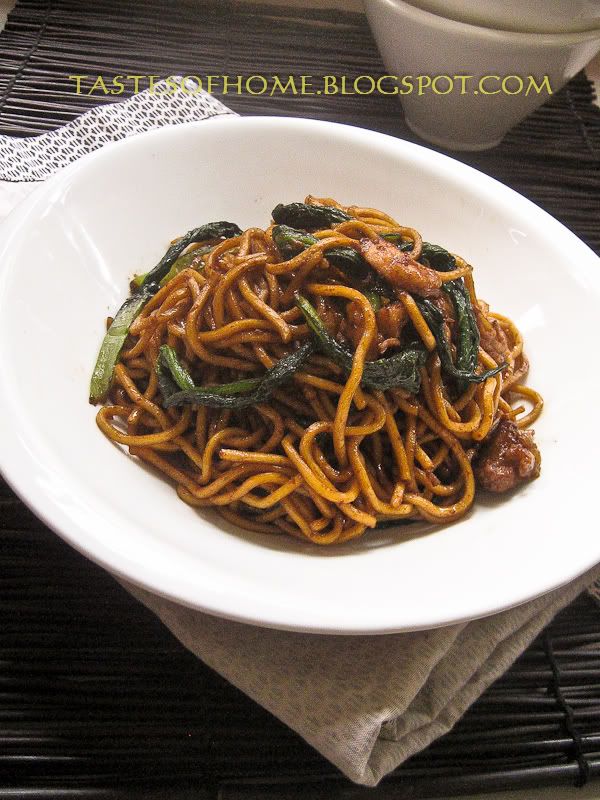 I will be sending this as an entry to Siri of Siri's Corner who is hosting this week's Presto Pasta Night created by Ruth of Once Upon A Feast. Check out her blog for more information if interested.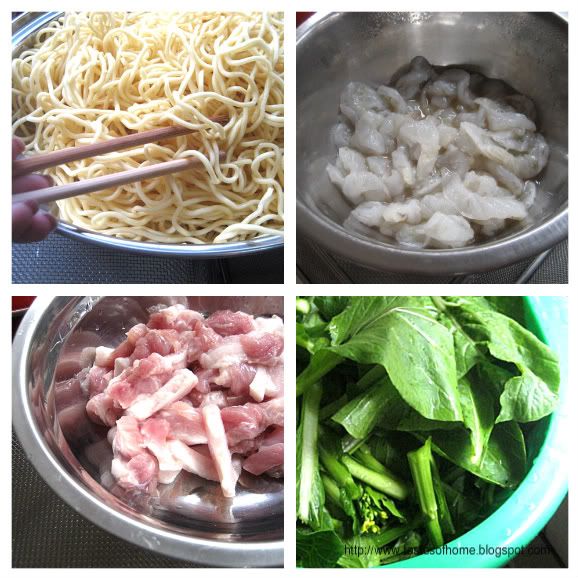 Ingredients:
1 kg fresh egg noodles
1/4 pound worth of pork, sliced (marinate lightly in corn flour)
20 small shrimps
1 kg Chinese broccoli or 'choy sum', cut to 2 inch pieces
4 cloves garlic, minced

Seasoning:
2-4 tbsps of dark soy sauce
1-2 tsps of light soy sauce or to taste




Method:

Firstly, blanch the vegetables and set aside. Heat up some oil in a pan or wok, once hot, turn the heat lower and add half of the garlic - saute till fragrant and add about 1 tbsp of the dark soy sauce and add the pork. Stir-fry till almost cooked then add the shrimp and vegetables. Stir-fry until cooked and set aside.

Now, saute the rest of the garlic till fragrant. Add the fresh egg noodles and stir-fry around briskly. Add about 3 tbsps of dark soy sauce and stir around till well mixed. Add about 1-2 tsps of light soy sauce for taste. Serve hot. I love to serve mine with some red chili peppers.