As most of my readers may realise by now, I am a huge fan of Cantonese slow-fire soups (老火汤) which is essentially soup that is simmered over low heat for at least a few hours, hence the term 'slow-fire'. Slow-fire soups are usually a clear broth made with some meat and flavoured with the vegetable of choice. Today, I would like to feature a very popular soup ingredient, the salted vegetable or known as 'ham choi' in Cantonese which apart from adding rich flavour to soups, is said to have 'heat-reducing' properties.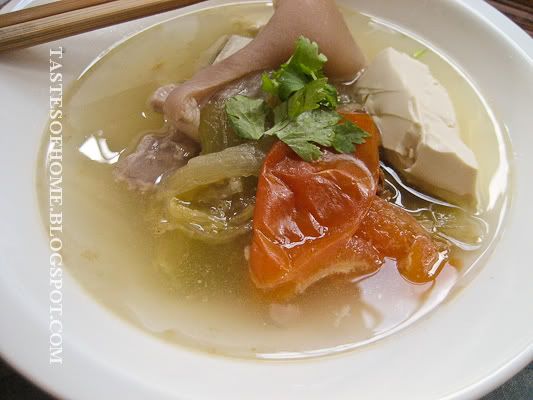 There appears to be many variations to this soup where instead of pork, one can opt to use duck. When I was browsing through a Nyonya cookbook, it appears that they like to add tamarind as well to the soup which adds a nice sour note to the soup. I opted to use tomatoes instead which also provided an appetizing note as I had tofu in my list of ingredients and I thought they went better together.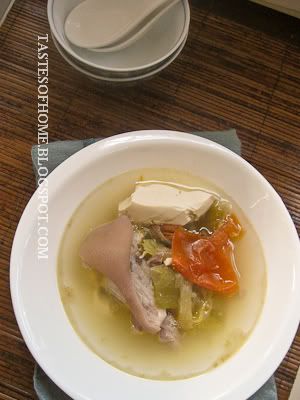 Whenever I use Chinese smoked ham, I do not need to add salt to the soup which I prefer, see my Chinese sharksfin melon soup where I wrote briefly on this yummy ingredient.

Salted vegetable, soaked in water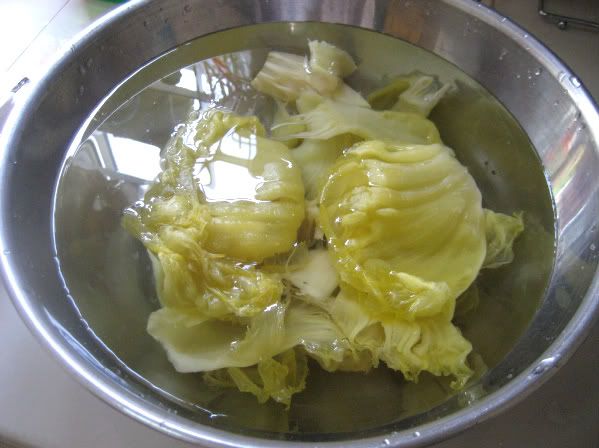 Ingredients:

15 cups of water
1 whole salted vegetable (soaked for 30 minutes to 1 hour), cut
2 inch worth of Chinese smoked ham
Handful of dried oysters
1 pig's trotter (optional)
1 kg worth of spare ribs
1 packet of silken soft tofu, quartered
4 tomatoes, quartered and seeded (the seeding part is optional)
Green onions and cilantro, chopped (garnish - optional)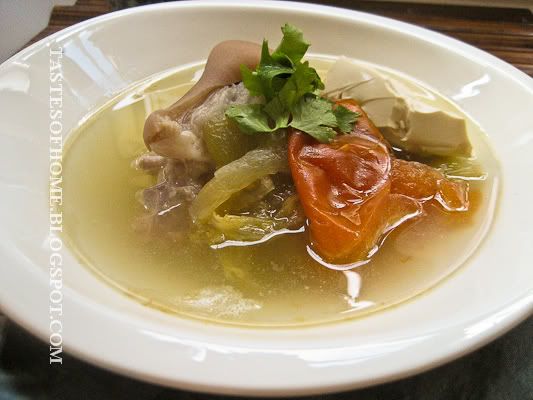 Method:

Firstly, soak the salted vegetable for about 30 minutes, tear off a small piece and chew to test for the level of saltiness. If still too salty, soak for another 30 minutes and taste again. Set aside.

Blanch the spare ribs and pig's trotter to remove impurities. Drain and set aside.

In a large soup pot, place the water and the ingredients together. Bring to a boil. Once rapidly boiling, turn the heat to low and cover leaving a little bit of a crack. Check frequently to make sure soup does not boil over. Boil for about 5-6 hours and serve hot. Garnish with some green onions and cilantro if desired. Add salt if desired but I did not as the flavours were already very rich with all my ingredients.