May I serve another heartwarming and wholesome bowl of nourishing 'slow-fire' soup from my kitchen. I am such a fan of soups, especially Chinese soups that just soup can be meal in itself for me and the good thing is that I never tire of it. Slow fire soups or 老火汤 have to be simmered for a long time, about 5-6 hours, hence the term 'slow-fire' where the soup usually consist of a clear broth simmered with meat and another ingredient of choice. Today's feature soup is made with sharksfin melon which I think is a great substitute for the popular infamous Chinese delicacy of sharksfin soup. This fibrous melon resembles sharksfin when cooked as the threads separate and truly gives on the appearance of sharksfin - but only with more nutrition, less costs and most importantly ZERO guilt from killing increasingly endangered sharks.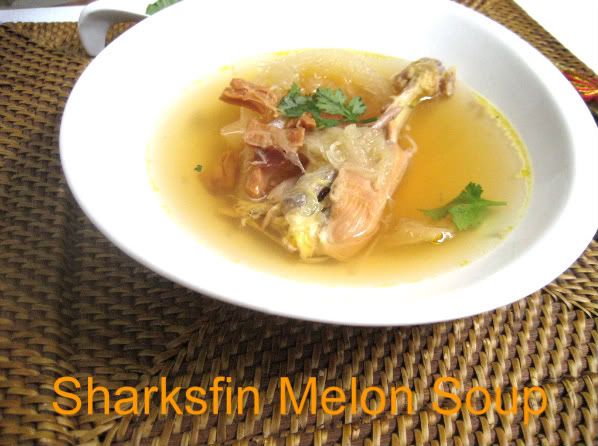 To me, 老火汤 is the ultimate comfort food, yes even more so than congee - and is also extremely simple to prepare at home, simply throw all the ingredients in the pot and boil merrily away, well almost that simple.
Slow fire soups are a specialty of Cantonese cuisine and depending on the main ingredient used, these soups are often believed to be tonics for strength and vitality.



Most of my recipes for Cantonese soups are derived from my parents' treasure trove of home recipes - for today's yummylicious soup, we used dried scallops, 'kampung' (free-range) chicken and Chinese smoked ham* to complement the sharksfin melon. The result was an extremely satisfying pot of irreplaceable 老火汤 (slow-fire-soup)!

* Chinese smoked ham or 金华火腿 (pictured on the right below) is an extremely flavourful ham that goes a long way in a lot of Chinese dishes, it provides a rich flavour especially in soups, almost like a 'magic' ingredient! A little goes a long way. I am most familiar with using this flavourful ham in Cantonese soups but they are often used in stews, stir-fries and also served on its' own simply steamed with some Chinese wine to cite an example. If you are unable to locate Chinese smoked ham, you can opt to use Virginia ham which is a good substitute.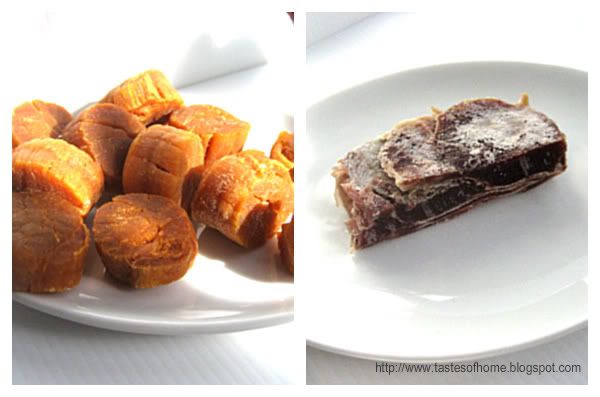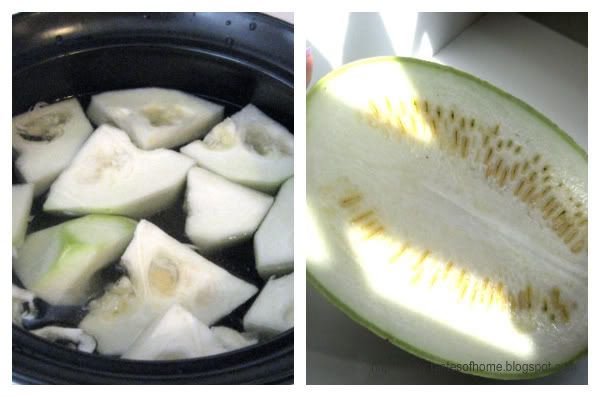 Ingredients:

15 cups of water
1 small to medium sized chicken, skinned (I used free-range/ kampung chicken)
1/2 large sharksfin melon or spaghetti squash, seeded and chopped
Handful of dried scallops, soaked for 15 minutes
2 inch worth of Chinese smoked ham, soaked for 15 minutes
Chopped green onions and cilantro for garnish (optional)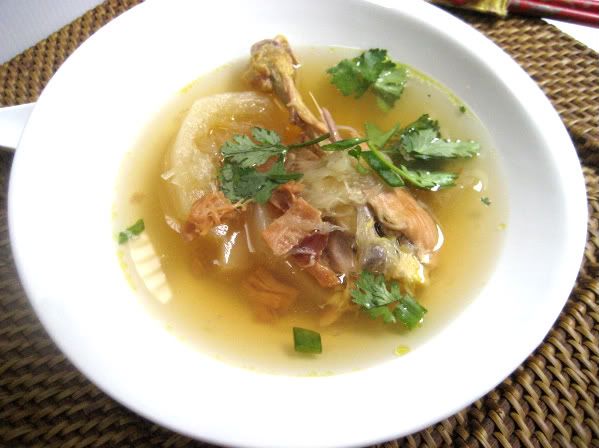 Method:

Firstly, boil the water in a large soup pot. Next, add in the chopped melon pieces, dried scallops, Chinese smoked ham and chopped chicken pieces. Bring to a boil. Once it starts boiling, turn the heat to low and let simmer for about 5-6 hours. Add salt if needed however if you use Chinese smoked ham, most of the time salt is not needed as the soup will already be very flavourful. Garnish with some cilantro or green onions if desired.