How can a Malaysian food blog be without a single feature for curry chicken? I asked myself that question which of course led to today's feature. I have to admit though that I am featuring a 'short-cut' recipe as I have yet to try my hand at making my own curry paste which I shall be aspiring to and hopefully achieve very soon. My parents were the ones who 'discovered' this brand of curry paste, A1 (pictured below) which is extremely tasty and yields an excellent curry chicken dish. My mom used to send me these spice packets and they were one of the required items on my list each time I returned home to Malaysia. I have yet to be able to find these overseas after scouring the Asian grocery stores (in California) but hopefully I am wrong for those of you living overseas.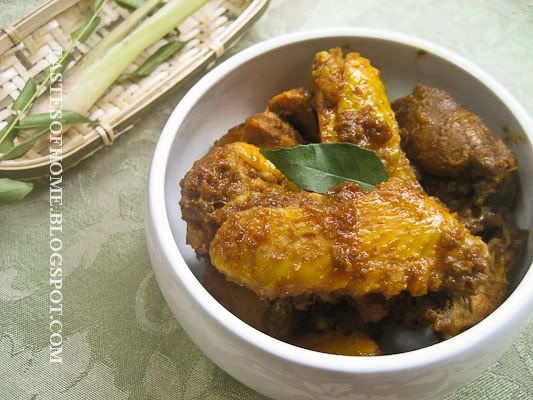 Funnily enough, according to my mom, one should not follow exactly the instructions on the packet. So this feature is my mom's or parents' method of cooking curry chicken out of a packet - we usually add lemongrass, curry leaves, shallots and potatoes. The potatoes are first shallow-fried separately as if you add them together, they will usually turn to mush unless of course that is how you like your curry chicken.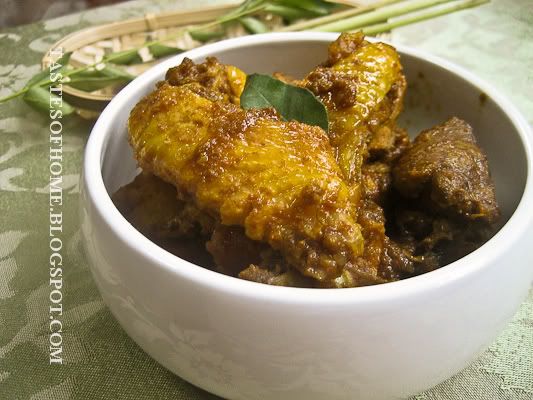 Instead of adding coconut milk, I added a little bit of water as we wanted to have a lighter curry chicken. Another advantage of eschewing coconut milk is that one can definitely keep the leftovers overnight as dishes with coconut milk have a higher chance of spoiling overnight. I have however eaten overnight curry chicken with coconut milk and I was totally fine - perhaps this warning applies more when one is in a hot and humid country like Malaysia?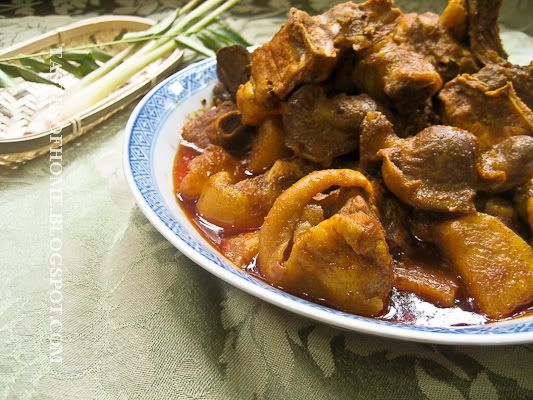 The A1 curry paste that I used, pictured on the right below



Ingredients:

2 stalks of curry leaves
1 lemongrass (smashed)
4 small shallots (minced)
4 small potatoes, cut into wedges
1 whole chicken (we used kampung or village chicken) or just use 4 chicken thighs or breasts according to your preference
1 packet of A1 curry paste
1/2 cup of water
Dash of soy sauce




Method:

Firstly, shallow fry the potato wedges in hot oil and once golden brown and slightly crispy, drain and set aside.

Leave about 2 tbsps of oil in the same wok or pan, then add the minced shallots, lemongrass and curry leaves. Stir-fry till fragrant. Add the curry paste and stir around until the unmistakable scent of curry floats around the kitchen. Add the chicken pieces and stir around till well coated. Finally add the potatoes and the water. Make sure the heat is on low. Add a dash of soy sauce. Cover the wok and let simmer for about 20 minutes checking occasionally. Check to make sure chicken is cooked, if so do a taste test and add more soy sauce if desired. Serve hot with rice or bread.