French beans omelette are a definite childhood favourite of mine - this dish is a very popular home style Chinese dish and I'm sure that most Chinese households have served it in one interpretation or the other. Quick and tasty, this humble egg dish is best served with rice in my opinion. You can get this prepared under 15 minutes and with a temptingly short list of ingredients, I hope you will give this recipe a try.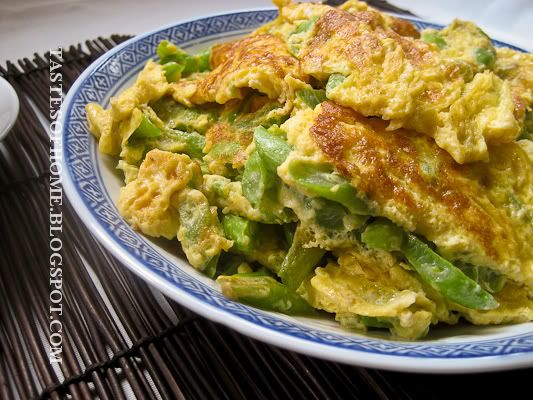 There is a good contrast of textures in this dish with the crunchy french beans ensconced within yummy and soft fried egg. As with most family-styled Chinese dishes, it's quite difficult to figure out how this dish came about - anyhow this is one of my favourite Chinese egg recipes, another one that comes to mind is the steamed salted egg with pork that is also open to many different (delicious!) interpretations. The french beans can also be easily substituted with four-angled beans for another variation.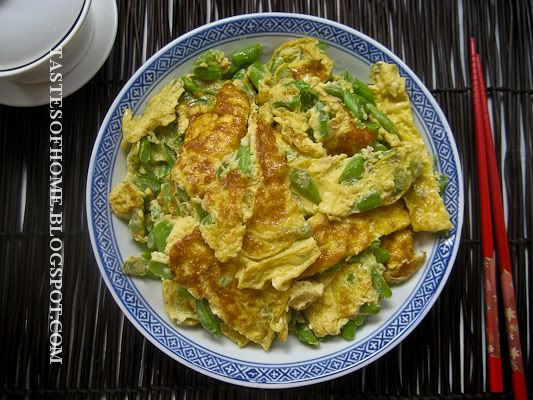 Ingredients:

6 medium sized eggs
1/4 cup of water
1/4 tsp salt
20 french beans/ long beans, chopped at an angle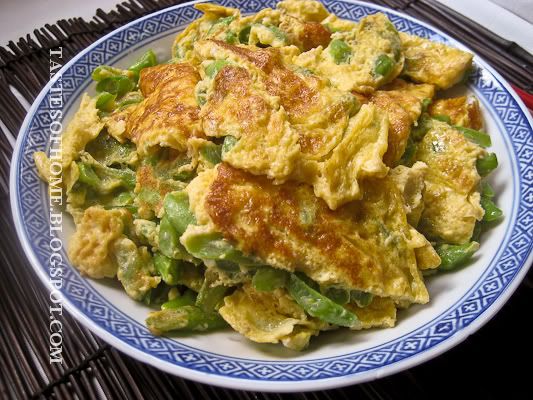 Method:

1. Heat your wok or pan until hot.
2. Use a pair of chopsticks to whisk the eggs in a separate bowl. Add the water and salt to the eggs and mix well. Set aside.
3. Saute the chopped french beans with a little bit of cooking oil. Add a pinch of salt to the beans and saute until bright green turns slightly darker.
4. Place the cooked french beans into the egg mixture and mix with chopsticks lightly.
5. Finally, add about 1/2 tbsp of cooking oil and once hot again turn the heat to low and fry the egg mixture with the french beans until cooked. Serve hot.