Recipe from Perfect Light Desserts by Nick Malgieri and David Joachim

I am a lazier cook by nature in that I hardly bake as baking is so much more precise than just cooking in the kitchen which allows me more flexibility that is at least in my opinion and experience, BUT when I read this recipe, I decided to put on my baking hat again after a long hiatus. This is a great and easy recipe from 'Perfect Light Desserts', imagine having lemonade in the form of a cookie!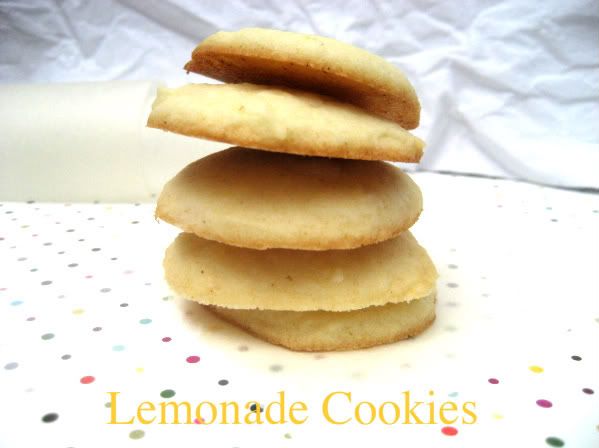 Apart from being light, chewy and delicious, these cookies are also relatively low in fat. These are drop cookies which means no rolling or shaping is required, just drop the batter onto your baking trays or cookie sheets and bake (lazy genes acting up again - not to mention I realised I am a klutz with a rolling pin!). I absolutely love the fresh and bright scent of these lemonade cookies, these will be perfect with a steaming hot cup of coffee or tea. Not having much of a sweet tooth myself, I prefer cookies or biscuits that are not too heavy and these fit the bill nicely. As these are drop cookies, I used a teaspoon to scoop up a rounded portion of the batter and then used a knife to slide it onto the baking tray. If you really want to be very precise, you can try using cookie scoops as well - small ice cream scoops will also do the job well.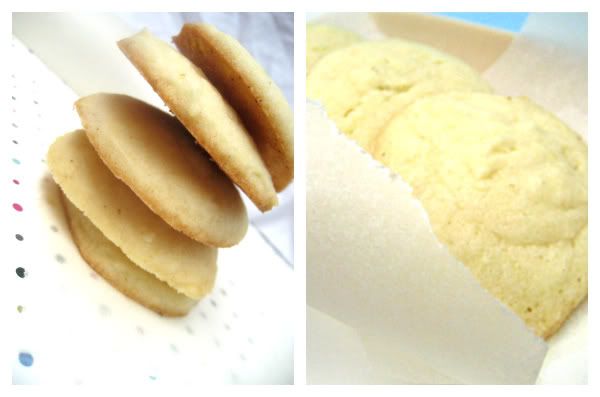 Update: I was pleasantly surprised that my simple lemonade cookies made the Top 9 in foodbuzz's daily. Thanks fellow foodbuzzers and editors!
Storage note: Store cookies between sheets of wax paper in a tin or plastic container with a tight-fitting cover.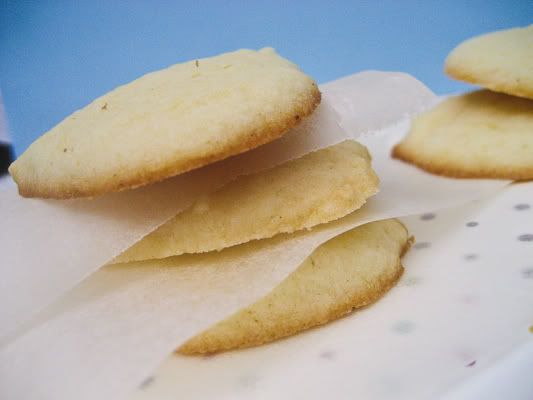 Ingredients:

1 1/4 cups all purpose flour (spoon flour into dry-measure cup and level off)
1/2 tsp baking powder
1/4 teaspoon salt
4 tbsps (1/2 stick) unsalted butter, softened
3/4 cup sugar
1 large egg white
1 tsp finely grated lemon zest
2 tbsps lemon juice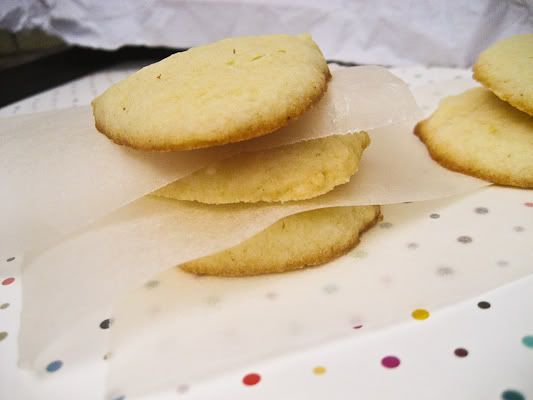 Method:

1. Set racks in the upper and lower thirds of the oven and preheat to 350 degrees fahrenheit.
2. Stir the flour, baking powder and salt together and set aside.
3. Beat the butter and sugar together by machine with the paddle attachment on medium speed for about a minute, or until well mixed. Beat in the egg white and lemon zest.
4. Change the speed to low and beat in half the flour mixture, then the lemon juice. Beat in the remaining flour mixture.
5. Use a large rubber spatula to give the batter a final mixing.
6. Drop the batter with a teaspoon or ice cream scoop about an inch apart in all directions on the prepared pans. Try to portion the drops as equally as possible to ensure even baking.
7. Bake the cookies for 8 to 10 minutes, or until they are light golden on the bottom but still very pale on top. Change the position of the pans, from top to bottom and back to front, about halfway through the baking.
8. Slide the papers from the pans to racks to cool the cookies. This batter makes about 36 cookies.