Petai or stinky beans cooked in spicy chilli paste is one of my favourite Malaysian dishes. Despite its' namesake, I don't find these beans stinky at all! The spicy and aromatic chilli paste goes perfectly with the beans and one usually adds shrimp or anchovies as the second ingredient. Petai is also known for some nutritional benefits where it is beneficial especially to diabetic patients due to its' natural blood glucose lowering properties. Petai gives off a very unique flavour, a little pungent but tastes satisfyingly delicious. Tamarind is also usually added that provides a pleasing sour note, drawing out the natural sweetness of the beans.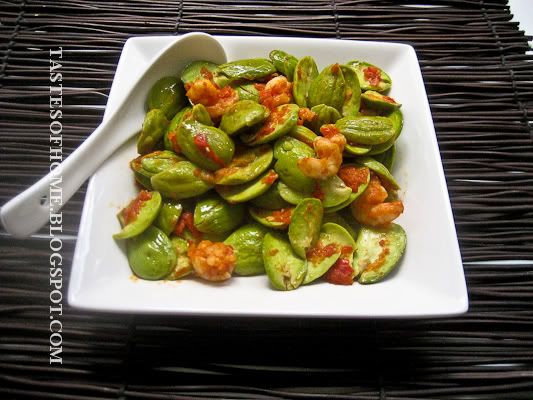 Whole petai, pre-cooking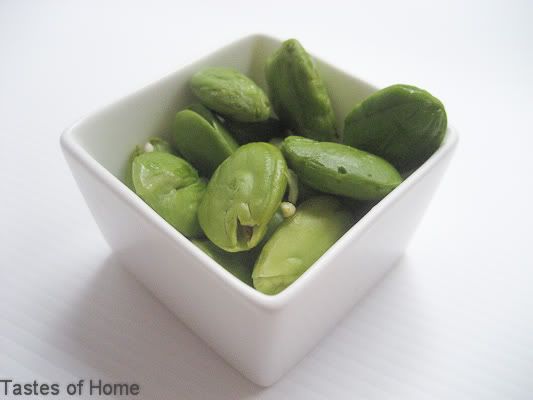 Cooking petai can be a little time-consuming though as one has to remove the tiny seed in each bean as the seed is rather bitter. I read also that petai is supposed to help with depression, if so - this is definitely a more low calorie way to beat the blues than chocolate!

I am planning to submit this entry to Weekend Herb Blogging event hosted this week by Janet of Tastespace. Please go to her blog to check out the details if you want to participate.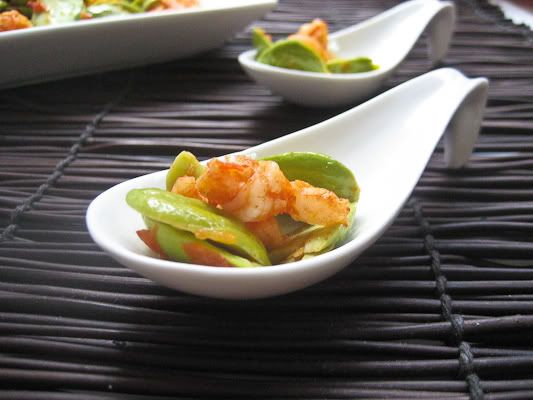 Ingredients:

2 cups of petai (stink beans), split in half, seed removed
1.5 cups of small shrimp, shelled
2 tbsps of tamarind paste dissolved in about 1/2 cup water

For the chilli paste:

12 red chilli peppers
2 shallots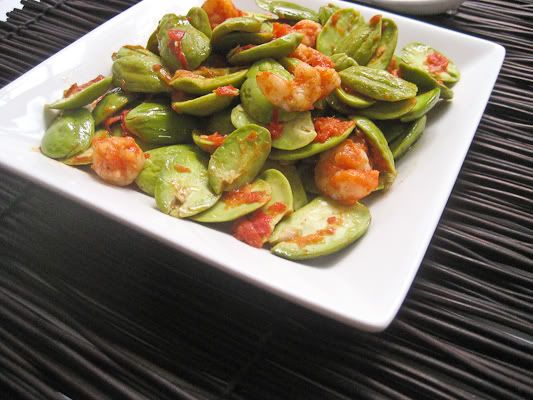 Method:

1. Prepare the chilli paste by either pounding with a mortar and pestle the old fashioned way which I personally prefer (for a better texture and taste) or for convenience just use a food processor. Set aside.
2. Blanch the petai in boiling water. Drain and set aside. Heat about 2 tbsps of cooking oil in your wok, once hot, place the blanched petai in the wok and stir around for about 1 minute. Remove from wok and set aside.
3. Now, stir-fry the pounded chilli paste in the wok until fragrant. Add the shrimps and stir around till almost cooked, add in the petai again and finally add the tamarind water into the wok. Stir well to mix, then dish out and serve with steamed rice.