This stir-fry is not the usual variety of vegetables but rather a fruit, the pineapple to be exact. This is a favourite family dish of ours, I don't think I've ever seen this dish in any Chinese restaurants but I could be wrong. Anyway, this pineapple stir-fry is tangy, sweet, fresh and spicy! The spiciness is a clean type of spiciness and comes from the red chilli peppers used in the dish.





Pineapple is more commonly used in Chinese cooking as the accompaniment to a main ingredient, however this time pineapple is the main ingredient of the dish - hence, it is important to try to use fresh pineapple as opposed to the canned variety. Stir-frying a fruit with chilli peppers may be a little out of the ordinary especially for the more commonly seen Chinese cuisine, however I promise that this dish is extremely tasty!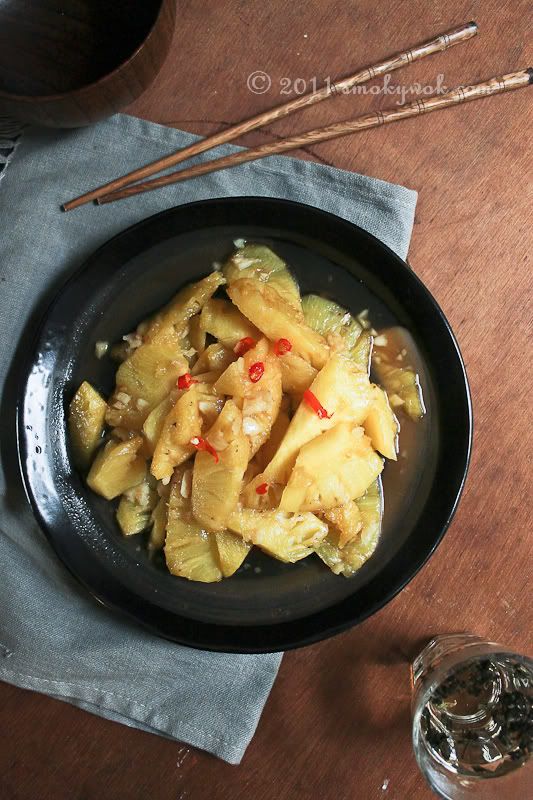 It was interesting too that I was just reading a Nyonya cook book recently and I found a recipe for pineapple curry - perhaps using pineapple is more popular than I thought. However, Nyonya cooking is heavily influenced by Malay and Indian cooking styles so that might explain why pineapple as the main ingredient is hardly seen in 'common' Chinese cuisine. By the way, I am very curious if you have ever had pineapple cooked this way - do let me know.

Pleasing to the eye and the palate..




Ingredients:

1 whole fresh pineapple (a ripe one)
2 cloves garlic, minced
4 red chilli peppers (seeded and soaked if you prefer less spicy)
Dash of soy sauce
1/4 cup water
4 tbsps of sugar or to taste (adjust according to the amount of pineapple you have as sizes may vary)

Method:

Saute the garlic and chilli peppers until fragrant. Place the chopped pineapple slices into the pan and stir fry for a little bit. Add the sugar to the wok or pan, and then the water. Bring to a boil and add a quick dash of soy sauce. Cover and lower the heat and simmer for about 5-10 minutes. Remove from wok or pan once you see that the water added to the pineapple has thicked to a syrup-like consistency (due to the sugar).

If using a whole pineapple, remember to remove the core of the pineapple.