It's time for some home-made nuggets! These chicken nuggets are extremely versatile and can be served as hors d'oeuvre, part of a main dinner or simply as snacks. I call these nuggets Asian as I used Asian seasoning for the marinade while the ginger and the green onions in the batter completed the Asian flavours. Although I am not a huge fan of fried foods, these nuggets suit me a little better as the batter is lighter in that corn flour and egg whites are used. The finely chopped green onions and minced ginger in the batter provide extra fragrance to every crispy bite too.

I served these with rice, but these also taste great served atop soupy noodles.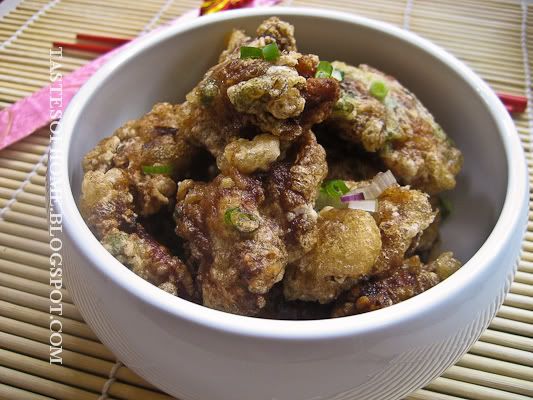 See the green onion slices peeking through the batter, I think adding some chopped red chilli peppers or better, bird's eye chilli peppers will work well too..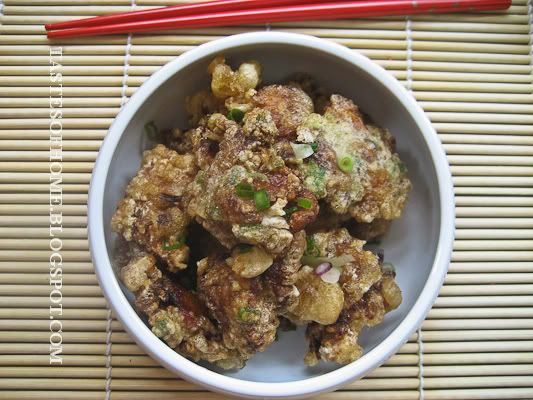 Ingredients:

1 pound boneless chicken thighs
Vegetable oil for deep-frying
Cornstarch

Marinade:

2 tbsps dark soy sauce
2 tbsps sake
1 tsp fresh ginger juice

Batter/ Coating:

2 egg whites
2-3 tbsps cornstarch
2 tbsps finely chopped green onions
1 tbsp finely chopped ginger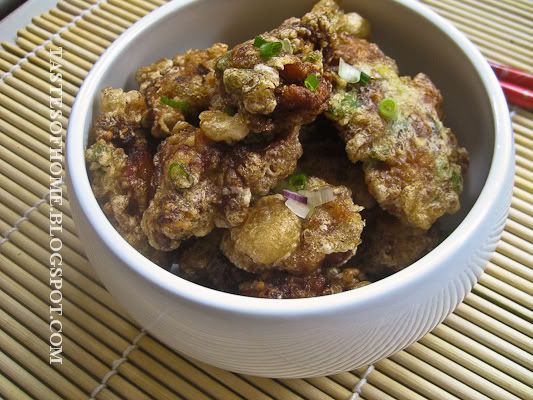 Method:

Cut the chicken into 1 inch squares. Combine the seasoning ingredients and marinade for about 30 minutes. Preheat the oil to a low deep-frying temperature (330 F).
For the batter, beat the egg whites until frothy but not stiff. Add the cornstarch and mix well. Add the green onions and ginger. Dredge the chicken in cornstarch and then cover well with coating mixture. Deep-fry the chicken. Remove from oil before the chicken becomes overly brown. It should fry gently. Drain on some absorbent kitchen towels and serve. Sprinkle some chopped green onions as garnish if you wish.