Recipe adapted from 'Perfect Light Desserts' by Nick Malgieri and David Joachim

This is going to be my go-to recipe from now whenever I have overripe bananas around the house. I loved that this recipe was so easy with extremely satisfying results. After trying out a few banana cake recipes, I realized that it is really better to use very ripe bananas to ensure a moist and rich cake. This time, since they were available, I used 'pisang mas' which has a fragrantly sweet taste and creamy texture. This species of bananas mainly grow in South East Asia but I have stumbled upon them now and again in the Asian grocery stores in California. In Chinese, this variety of bananas is referred to as 'Mai Chiu' (米蕉), literally translated to 'rice bananas'. In my opinion, I think these rice bananas produced a richer flavoured and more moist cake.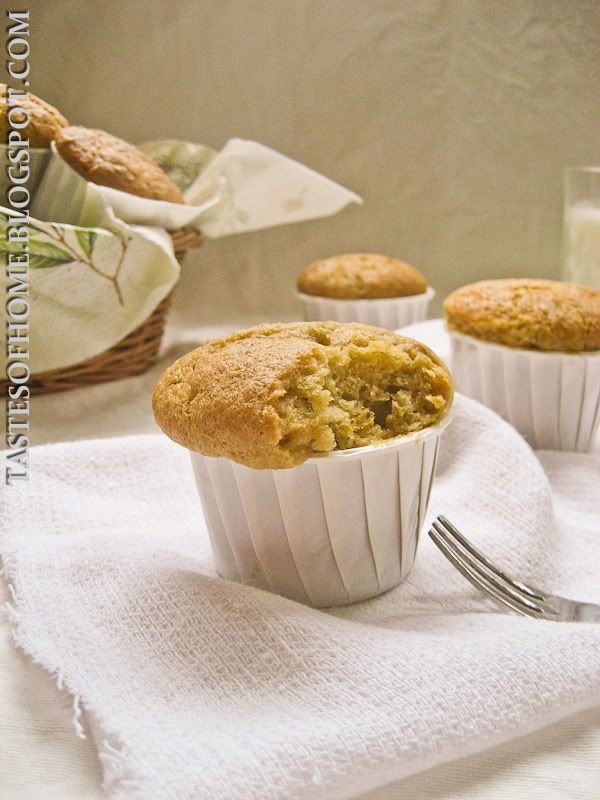 On another note, yesterday I attempted to bake another cake from another recipe book which was an utter failure - fortunately I was greatly comforted by the results of these banana cupcakes today. You know the rush of happiness you get when you see a perfectly risen cake from your own oven? I was just SO relieved!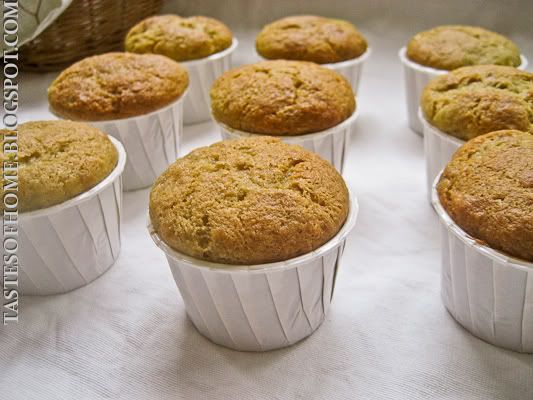 Instead of using a food processor to make a banana puree, I used a fork to mash the bananas as I wanted more texture in my cake, which also produced a richer flavour in my opinion. I also made a mini loaf in keeping with the original banana loaf recipe.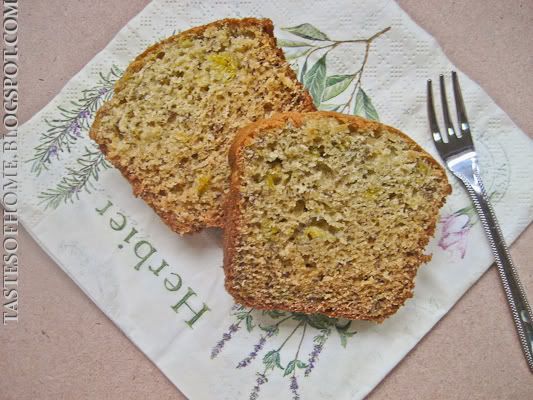 According to the authors, you have to really use very ripe bananas regardless of the type of bananas you're using to make banana cake, if not you might as well use potatoes!



Ingredients:

2 1/2 cups all-purpose flour
2 tsps baking powder
1 tsp baking soda
1 tsp cinnamon powder (I skipped this)
2 large eggs
1/2 cup granulated sugar
1/2 cup dark brown sugar, firmly packed
3 tbsps unsalted butter, melted + extra for greasing baking tins
1 tsp vanilla extract
2 1/2 cups mashed banana




Method:

1. Set a rack in the middle of your oven and preheat to 350 degrees fahrenheit.
2. Stir together the flour, baking powder and baking soda (and cinnamon powder if using).
3. In a mixing bowl;, whisk the eggs to break them up, then whisk in the granulated sugar and the brown sugar.
4. Whisk in the butter and vanilla, followed by the mashed bananas.
5. Sift the flour mixture over the banana mixture and throughly fold it in with a large spatula.
6. Scrape the batter into the cupcake or muffin liners or you can use a 9 inch loaf pan and smooth the top with a knife.
7. Bake for about 35 minutes (cupcakes) or 55 to 65 minutes for a 9 inch loaf.
8. Cool the cake(s) in the pan on a rack for 10 minutes, then unmold it and cool completely on rack (if you used a baking pan instead of making cupcakes).