Today's feature is a very simple family recipe (mom's side) that is now one of our family favourites. Pork is briefly pan-fried with garlic then braised for about an hour in sugar, light soy sauce and thick soy sauce. The thick soy sauce used is already blended with some caramel and sugar - this differs from another variety of dark soy sauce known as 老抽 which although dark is not thick in texture. The 'black soy sauce' can be found overseas in most Asian stores, just make sure the ingredients in the soy sauce include caramel and sugar. The thick soy sauce and the sugar together produce an extremely delicious and gorgeous caramelized glaze to the pork.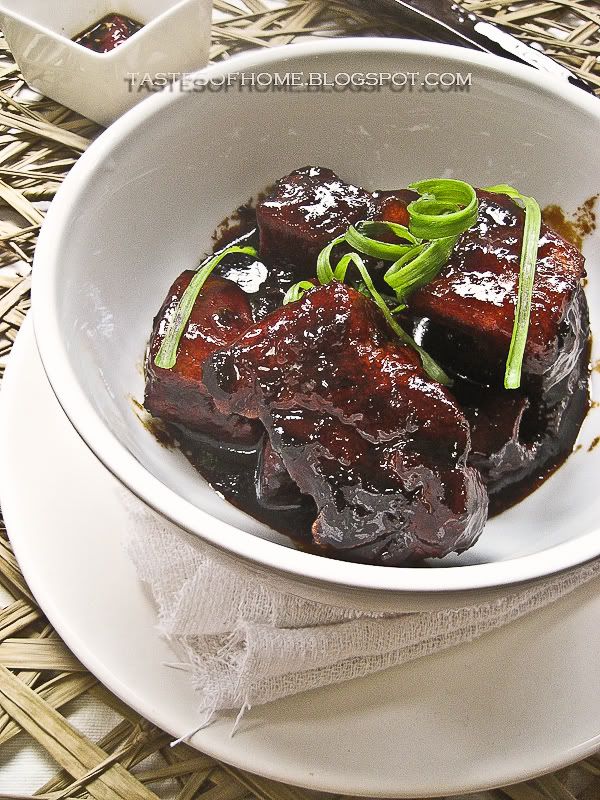 My mom prefers the 'Yuen Chun' brand for her thick soy sauce supply.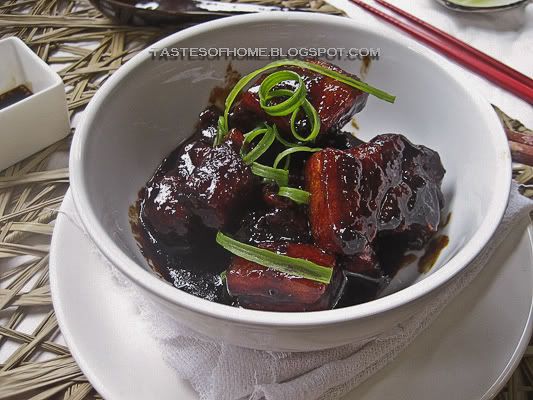 This was simply served with steamed rice, but I think with its' flavours, this pork will go very well with the thin egg pancakes that are usually served with the famed Peking Duck which is another favourite Chinese dish of mine. I love this dish as apart from being tasty, it is extremely easy to prepare plus uses very little ingredients. This is a welcome recipe to my kitchen as although I do like cooking 'elaborate' dishes at times, it is great to be able to produce equally excellent flavours with a much more abbreviated process - thanks Mom!



Ingredients:

6 cloves garlic, minced
16 inches worth of pork or ribs (try to pick ribs with some fatty parts) - marinated with about 1 tsp of salt and 1 tsp of corn flour for at least 1 hour (place in fridge)

For the braising liquid: (as usual, please do a taste test)

1.5 cups of water
3/4 cups of thick (dark) soy sauce
3 tbsps of light soy sauce
4 tbsps of sugar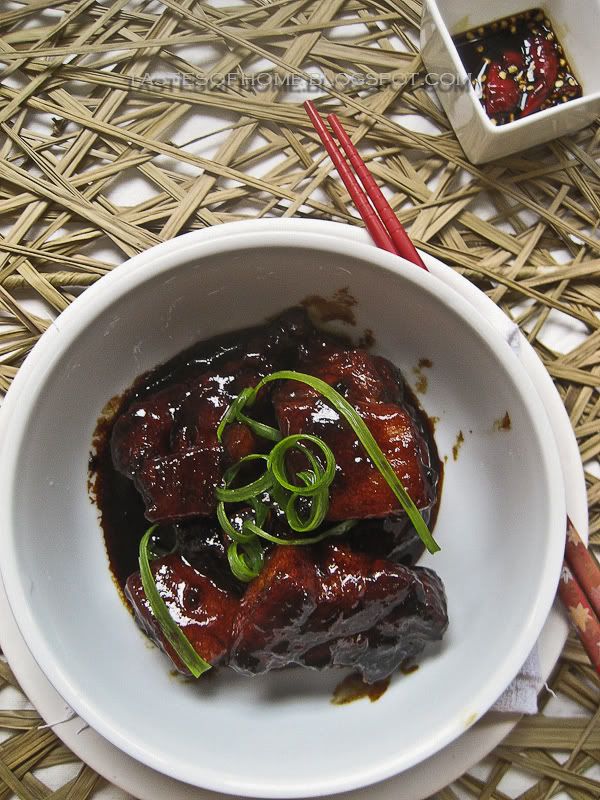 Method:

Firstly, saute the minced garlic in about 2 tbsps of cooking oil until fragrant. Next, place the pork in the pan and pan-fry quickly for about 1-2 minutes. Remove from wok and set aside.

Prepare the pot for braising (I used a claypot) but any heavy bottomed pot will do. Prepare the braising liquid as above and do a taste test, adjust the sugar and light soy sauce according to your preferences. Place the lightly pan-fried pork with the garlic into the braising liquid and bring to a boil. Turn the heat low and allow to simmer for at least 1 hour with the lid on, checking and stirring occasionally. After 1 hour, the liquid should reduce to about 6 tbsps. Once you see the sauce caramelized, stir to coat the pork again evenly. Remove from heat and dish out to serve. Garnish with some green onions if desired.