The Chinese really love their dumplings! It was only while I was wondering what to write about this famous Chinese snack that I discovered dumplings were actually already in existence more than 1,800 years ago. According to folklore, the concept of dumplings were invented or rather introduced by a Chinese doctor by the name of Zhang Zhong Zhing during a particularly harsh winter where plague broke out in a certain part of China. His dumplings were filled with lamb and some medicinal herbs served with a bowl of hot broth.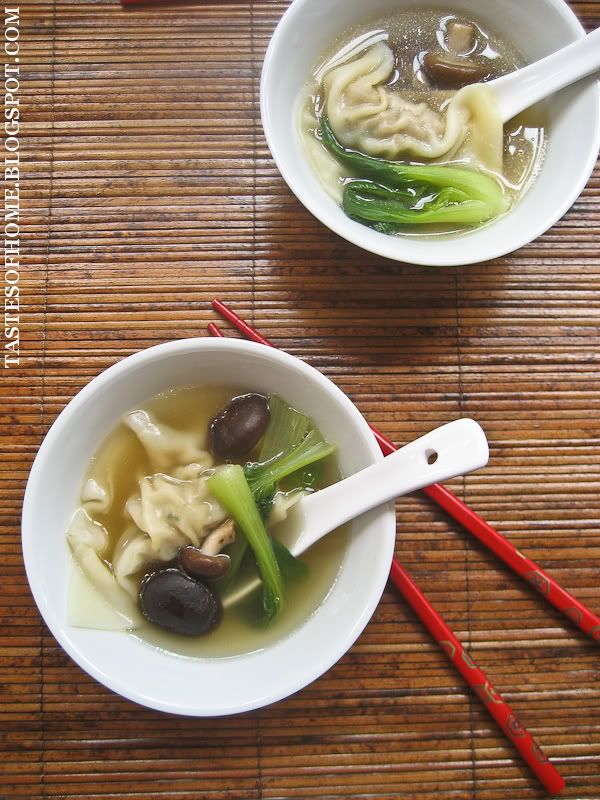 The Chinese then started eating dumplings to commemorate the kind act of Doctor Zhang during the winter solstice festival and Chinese New Year. In addition, the more affluent families of the past would hide little gold or silver nuggets in their dumplings and whoever who found such in their dumplings would be deemed to have good fortune throughout the year. I believe that sui gow in particular originated from the Northern parts of China - they were usually steamed and served with a simple dipping sauce but my version today is cooked in broth which is probably a Southern (China) adaptation. The fillings for dumplings are usually beef, lamb, chicken or pork added with a mixture of vegetables depending on preferences.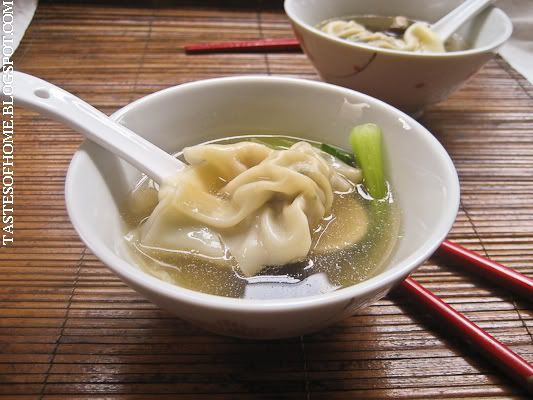 I used pork for my filling and instead of using ground pork I decided to take the traditional route and chopped up a piece of pork - it was rather fun doing so as well and the texture is definitely better than store bought ground pork. Next time I shall attempt to make my own dumpling skins but for today, I still took the easy way out! This is a very easy recipe and you can definitely be creative with the filling. I added some water chestnuts (for added bite), some chopped up shitake mushrooms and bok choy in mine.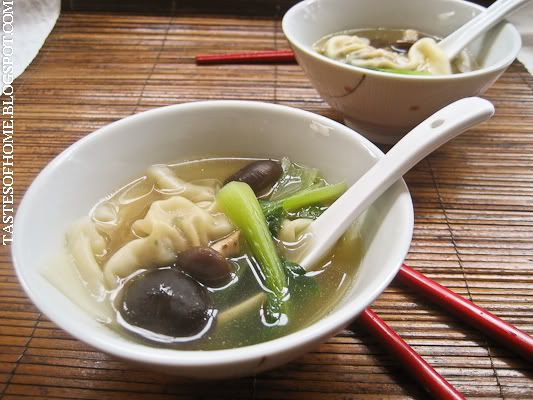 Ingredients:

250g worth of pork (with some fatty bits), chopped finely with 2 cleavers or alternatively use same amount of ground pork
1 tsp peeled and grated fresh ginger (include juice)
4 stalks of boy choy, chopped finely
2-3 water chestnuts, chopped finely (I used canned ones but fresh ones are even better)
2 heaped tbsps worth of shitake mushrooms, chopped finely

Seasoning:
3 tsps Chinese rice wine
1 tbsp mirin (optional)
1 tsp salt
1 tsp light soy sauce
1 tbsp oyster sauce
1 tsp sesame oil
1 tsp sugar
2 tsps corn flour

20 round sui gow round wrappers

For the broth:

4 cups worth of chicken broth (either use canned or use the powdered form for a short-cut)
2-4 tsps of garlic oil (Place about 1 tsp of minced garlic with 2 tbsps of oil and microwave for about 30 seconds)
Dash of white pepper
1 tsp of salt or soy sauce, depending on your preference
1 cup worth of boy choy or any leafy green vegetables
Shitake mushrooms (fresh or dried)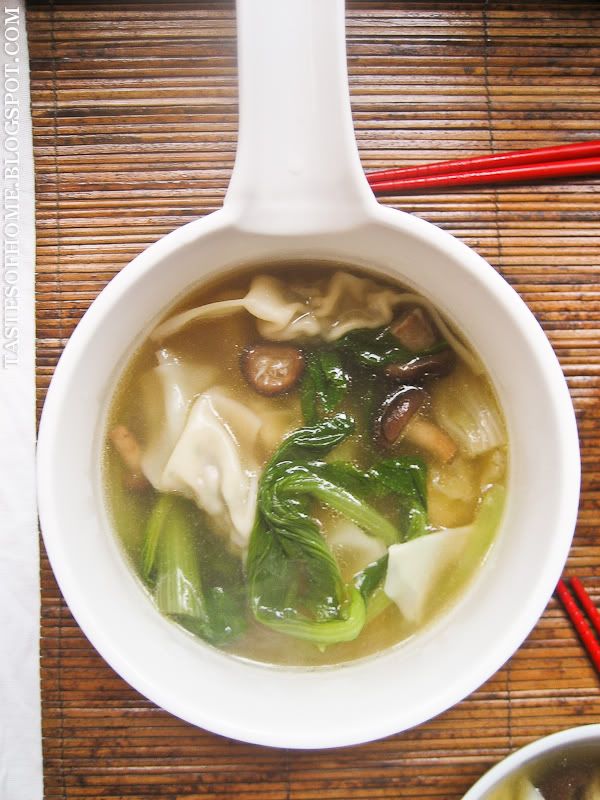 Method:

Combine the seasoning ingredients in a large bowl. Add the chopped pork, boy choy and ginger into the bowl and with wet hands, mix to combine well. Set aside.

To work with the dumpling wrappers, make sure to place a wet kitchen towel on top of the wrappers that are not being used to avoid wrappers drying out. Place about 1 rounded teaspoon of filling in the middle of the wrapper, wet edges with water and pinch to seal. I used a nifty apparatus, a dumpling press to seal. However, you can simply pinch the edges together or make little pleats along the edges with wet hands. Boil the dumplings in water with a pinch of salt and 1 tsp of cooking oil. This should take about 5 minutes, the wrappers should look transparent once cooked. Remove from water with a slotted spoon and set aside. I lightly 'rinsed' my dumplings with some cold water. Discard the water.

Prepare the broth and lastly add the garlic oil for some fragrance. Do a taste test and add more salt if desired.