The best way to prepare fresh and succulent flavoured star garoupa is definitely steaming Chinese style - at least to me! The featured fish today is the prized 'Seven Star' garoupa which is highly sought after for its' firm flesh (not tough!) and delicate flavour, making it the perfect candidate for a simple steamed dish. According to my parents who are rather picky eaters I must say, this variety of star garoupa is superior in texture to another highly sought after fish for Chinese dishes, the 'So Mei'. I am not entirely certain of the English name for the latter, so please let me know if you do. There are many types of garoupa used for Chinese cooking including the tiger garoupa and red garoupa.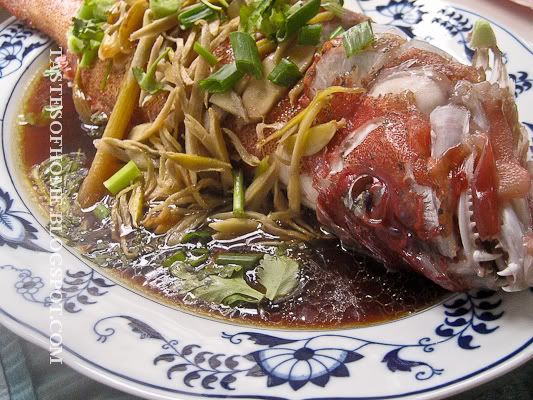 Chinese steaming or rather Cantonese steaming involves very little ingredients as the objective is to preserve the fresh taste and natural sweetness of the fish as much as possible. Ginger and scallions are used liberally to mask any fishiness and some steaming hot prepared soy sauce is then spooned onto the cooked fish. The seven star garoupa has red skin where its' skin is speckled all over with dots rather like stars hence its' namesake - this is my guess. According to my dad, one can differentiate the Seven Star garoupa from its' humbler cousins as the former is coloured more intensely and has far more specks.






Ingredients:

1 Seven Star Garoupa, or use any white-flesh fish
Green onions, finely chopped
Ginger, finely chopped
Cilantro
Water for boiling

Ready for steaming..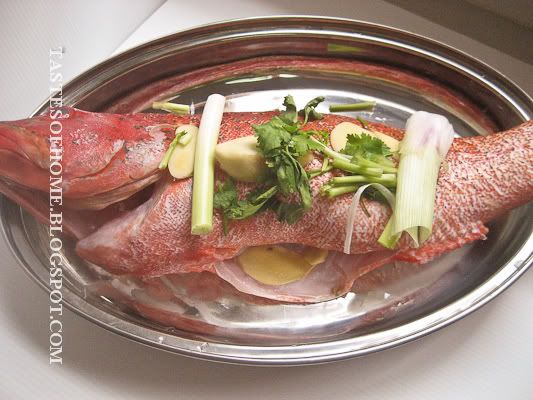 For the sauce:


2 tbsp of oil
2 tbsp of light soy sauce
Dash of dark soy sauce
1 tsp of sugar
4 tbsps of water

Method:

Firstly, clean and scale the fish throughly. If the fish that you are using is relatively large, cut it down the middle for easier steaming. Place a stalk of green onion and two big slices of ginger on top of the fish and steam for about 15-20 minutes, depending on the size of fish used. Do not overcook the fish as the fish will continue to 'cook' even when it is out of the wok. Place the steamed fish onto your serving dish and discard the liquid collected in the steaming plate.

Meanwhile for the sauce, stir-fry the ginger and green onions till fragrant, then add the rest of the ingredients (use low heat!). Do a taste test and add more soy sauce if needed. Bring to a boil and spoon on top of the steamed fish. Garnish with the rest of the green onions.