This cucumber dish combines sweet, sour and spicy notes in a flavourful stir-fry with chicken livers and chicken gizzards. I am a huge fan of chicken gizzard as I love the chewy texture but not so of chicken livers though my mom insists the latter have to be in the stir-fry at least for the flavours. If you don't find chicken livers and gizzards appealing, you can make the dish vegetarian and just stir fry the cucumbers and red chilli peppers.




I love the vinegary sauce of this dish and also I think the texture of the crunchy cucumbers marry well with the chewiness of the gizzards. I would buy pre-cleaned gizzards and livers which are widely available in grocery stores instead of attempting the rather arduous (at least to me) task of cleaning at home though.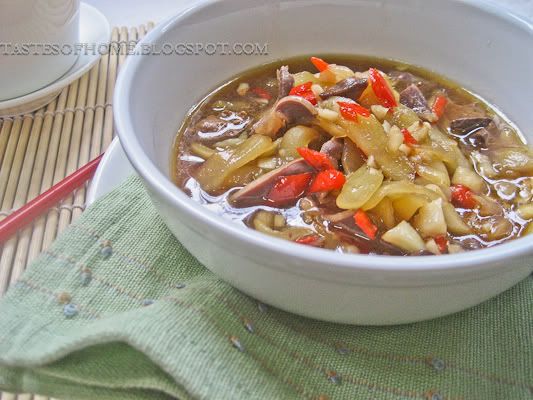 Note: Remember to soak the cucumber slices in some salt before cooking. After soaking for at least 15 minutes, 'squeeze' the cucumber slices lightly with your hands to remove most of the moisture. This will make the cucumber crunchier and not turn to mush while stir-frying.



Ingredients:

2 cucumbers, peeled and sliced (at an angle) to bite-sized pieces - soak the cucumber slices in about 1 tsp of salt for about 15 minutes, then squeeze the moisture out of the cucumber slices before cooking - this makes it crunchier!
4 red chilli peppers, sliced (remove seeds if you prefer less spicy)
4 cloves garlic, minced
2 chicken gizzards, sliced
1 chicken liver, sliced

Sauce: (Do a taste test and add more sugar if desired)

1/2 cup white vinegar
1 tsp light soy sauce
3 tbsps white sugar
1/2 cup water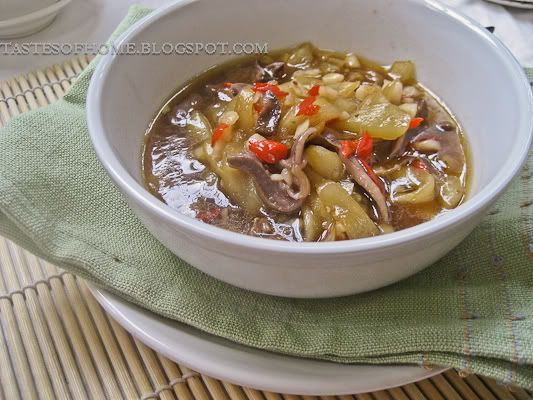 Method:

Firstly, saute the garlic and red chilli peppers with some cooking oil. Next, add the sliced gizzards and livers to your pan and stir-fry around briskly. Next, add the cucumber slices. Finally, add in the pre-mixed sauce and bring to a boil. Turn the heat to low and cover for about 5-10 minutes. Once the sauce thickens a little, the dish is ready. Serve hot with rice.