Recipe for Chocolate Mudcakes from Donna Hay's book 'Entertaining'

I must have been living under a culinary rock for the longest time - I only very recently found out who Donna Hay was and am I glad I did. This recipe for mudcake is excellent and yields a dense and moist cake plus most importantly, it was rather easy to make - this factor is of utmost importance to a novice like me! My youngest brother, Jon is a huge fan of mud cake and since he will be going to the UK for college soon, I decided to scour around for a mud cake recipe as a little going away gift for him. This cake is such a versatile base and you can make ganache, icing or just sprinkle some cocoa powder or icing sugar for a simple treat. As for me, after looking around at what was available at home, I decided to make a simple banana cream filling for some of the mudcake which went very well with the dense chocolatey base. You can use a 9 inch round pan or just use the batter to fill up whatever baking containers you like. I made a mini loaf, a mini cake and used two small pudding bowls for the remainder of the batter. This batter will work well as cupcakes too, but adjust the baking time accordingly.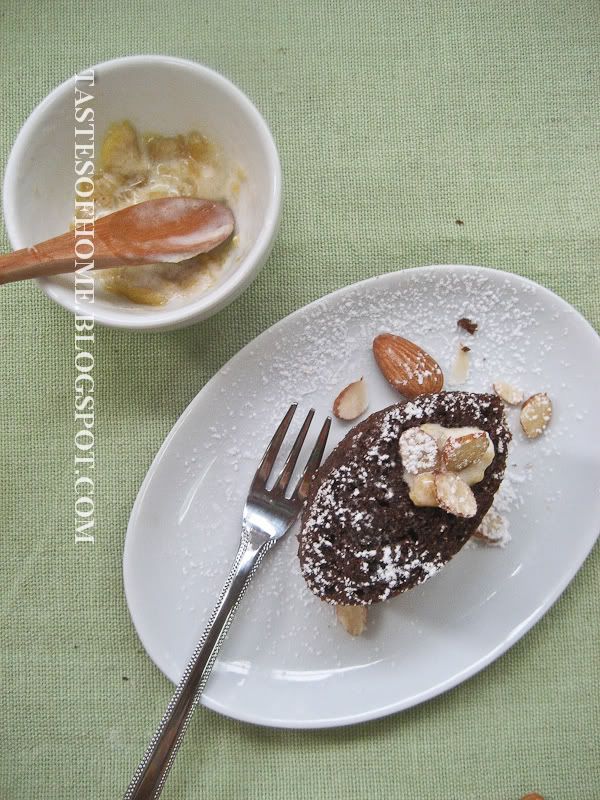 For the banana cream filled mini mudcakes, I used an oval cookie cutter to cut some of the cake and just simply filled the middle with the banana cream mixture which only consist of whipped cream, sliced bananas and a sprinkling of icing sugar. I then spooned a tiny dollop of the banana cream on top of the cake, added some almond slices on top and dusted some icing sugar over everything for a prettier effect. I did not mash the bananas too much as I wanted to have some some 'bite' in the filling.

I dusted some icing sugar on top of my mini loaf...



I was a little dismayed with the crack on top of the round cake - next time I should probably use a lower baking temperature.



Now that my youngest brother is heading to the UK, it makes me think of my college days in London which happened such a long time ago. I truly miss Covent Garden, Hyde Park, the British Museum, tea at Fortnum & Mason, the shopping (!) from Oxford Street to Knightsbridge, - I absolutely love the food halls at Harrod's and Harvey Nichols - there are just too many places I miss. I think it's time to plan a trip back to London especially now that I have the perfect excuse, to visit my brother!

Endless possibilities with these little mudcakes!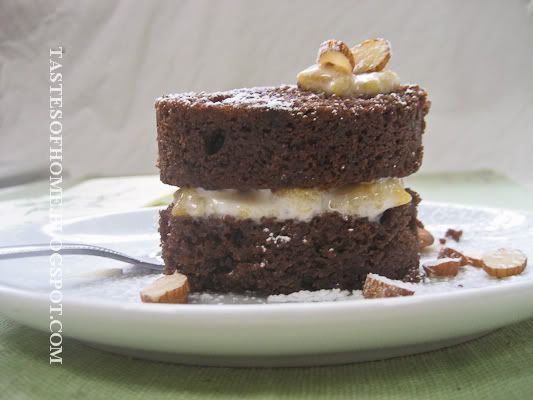 Ingredients:

For the cakes:

300g dark chocolate, chopped roughly (I used Cadbury's Old Gold)
300g butter, I cut into cubes for easier melting
5 eggs
1/2 cup sugar
3/4 cup plain (all-purpose) flour, sifted
3/4 tsp baking powder (I sifted this together with the flour)

Banana Cream Filling (adjust according to how many cakes you want to fill)

Fresh ripened bananas, sliced
About 6 tbsps worth of whipping cream
1 tsp of icing sugar

Topping:

Sliced almonds (optional)
Icing sugar, for dusting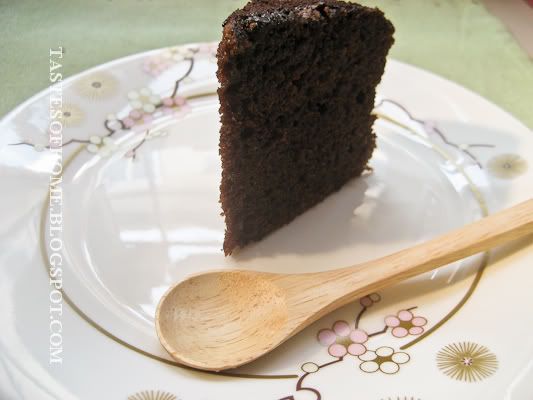 Method:

Preheat oven to 160 degree celcius or 315 degree fahrenheit. Line your baking pans with baking paper or grease generously - I did both. Place the chocolate and butter in a heavy saucepan over low heat and stir until smooth. Set aside.

Place the eggs and sugar in a bowl and beat until light and fluffy (I did this by hand). Fold the egg mixture through the flour, baking powder and chocolate mixture. Pour into your pans until about 2/3 full. Bake for 25 minutes if using small pans or bake for about 45 minutes if you are using a 9 inch round pan. Test for doneness by using a cake tester of toothpick.




Serve warm with a sprinkling of cocoa powder or icing sugar. If you keep your cakes in the fridge, simply warm them up by microwaving for a few seconds before serving.

Alternatively, once the cake is cool, cut with a cutter depending on what shape you prefer, spread the banana cream on the first layer, then sandwich with the upper layer of cake. Sprinkle with some almonds and icing sugar if you wish.