Red bean soup is an extremely popular Chinese dessert soup originating from the Southern parts of China. There are a lot of different interpretations and twists to this popular dessert but today I am featuring my mom's version. The red beans have to be soaked (usually overnight) to ensure a smooth consistency without having to boil for too long. My mom likes to add a handful of glutinous rice into the mix that serves as a natural thickening agent. It is also common to add dried orange peel to this dessert but for some reason I simply do not like the flavour of the orange peel hence the latter is usually skipped.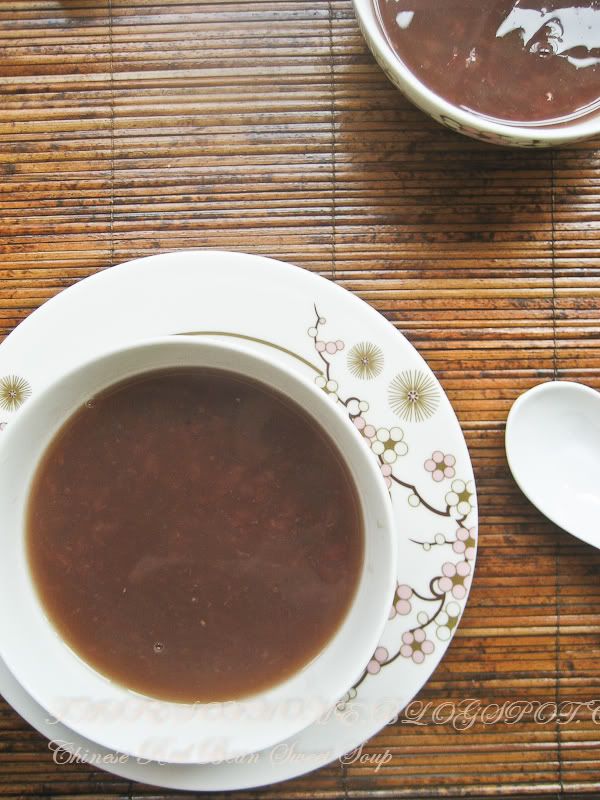 It is also customary to serve this dessert with Chinese doughnuts or 'yao char kuey' which makes a very satisfying and yummy meal. I love to dunk the Chinese doughnuts or fried crullers into the red bean soup, can you see some parallels with the Western custom of dunking doughnuts into coffee or is it just me?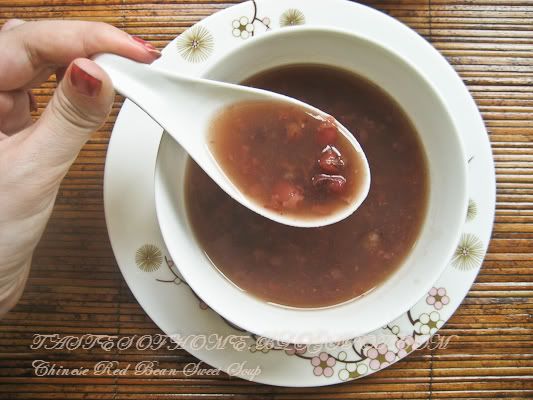 This time however, I did not get a chance to get the 'yao char kuey' hence I added coconut milk instead for a richer flavour. If I am serving the red bean soup with 'yao char kuey' I usually skip the coconut milk as I find the flavours too muddled since the Chinese doughnuts are quite oily - however this is just my personal preference.





Ingredients:

1 packet of red or azuki beans soaked overnight (preferred)
8 cups of water
8 lumps of rock sugar (or to taste) - you can also substitute with white sugar
Handful of glutinous rice (uncooked)
Coconut milk (optional)




Method:

Place the red beans, glutinous rice into a big soup pot together with the water and bring to a boil. Turn the heat to low and allow to simmer for about 1 hour. Now add the sugar and turn the heat back up and stir until sugar is dissolved. Do a taste test and add more sugar if desired. Serve either hot or cold. Heat up some coconut milk in the microwave and place at the table.