Recipe adapted from 'Perfect Light Desserts' by Nick Malgieri and David Joachim

Chocolate chip cookies. Chewy or crispy, most of us do love these little bites no?

These cookies are lower in fat as these use much less butter than the other recipes I've tried so these are probably good on days when you want chocolate chip cookies with no less guilt. In terms of taste, they tasted perfect straight out of the oven but warm cookies almost always taste better than cooled cookies in my opinion. I did not absolutely love these cookies as I thought they were a bit dry probably due to lack of butter (!) and eggs. Anyway, they still tasted good although I know I am absolutely going to need to try baking Jacques Torres' 'secret' 36 hour chocolate chip cookies the next time which are apparently Martha Stewart's favourite chocolate chip cookies. Hmm..being the impatient person I am, it will probably take some will power to wait 36 hours before baking!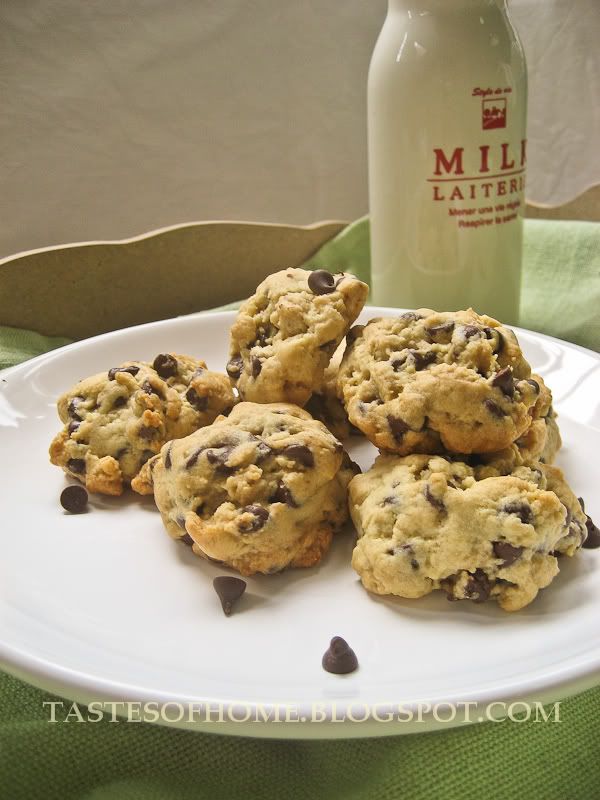 Back to the skinny version - the recipe only called for chilling in the fridge for 15 minutes before baking but I chilled the dough for about 1 hour as through experience, usually the longer the dough is chilled, the tastier the cookie since the flavours really blend more harmoniously with longer time. Here's an interesting article from the New York Times which was a culmination of opinions by different chocolate chip cookie aficionados and true experts on the perfect chocolate chip cookie. The consensus seems to be two things that qualifies a cookie in being labelled 'perfect', one - serve them warm and two - let the dough chill long enough. Perhaps the next time I make these skinny chocolate chip cookies, I should let the dough chill much longer?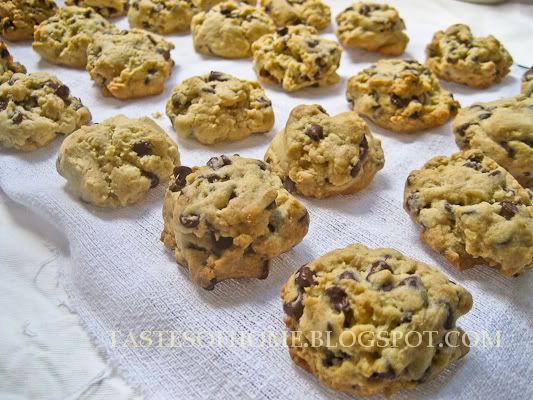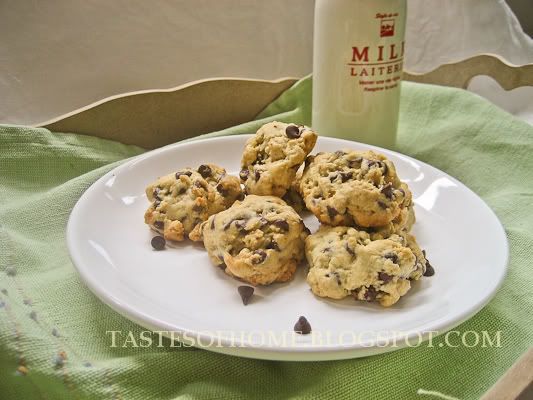 Ingredients:

1 1/4 cups all purpose flour
1 tsp baking soda
1/2 tsp salt
4 tbsps unsalted butter, softened
1/2 cup light brown sugar, firmly packed
6 tbsps granulated sugar
1 large egg
2 tbsps whole milk
1 tsp vanilla extract
1 1/2 cups chocolate chips or you can use chop up chocolate bars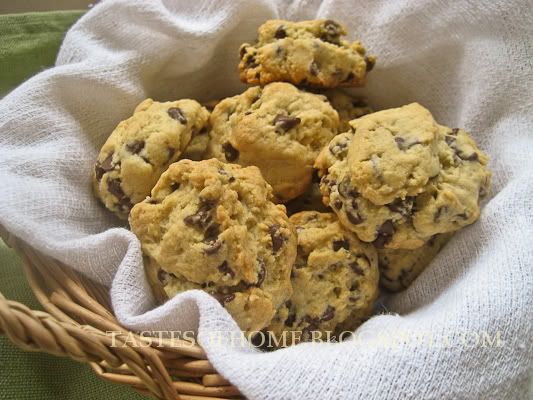 Method:

1. Preheat oven to 350 degrees F. Before that, place racks on upper and lower thirds of the oven.
2. Mix the flour, baking soda and salt together and set aside. (Use a medium bowl).
3. Beat the butter and sugars together by machine or by hand until well mixed. Beat in the egg and milk until absorbed and then the vanilla essence.
4. Beat in the mixed flour mixture while scraping down.
5. With a large spatula, fold in the chocolate chips or chunks.
6. Chill the dough in the bowl for about 1 hour in the fridge well covered.
7. With your hands, form the dough into 1.5 inch balls or you could use a mini ice cream scoop. Place on lined baking tray at least 2 inches from each other.
8. Bake for about 10-12 minutes .
9. Cool on cookie racks.