Update (September 2011): This is my second time making these cookies and this time, I kept the golden brown flecks in the brown butter (saving a step) and the cookies did turn out with slightly deeper flavours but I thought it was did not make a significant difference so in future I will just skip the filtering through cheesecloth. In terms of texture, while shaping the cookies this time, I did not flatten the cookies before resting for 36 hours and I ended up with rougher textured cookies as you can see in the first two updated photos. The last photo is of the first batch I made last October.

I have heard and read so much about the elusive 36-hour chocolate chip cookies that supposedly yield the 'best' chocolate chip cookies ever. I have also been reading a lot on the many delicious benefits of adding browned butter or also known as beurre noisette into baked goods and a wide variety of dishes. I thought combining the two would probably be incredibly interesting and yummy! So of course I had to google this 'idea' of mine and I decided to try out the brown butter chocolate chip cookies recipe found at Ales & Emily's Travels with fabulous results.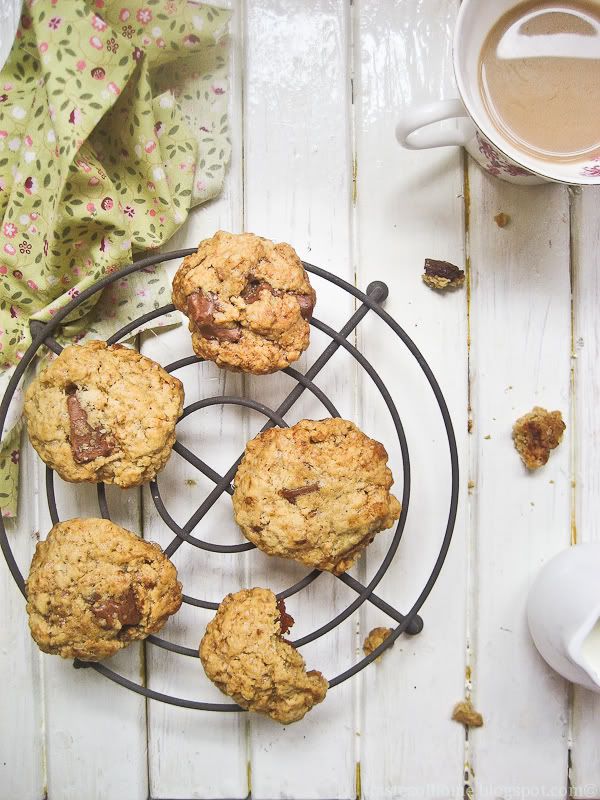 My littlest brother is a chocolate chip cookies fiend monster so these were baked especially to be sent to him in England. I really loved these cookies as the brown butter added a nutty and deeper buttery flavour to the cookies and of course the seemingly long cooling time of the batter in the fridge really enhanced the flavours all-around. Now I think the excruciatingly long wait was definitely worth it.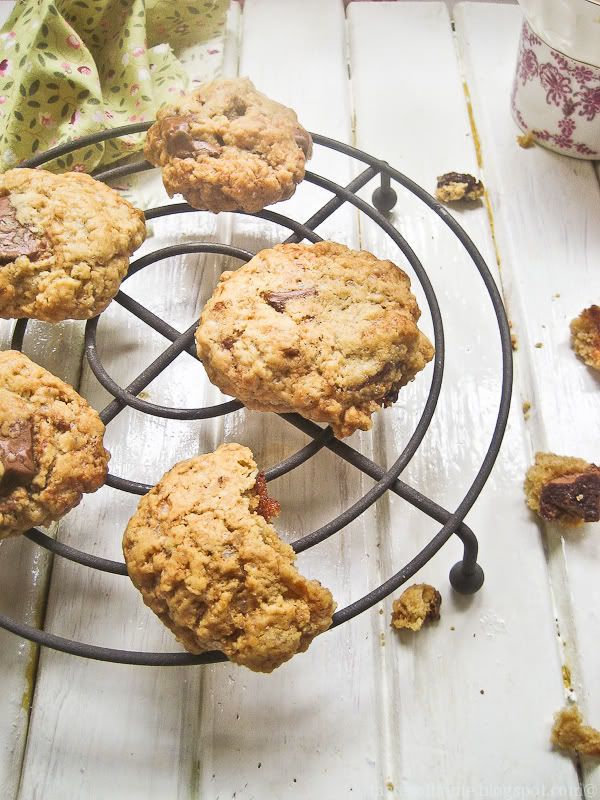 I was also apprehensive at browning butter for the first time ever in my life as apparently the process is prone to some mishaps, most notably of course is burning the butter instead of just browning it! I was so glad that my first time yielded aromatic and nutty butter - in fact the term beurre noisette is literally translated to hazelnut butter, possibly due to the strong nutty aroma that arises after the butter goes over the melting point. I clarified the butter by using cheesecloth but I've also read versions of brown butter where the tiny golden brown flecks are kept for an even deeper nutty aroma.


Recipe adapted from Ales and Emily's Travels

Ingredients:

1 cup of butter, browned (I used salted but unsalted is apparently easier for browning)
1 cup of brown sugar
2 eggs, room temperature
2 tsp vanilla essence
3 cups all purpose flour
2 tsp baking soda
1/2 tsp salt (if using unsalted butter) - skip if using salted butter
200 grams of chocolate (chopped chocolate bars instead of store-bought chips)





Method:

Browning the butter:

1. First off, use a heavy bottomed pan (to minimise the probabilities of burning) - cut the butter into small pieces and place in the pan. Turn on heat to medium and watch carefully.
2. Once the butter melts, start stirring infrequently - the butter will then start to foam. Skim off the foam as you melt the butter. After about 5 minutes or so, the butter should start to brown but the length of time may vary so just keep a close watch.
3. The melted butter should turn from a bright yellow hue to a more golden brown hue and once you see golden brown flecks appearing in the melted butter, it should be done! You should also smell a deep nutty aroma.
4. Strain the melted browned butter through cheesecloth or coffee filter into a heat-proof jar or bowl. Let the butter cool at room temperature for about 20 minutes then place in fridge for another 30 minutes to bring the mixture down to room temperature. It is now ready for use!

Cookie batter:

1. Combine the browned butter with the sugar and mix well to cream for about 5 minutes at least.
2. Add the eggs and vanilla essence and beat to mix well.
3. Sift together the flour, salt and baking soda in a separate bowl. Divide into 4 portions and add each portion into the butter bowl, mixing well each time. Use a spatula to scrape down the sides of the bowl as you do so.
4. Add the chopped chocolate into the batter and mix well.
5. Place the entire batter into the fridge for about 15 minutes (this is for easier shaping), shape the dough as you like, I just made round ones. Place the shaped cookies into the fridge (covered) and wait for 36 hours.
6. After you've waited it out, bake the cookies as you would normally in a preheated oven at 175 degrees celcius. Bake for about 15 minutes for chewier cookies and slightly longer, say about 25 minutes for crispier ones, but of course it also depends on how big you sized your cookies.