Updates: I baked the butter cake again, this time in a loaf pan and while I prefer the loaf version, my mom prefers cakes baked in the round tin. The loaf version was denser so it is really up to you which you prefer. Both turn out delicious though. In terms of cracking, the loaf version usually results in less cracking. I updated this post with some of my brand new photos which I also prefer :D.

I will have to say 'thumbs up' to this butter cake recipe. When I saw LK of Food For Tots' featuring her basic butter cake recipe, I knew I had to give it a try and am I glad I did. Although I'm not much of a sweet tooth, I adore plain cakes, with butter cake being one of them - I love to dunk my butter cakes into my coffee and I think the texture of this butter cake was perfect for that. I only tweaked the recipe a tiny bit by adding less milk and butter, and just for fun I also used some of the batter for some almond cupcakes since I had some almond flakes handy. They were quite delicious but I still preferred the plain butter cake more.




This cake rises really well and look at the gorgeous golden brown top of the cake. You can also easily make this cake without breaking out your cake mixer. After all, people of the past produced excellent butter cakes too right (?) without any 'kitchen-aid'!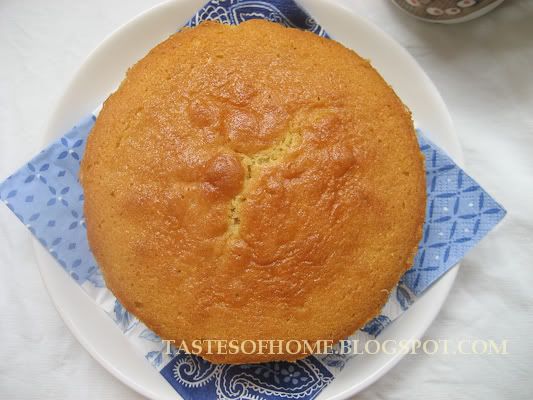 Did you know that apparently the best way to see if your batter has the right consistency or not is that if it does, the batter should drop from your spoon on the count of 1, 2, 3?




You can definitely do so much with this basic butter cake recipe, you can easily make a marble cake by dividing the batter into half and adding some cocoa powder into one portion of the batter or add some chopped up maraschino cherries for added colour and texture. My mom is a rather picky eater of cakes and she really loved this one - I think this reminded us of the good old butter cakes sold in old Chinese shops that did not have an artificially fine texture but yet moist and most importantly delicious!

Here's my little variation, almond cupcakes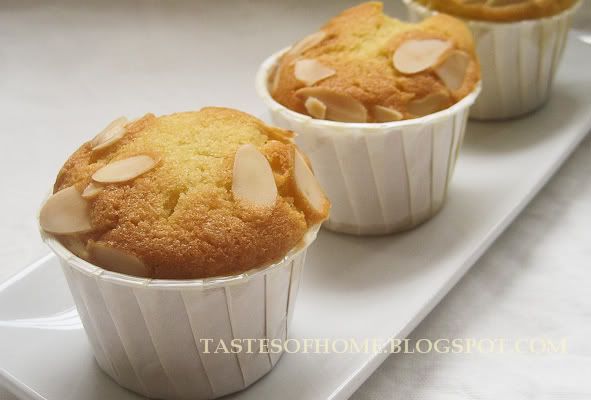 Last but not least, thank you LK for being so patient with my numerous questions!



Ingredients:

4 eggs, room temperature
227 grams butter, well softened (soften in microwave at 5 second bursts if you're like me and forgot to take the butter out way in advance)
1 1/2 cups of flour (spoon flour and level off, do not thump the measuring cup to 'settle' the flour)
2 tsps baking powder
3/4 cup white sugar
1tsp vanilla essence
3 tbsps whole milk
1/2 tsp salt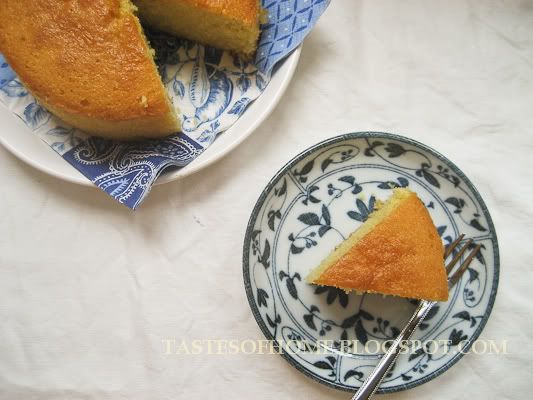 Method:

1. Preheat oven to 180 C (350 F) and grease/ line your baking pans. Sift the flour and baking powder and together - this is to ensure they combine well. Add in the salt and mix well. Set aside.

2. Cream the butter and sugar together until pale yellow and light. Do not pour in the sugar all at once as you will 'drown' the butter. You should beat the butter and sugar till fluffy.

3. Now for the eggs, it is preferable to break each egg into a separate bowl before mixing with your batter just in case you have some bad eggs on your hands! Break each egg in separately, mixing well after each addition. Add in vanilla essence and mix well.

Note: I placed some of the batter separately in another bowl as I wanted to make some almond cupcakes before using the vanilla essence. I used 1/2 tsp vanilla and 1/2 tsp almond essence instead.

4. Don't worry if your batter looks curdly at this point - the flour will smooth it out. Finally, add in the flour mixture in 3 portions, mixing well after each addition. Remember to scrape down your bowl with a large spatula to ensure even mixing. Add in the milk tablespoon by tablespoon - use the 'spoon test' and see if your batter falls easily from your spoon after the count of 1, 2 and 3 (it worked for me).

5. Now that your batter is ready, you can just bake a plain butter cake in a 9 inch round pan or 9 inch loaf pan or pour batter into whatever shaped pans you would like. Note: pour only up to a bit less than two-thirds of your pans to avoid overflowing. Remember we used two teaspoons of baking powder. I still recall once I poured in too much batter and I had a great time cleaning the oven!

6. Bake your cake (s) for about 45-60 minutes (30 minutes if making cupcakes). Check for doneness with a wooden skewer or toothpick - insert in center of cake, if it comes out clean - the cake is done. Do not overbake to avoid dryness.

7. Cool in pan for about 10 minutes on a wire rack before turning out.