This is an extremely easy and satisfying stir-fry recipe. You can omit the shrimp and keep it vegetarian, or you can replace the shrimp with pork slices or even Chinese waxed sausages/ duck. The pronounciation of this vegetable in Chinese is 'to count' hence this is also another extremely auspicious dish during festivities as to be able to count would imply that one has more than enough.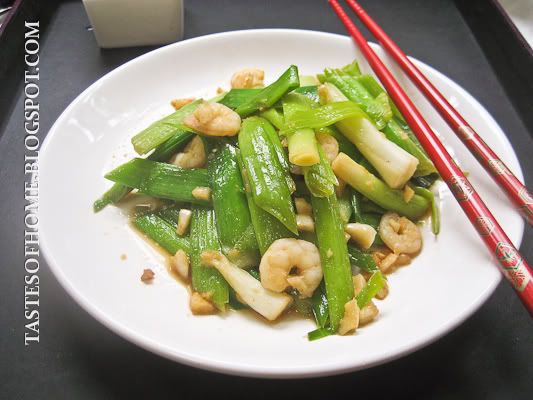 Growing up, I was not a big fan of these vegetables as I thought they had a rather strong scent and the an almost overly crunchy texture. However, as with most things, being older now has taught me to appreciate the unique texture and strong fragrance of these nutritious vegetables. The same applies to other bitter melon which is indeed really bitter. I hope you will give this a try and as this is such a simple dish, it is important to make sure the leeks you pick are of the best quality and not too 'old' i.e. the leeks should have a bright green colour.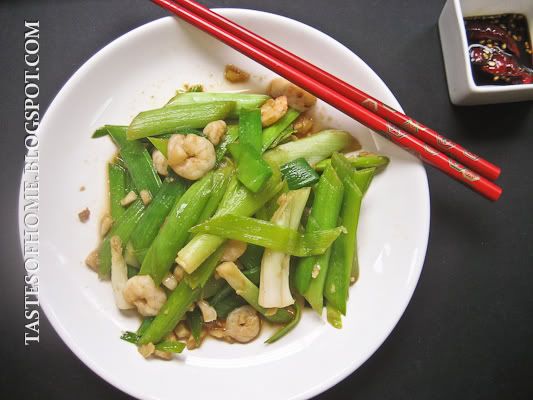 Note: A tip from mom, I like to blanch most vegetables before giving them a quick stir-fry as overstirring most vegetables will cause them to turn an unpleasant yellowish colour.


Ingredients:

1 bunch of leeks, discard the really tough stalks, chop off the bottoms (blanched in some slightly salted water)
4 cloves black garlic, minced
1 cup worth of small shrimp
Soy sauce to taste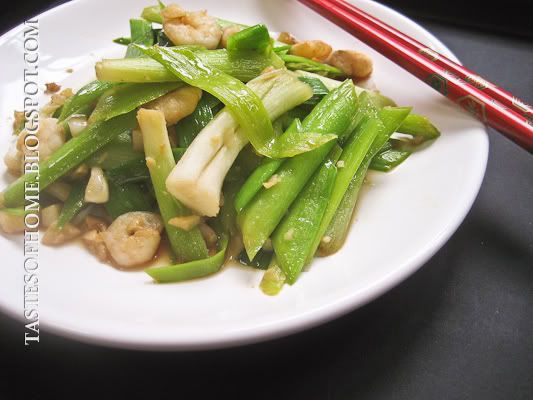 Method:

Firstly, saute the garlic in about 1 tbsp of cooking oil till fragrant. Add a dash of light soy sauce. Add in the shrimps and stir fry around quickly. They will cook really quick since the shrimps I used were small. Finally, add in the blanched leeks and stir around. Cover for about 2 minutes. Remove from heat and plate.