This feature is to revisit the classic Chinese slow-fire soup (老火汤) of Chinese peanut soup. I had earlier featured this soup which was cooked with only the 'skeletal' ingredients needed i.e. peanuts, pork and dried cuttlefish here which was also delicious but today's soup tasted better (to me), more soothing and layered with more complex and satisfying flavours. Armed with advice from my parents, I added Chinese smoked ham, pig's tail and pickled mustard - I never thought that pickled mustard would work in this soup but it worked beautifully and I think added an extra 'layer' of soothingness to the soup. If I am not mistaken, I think peanut soup has heat-relieving properties (下火) as well.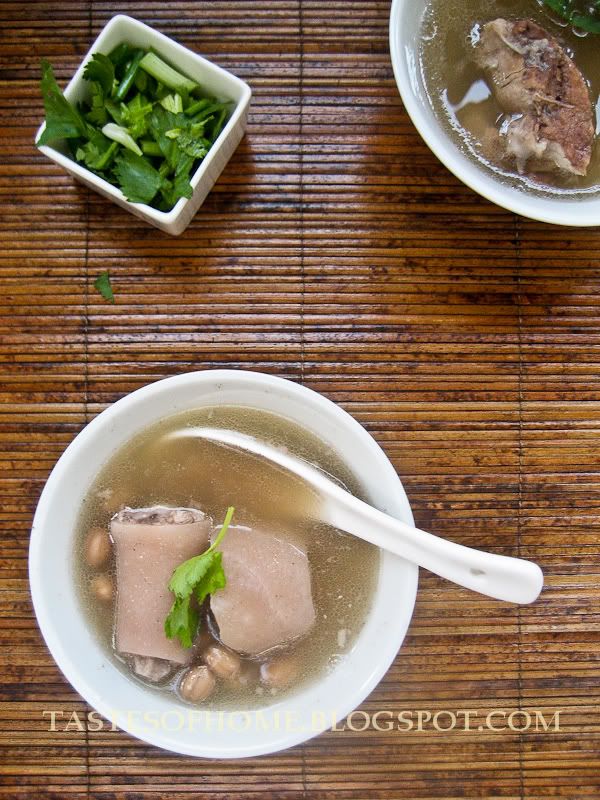 With all the flavourful ingredients combined, I did not need to add salt to flavour the soup at all. As always, with slow-fire soups, one just needs to be patient - add required ingredients into your pot and let it slowly simmer for at least 5 hours. Slow-fire soups are of Cantonese origin and is a staple in most Cantonese homes as apart from being tasty, slow-fire soups are highly touted for its' many nutritional benefits. I can totally have just slow-fire soups for an entire meal - so if you're not in the mood to make a full home-cooked dinner, you can just boil one of these and have an extremely wholesome and delicious meal at home. The cooked spareribs in the soup also taste delicious dipped in some soy sauce with chilli peppers.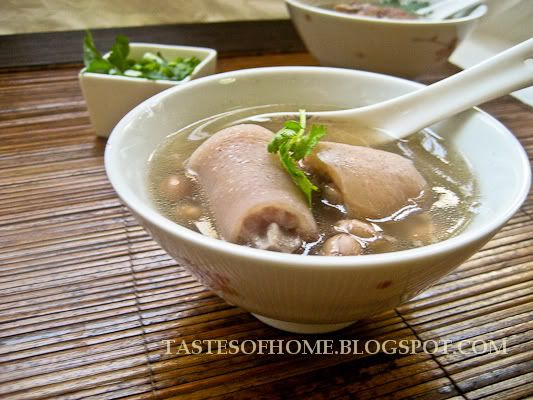 The ultimate Chinese comfort food in my books, 老火汤!

Ingredients:

1 packet of Chinese peanuts (found in most Asian grocery stores), soaked overnight
10 inches worth of spareribs (We got the neck portion)
1 pig's tail, cleaned and cut into bite-sized pieces
1 head of pickled mustard, soaked for 1 hour
4 inches worth of Chinese smoked ham
3 small dried cuttlefish, rinsed
12 cups of water
Cilantro/ green onions for garnish (optional)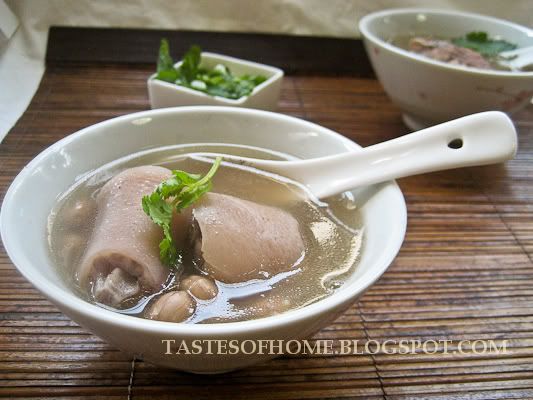 Method:

Firstly, blanch the pork and the tail briefly to get rid of impurities. Place all the ingredients in a large soup pot (I like to use the black claypots) with the water, then bring to a boil. Cover loosely then bring heat down to just simmer the soup and let simmer for at least 5 hours. Do a taste test and add salt if you desire. Garnish with some green onions and cilantro if desired.