Today's recipe is such a simple one - my family usually cooks this whenever we have fish cakes, either home-made or bought. Choy sum or otherwise known as flowering Chinese cabbage due to the tiny yellow flowers sometimes found on the stalks is such a versatile Chinese vegetable and is used heavily in a lot of stir-frys. Choy sum has a naturally sweet taste with a crunchy texture that lends itself well to many popular Cantonese stir-frys. Choy sum is also a great vegetable for adding into stir-fried noodles, see my Chinese fried egg noodles for an example.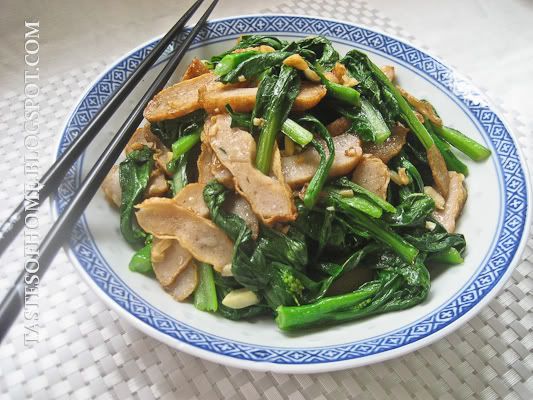 Although this is such a simple dish, there is something important to keep in mind that is not to stir the choy sum around too much to prevent yellowing of the vegetables which would be rather unsightly. To avoid that, we usually first blanch the choy sum quickly with a sprinkling of salt to avoid having to cook the vegetables for too long. As the fish cakes (I used fried ones) are already cooked as well, very little time is required in the wok. I think the combination of the crunchy and naturally sweet choy sum goes very well with the savourty and flavourful fish cakes - with such a short list of ingredients, I hope you will give this a try especially the next time you happen to have leftover fish cakes!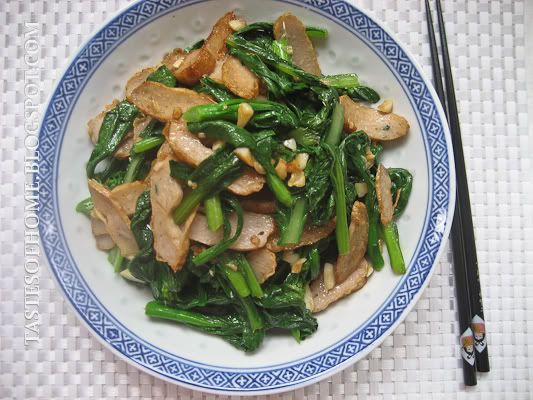 Today's dish is basically fish cakes and choy sum cooked in fragrant garlic - extremely simple to make yet very satisfying to eat!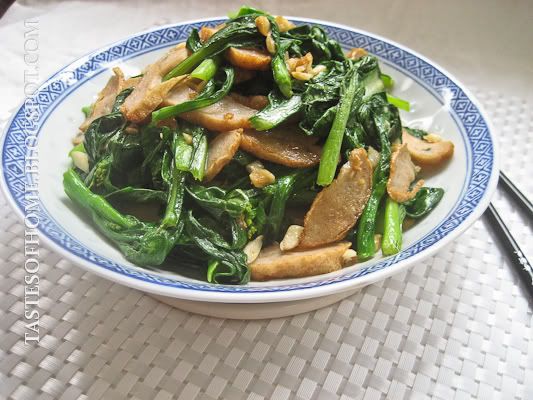 Ingredients:

4 fish cakes (fried), sliced thinly
8 stalks of choy sum
4 cloves garlic, minced
Splash of light soy sauce
Salt to taste

Method:

Blanch the vegetables in boiling water until colour changes. Set aside. Saute the garlic till fragrant. Next, add the fish cakes and stir around until you can smell the fragrant fish aroma. Add a splash of soy sauce into the wok. Finally, add in the blanched vegetables and add a dash of salt and stir around briskly just enough to mix well. Remove from wok and plate. Serve hot.