Recipe adapted from Martha Stewart

It has been years since I've been making shortbread and following my extremely successful French butter cookies I made earlier also from Martha Stewart, I decided to try one of her shortbread recipes. I added a slight twist by making some pretty strawberry shortbread cookies in honour of Breast Cancer Awareness month as well. Incidentally, October is also my birthday month and pink is one of my favourite colours - so all the more reason to make something pink and sweet!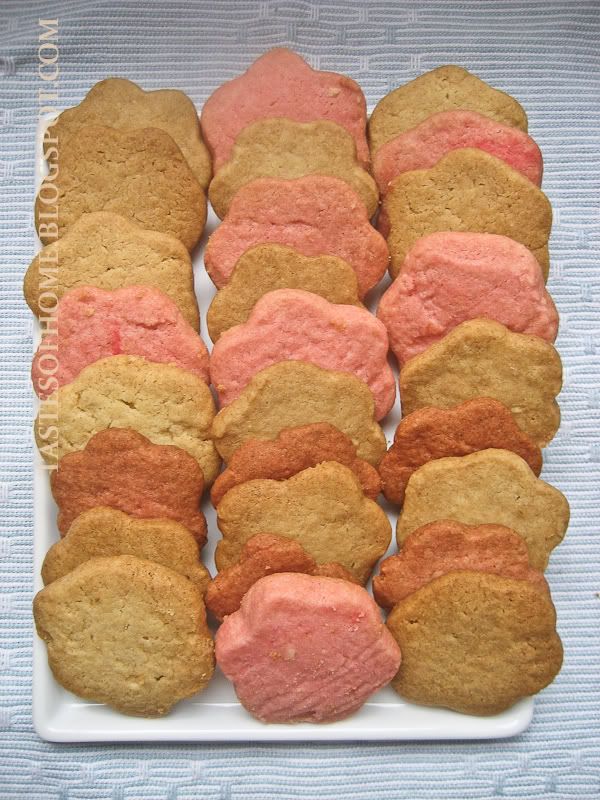 Every time I make shortbread, I am time and again pleasantly surprised at the simple ingredients used, flour, sugar, salt and butter. It is said that shortbread was so named because of the butter used i.e. shortening and every January 6th is National Shortbread Day in Britain! I found this site that provides a brief summary on the history of shortbread. Since the list of ingredients is so short, it is preferable to use the best quality of butter you can find.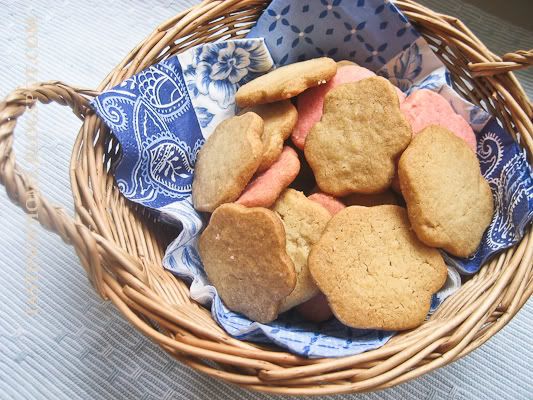 I especially loved the melt-in-your-mouth texture of these shortbread cookies and of course the yummy buttery taste. Also, if you don't like using cookie cutters, you can simply shape bits of the dough into mini globes and flatten before baking.


Ingredients:

2 cups all-purpose flour
3/4 teaspoon salt
8 ounces (2 sticks) unsalted butter, room temperature
1/2 cup sugar
1 teaspoon pure vanilla extract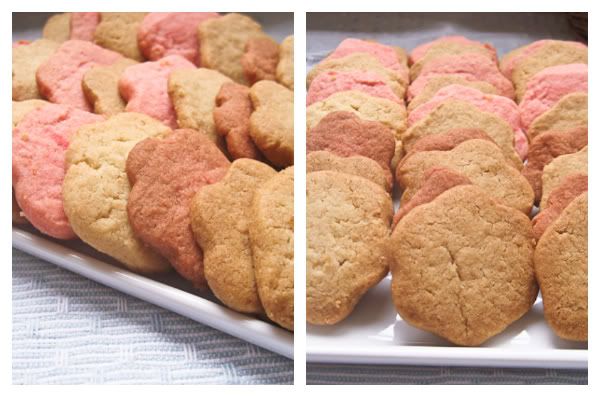 Method:

1. Line 2 rimmed baking sheets with parchment. Whisk together flour and salt. In the bowl of a mixer fitted with the paddle attachment, beat butter until fluffy, 3 to 5 minutes. Add sugar, and continue to beat until pale and fluffy, occasionally scraping down the sides of bowl, about 2 minutes more. Beat in vanilla. Add flour mixture, and mix on low speed, scraping sides if necessary, until flour is just incorporated and dough sticks together when squeezed with fingers. Divide dough into half if making strawberry shortbread cookies, add 2 tsps of strawberry paste into the batter and mix well.

2. Turn out dough, forming into 2 disks; wrap each in plastic. Refrigerate until firm, at least 1 hour.

3. Preheat oven to 325 degrees. Roll out 1 disk to a 1/4-inch thickness. Cut out shapes using desired cookie cutter, and transfer to prepared baking sheets. Reroll scraps. Repeat with remaining disk. Indent cookies with desired stamps. Bake until firm and golden, 12 to 14 minutes. Let cool completely on a wire rack. (Cookies can be stored at room temperature for up to 1 month.)

Note: While cutting out your cookies, if you find your dough to be too soft, just place in fridge for about 10 minutes before cutting out shapes again. Repeat as required.

Here's my naughty little kitchen companion who had a great time with my new oven mitt!