This is an extremely simple noodle dish I put together this morning when I was suddenly craving for some - noodles simply tossed with some stir-fried ground pork and shitake mushrooms in abalone sauce and Chinese rice wine. I love making tossed noodles (lo mein) as I don't have to deal with the mess of any noodles sticking to the bottom of my wok! I used flat noodles this time (the dried variety) but you can use any noodles you have available in your kitchen, even pasta. In fact, I love cooking (and eating!) pasta Asian style - see my stir-fried macaroni with ground pork that was inspired by the yummy fusion menu found in most famous Hong Kong cafes ('Char Chan Teng').




Instead of stir-frying the noodles today, I just spooned the cooked ground pork mixture on top and tossed the noodles before eating also known as 'lo mein' (捞面) which differs from fried noodles (炒面).You can substitute the ground pork with chicken or beef. For a finishing touch, I sprinkled some toasted sesame seeds on top before tossing to add some texture and fragrance as well.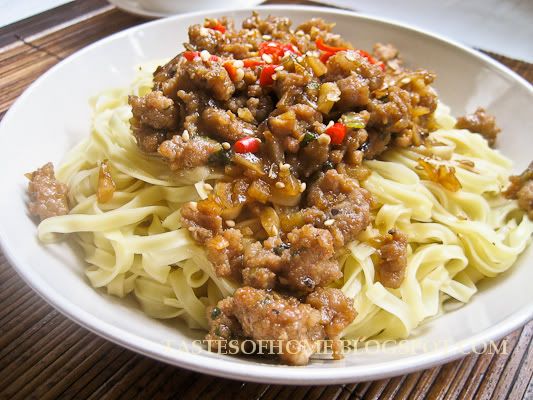 In the past I used store-bought ground pork for convenience but for today's feature I chopped up a piece of pork the old-fashioned way which I thought was superior in taste and texture to the former.


Ingredients:

3 flat noodles (dried variety)
Water for boiling the noodles
4 cloves garlic, minced (I used smoked garlic)
1/4 pound pork, minced (you can use store-bought ground pork)
5 stalks boy choy, chopped thinly
3 large shitake mushrooms (dried or fresh), chopped thinly
2 red chilli peppers ( sliced)
Handful of toasted sesame seeds

1-2 tsps light soy sauce
1 tbsp abalone sauce
1 tbsp mirin
2 tsp Chinese Rice Wine (Shaoxing Wine)
Dash of sesame oil



Method:

Firstly, boil the noodles according to packet instructions and then run under some cold water after boiling to remove the starchiness. Place noodles in serving dish. Mix the ground pork with the chopped up bok choy and mushrooms with a pair of chopsticks. Add a sprinkling of salt and sesame oil. Set aside.

Saute the garlic in 2 tbsps of cooking oil atop medium heat until fragrant. Add a dash of light soy sauce. Add the ground pork mixture in and stir-fry around briskly. Add in the abalone sauce and Chinese rice wine to the wok. Stir to mix well. I did not add any water as there is moisture in the pork. Stir-fry until pork is throughly cooked - once cooked, spoon on top of previously cooked noodles. Sprinkle some chopped chilli peppers and sesame seeds before tossing. Serve hot.