This method of cooking chicken is such a classic and straightforward Malaysian Chinese family dish. Chicken simply cooked with lots of ginger and flavoured richly with a soy sauce mix. Apart from being delicious, this chicken dish is also good for you due to ginger's many nutritional benefits. This was a constantly cooked dish in my parents' household as we were all growing up and it never lost its' popularity - as children, we probably had more of the gravy spooned onto rice than the chicken pieces though. So, for you mothers, this is a great chicken dish to cook.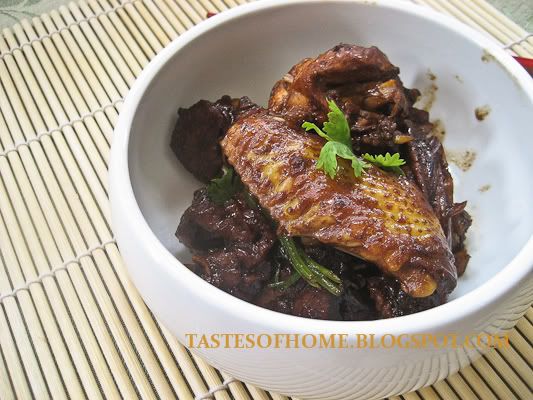 I even love eating the cooked ginger slices together with the chicken as I love the taste and texture. As this is such a simple chicken dish, the ginger used is of utmost importance according to my parents. For slight variations, see my ginger chicken with shitake mushrooms or my soy chicken with Chinese sausage dish. As you can see, there are many variations to this basic chicken dish - mushrooms will add texture and the Chinese sausages add a hint of natural sweetness to the chicken dish.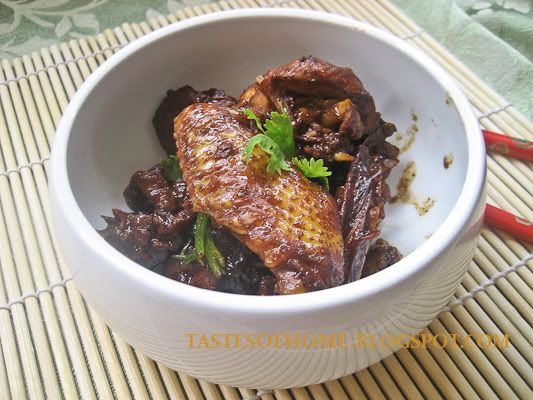 This is also one of my little brother's favourite chicken dishes, I hope this recipe will help him out since he is now in the UK studying, away from (delicious?) homecooking!





Ingredients:


1 whole chicken (preferably free-range but you can use 4 chicken thighs or chicken breasts depending on your preferences)
4 inches of old ginger, sliced
4 cloves garlic, minced
3 stalks green onions, sliced
1 stalk cilantro, sliced (save some for garnish)

Sauce:

2 tbsps dark soy sauce
1 tbsp light soy sauce
Pinch of salt
Pinch of sugar
3/4 cup water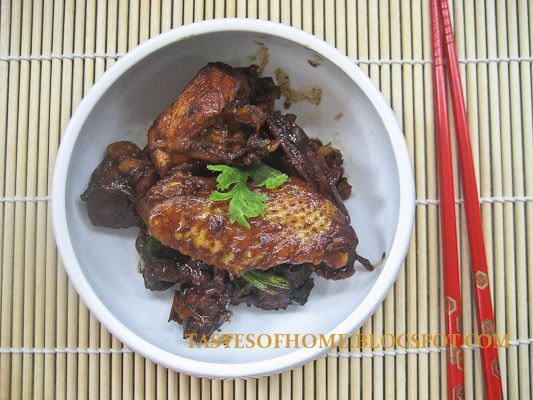 Method:

1. Marinate the chicken pieces in a small amount of corn flour and place in fridge for about 1 hour (covered).
2. When you are ready to cook the chicken, fry the ginger, garlic and green onions in about 2 tbsps of cooking oil until aromatic under medium-low heat.
3. Next, add the chicken pieces and stir-fry around for about 1 minute. Finally add the soy sauce mixture and bring to a boil. Turn heat to low and let simmer (covered) for about 20 minutes.
4. Finally, remove cover and let simmer until liquid reduces by more than half. Check to make sure chicken is cooked. Serve hot.