This is my family's tried and tested method of cooking for sweet and sour dishes. Credit has to be given to my mom (she loves sweet and sour dishes!) as she is the one who came up with this final recipe after trying out different ways of cooking sweet and sour dishes. Today's feature is sweet and sour prawns but you can use this method of cooking for all kinds of seafood like crab, squid and fish. The prawns are lightly marinated in salt then shallow instead of deep-fried (for the best texture) and then stir-fried in a delightfully appetising vinegary sauce mixed with fragrant minced garlic, red peppers and ginger.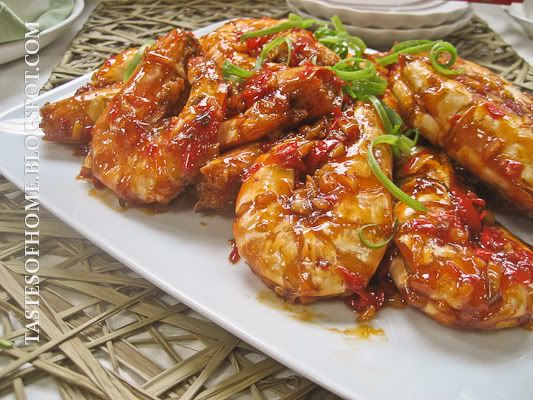 This is a vibrantly colourful and delicious dish - not to mention auspicious as well since 虾 (prawn) is also the same pronounciation as laughter in Chinese, hence this is a choice dish during festive occasions especially during Chinese New Year.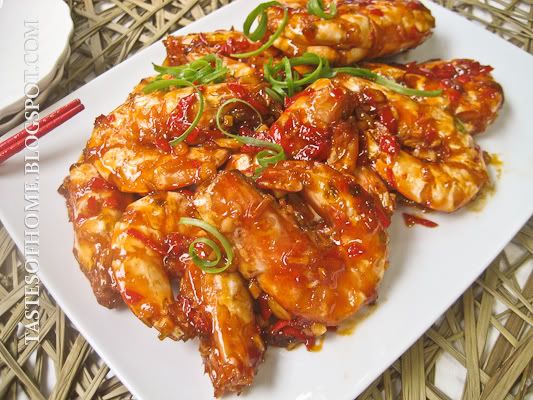 Ingredients:


25 large prawns (heads & shells on) - in my opinion, prawns are much more fragrant cooked with shells and heads on
Salt to marinate the prawns lightly
Enough oil for shallow-frying the prawns
5 cloves black garlic, minced
4 slices of ginger, sliced thinly
3-4 red chilli peppers, sliced thinly (you may opt to use seeded ones if your tolerance level for spiciness is not high)

For the sauce:

1/2 bowl of ketchup
2-4 tbsps of sugar (or to taste)
1 tbsp soy sauce (or to taste)
1/2 tbsp white vinegar (or to taste)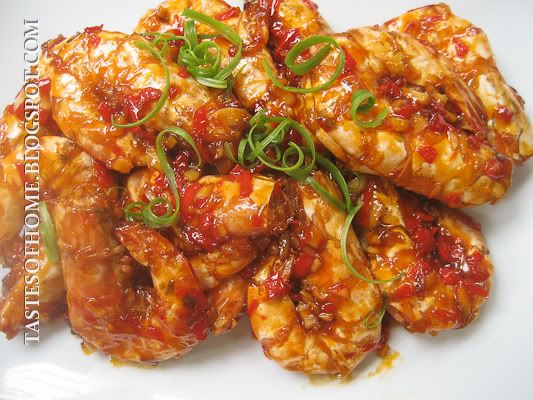 Method:



First, shallow fry the prawns after marinating lightly with salt until prawns are lightly cooked - try not to overcook prawns as the rubbery texture of overcooked prawns are not very appetising (to me!). The length of time it takes for the prawns to be cooked of course depends on the size of your prawns, but I always prefer mine especially for this step slightly under-cooked rather than over-cooked as the final step involves placing the prawns into the sauce to stir fry around briefly again.

Now, prepare the sauce with the ingredients listed above - in Chinese home cooking, a lot of times, most ingredients are only given in approximates, apparently the mark of a good cook is that there is no need to measure ingredients, one just knows, now although I do operate the same way i.e. I just throw stuff into the pan depending on what feels right, I do think that would not be of much help to my readers. For this sauce, I would highly recommend you to start with a little of the seasonings and add on after tasting each time.

Next, saute the garlic, ginger and red peppers till fragrant - use medium to low heat. Now, pour in the previously prepared sauce and bring to a boil. Quickly add in the previously fried prawns and stir around well to coat evenly. Serve hot.