Cornflake cookies are always seen during festive times in Malaysia especially during the Muslim New Year, Hari Raya. I had a sudden urge to make cornflake cookies as (1) I have yet to try making them, (2) the recipes sound simple enough and of course (3) the ingredients were readily available in my kitchen. I found this easy recipe from Kuali and after reading the encouraging comments I decided to give it a try. These cookies were quite tasty and the crunchy toasted cornflakes added great texture. As the list of ingredients is so short, it is extra important to use good quality butter and eggs. The recipe called for cornflour which added to the crispiness of the cookies, so if you like crispy cookies you will probably like these. I thought these cookies were satisfactory but I am still undecided if I will make these again as maybe I am not as big of a fan of cornflake cookies as I thought I was. I do have a cookie recipe I would make again and again though - my French butter cookies, a recipe I found on Martha Stewart.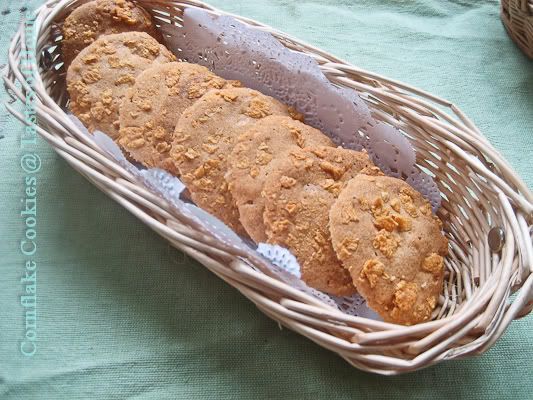 You can also substitute the cornflakes for nuts like toasted hazelnuts or chopped up almonds for a different cookie altogether. I found the first batch to be a little too sweet hence I reduced the amount of sugar in the recipe and also omitted the lemon rind. Cornflake cookies seem to be a Malaysian invention, I have yet to see these cookies sold anywhere in the US or in the UK - or maybe these cookies just caught on in Malaysia?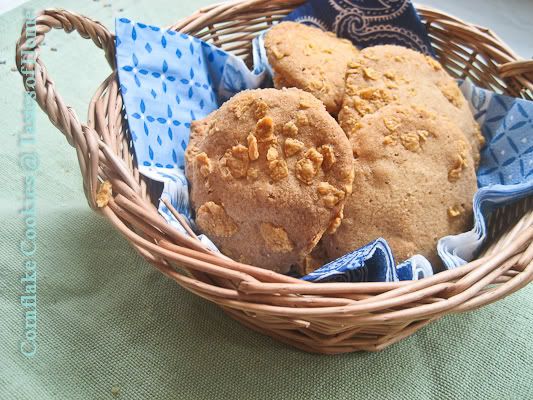 Plusses for these cookies: extremely easy to make and a great way to have cornflakes!


Recipe adapted from Kuali

Ingredients:

220g unsalted butter at room temperature
3/4 cup of sugar
1 tsp vanilla essence
2 egg yolks
1.5 cup of cornflakes, crushed lightly
250g flour
2 tbsps corn flour




Method:

Preheat oven to 175 degrees celcius. Sift the flour and corn flour together and set aside. Next, cream the butter with the sugar until pale and fluffy. Add the vanilla essence and mix well. Add the egg yolks one by one, mixing well after each addition. Place batter in the fridge for about 1 hour to prevent too much spreading while baking.

Drop teaspoonfuls of the batter into a plate filled with the crushed corn flakes. Shape gently into little globes with your fingers while rolling in the cornflakes. Place the shaped cookies on your baking tray about 3 inches apart as they will spread. Repeat with remaining batter until finished. If the batter feels too soft, place in fridge to firm up again and repeat steps above.

Bake for about 15-20 minutes or until golden brown.