I am a huge fan of soups and I have been wanting to make mauentang, a Korean spicy fish soup for the longest time so I was delighted when I found Maangchi's mauentang recipe. This is a spicy fish soup or rather stew with an abundance of nutritious vegetables which does not require a long boiling time. I think it is customary to use garland chrysanthemum or 'tong hoe' in Chinese in this popular soup, however I substituted it with Nappa cabbage since I couldn't find any 'tong hoe'. I thought the cabbage added just the right amount of natural sweetness to the soup. Grated ginger is used in this soup as well which masked the 'fishiness' really well.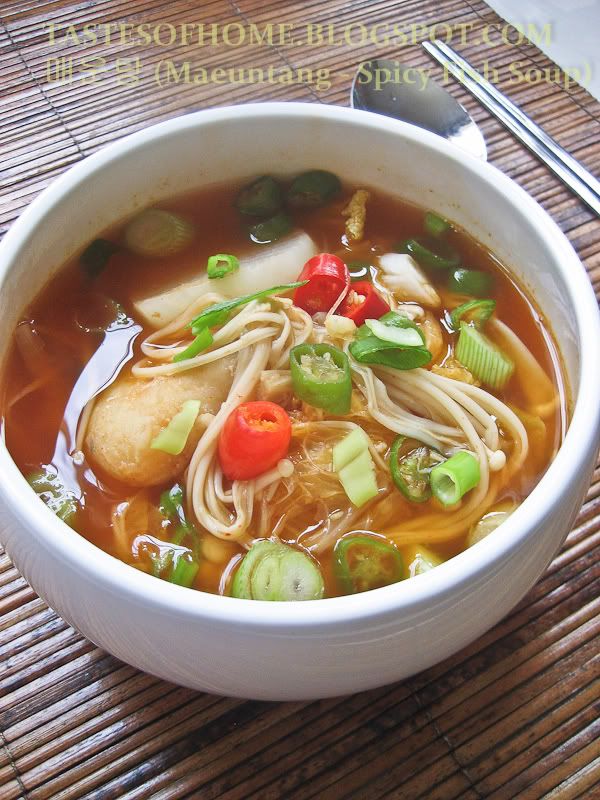 From my limited knowledge of cooking Korean food, it appears that Koreans are fond of adding minced garlic to their soups which works perfectly with the gochujang (Korean chilli paste) used, probably the most-used condiment in Korean cuisine. Gochujang is essentially made of red chilli powder, glutinous rice powder mixed with powdered fermented soybeans and salt. The condiment is rather pungent and is an acquired taste rather like most fermented Asian foods. I love the spiciness and the earthiness (from the fermented soybeans) of the condiment which is rather like heavily spiced up miso. Radish, kelp and shitake mushrooms provide a great base that is then flavoured with the fish, gochujang and the other colourful vegetables.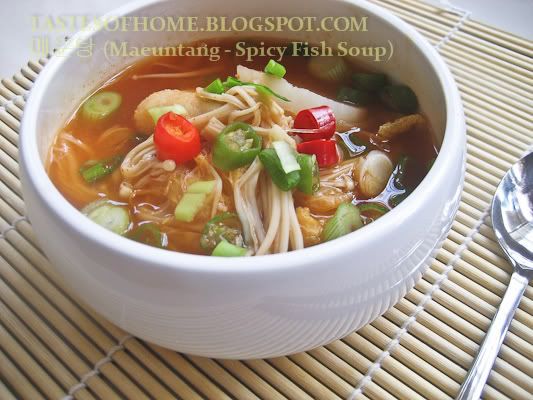 I found this to be a very satisfying soup and is extremely yummy served with rice especially on a cold rainy day. Korean dishes are also always so pretty and colourful, don't you think?


Recipe adapted from Maangchi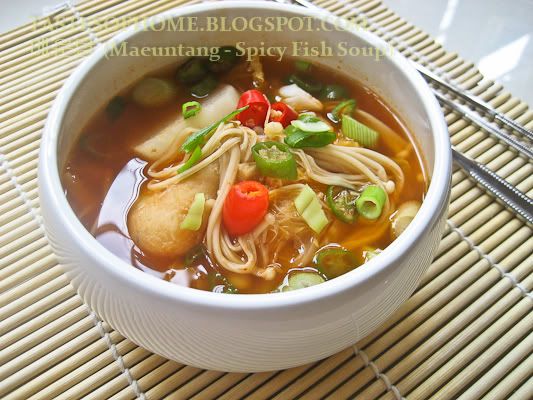 Ingredients:

Stock:

White flesh fish (I used Dory), but you can use a red snapper as well
1 medium sized radish/ daikon, peeled and sliced to about 1 cm thick
2 shitake mushrooms (soaked)
Kelp (konbu)

Mauentang Sauce:

2 tbsps gochujang (Korean chilli pepper paste)
1 tbsp gochugaru (Korean chilli powder)
7 cloves garlic, minced
1 medium sized onion, sliced thinly
1 tbsp grated ginger with the juice
2 tbsps cooking wine/ sake/ soju
1 tsp light soy sauce

To be put in last:

1 bunch of enoki mushrooms (cut off roots and wasted)
1/2 Nappa Cabbage (Chinese cabbage), cut to 6 cm lengths (original recipe called for garland chrysanthemum or also known as 'tong hoe' in Chinese)
4 stalks green onions, sliced
2 red chilli peppers, sliced
2 green chilli peppers, sliced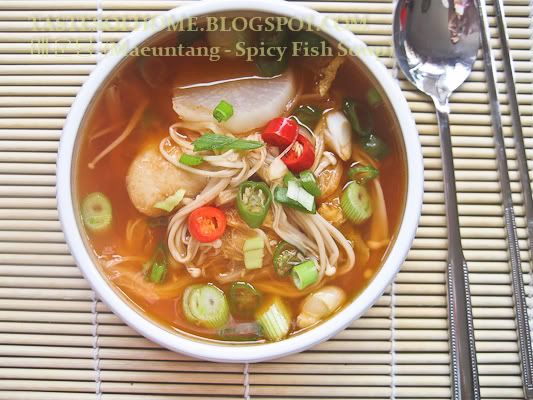 Method:

Firstly, boil about 6 cups of water in a pot. Once the water is boiling, lower heat to medium and place the kelp and mushrooms into the pot. Boil on medium heat for about 20 minutes. Remove the kelp and discard. Place the fish into the pot. Next, mix the ingredients for the sauce in a separate bowl and pour into the pot. You can also use a food processor to mix the ingredients for the sauce together.

Boil on medium heat for about 30 minutes, removing the foam on the top. Finally, place the rest of the ingredients into the pot and bring heat up to high, boil for about 5-10 minutes until cabbage is soft. Add about 1-2 tsps of salt (to taste). Your soup is ready to be served. Serve hot with rice. Add more gochujang if you want your soup spicier.